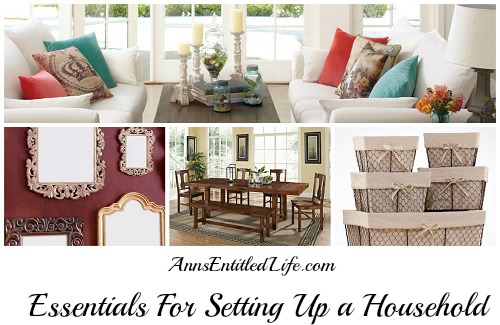 Essentials For Setting Up a Household
I am trying to think back to when I first set up a household almost 30 years ago, my essentials for setting up a household. Some of the "must haves" have changed a bit – for instance back in the olden days a land-line phone was a must and now I never use one; today a microwave is on my list and back then they were very expensive.
When we set up the Utah place it was knowing that Hubby would be there 99% of the time, and I'd be there 1% – so consideration of his comfort took priority over consideration of our comfort. He got a TV and a sofa only because I would be there 1% of the time and I insisted. I never turned on that television in all the times I went, and I know for a fact he never did either! I'm not sure Hubby ever even sat on the couch!!
As we grow ever closer to setting up the condo in Florida, I am trying to compile lists of what we need to bring down/buy while there. The consideration is for our comfort, but my family will go down occasionally and use the place when we aren't there, and we'd like to have things that "everyone" uses; things we we may not use. I'd really appreciate your input!
I have broken down my essentials for setting up a household by room. This is what I figure bare necessities are – ok maybe a few wants vs needs are on the list too:
Kitchen
● Coffeemaker
● Coffee Grinder
● Dishwasher
● Microwave
● Stove
● Refrigerator/Freezer
● Pots and Pans
● Dishes
● Baking Sheets and Pans
● Potholders
● Washcloths and Drying Towels
● Serving Bowls and Plates
● Silverware
● Glasses and Mugs
● Cooking Utensils
● Knives
● Table and Chairs
● Garbage Can
Living Room
● Sofa/Chairs
● Television
● Coffee Table
● Side Table
● Lighting
Bedroom
● Bed – mattress and box springs
● Bedding: sheets, pillowcases, pillows, blankets, mattress pad
● Dresser
● Lighting
● Alarm Clock
Home Office
● Computer
● Desk and Chair
● Printer
● Lighting
Bathroom
● Towels and wash cloths
● Floor-mat
● Shower Curtain and hangers (if no glass doors)
● Garbage Can
For The Whole House
● Window coverings in all rooms
● Broom
● Vacuum Cleaner
● Cleaning Supplies (Even if you have a cleaning service some supplies are necessary)
● Wall Clock
What are your Essentials For Setting Up a Household? What am I missing? What can't you live without that you have in your house that is necessary for day to day living?
---
For a list of more Library Reading Topics on Ann's Entitled Life, click here.
---