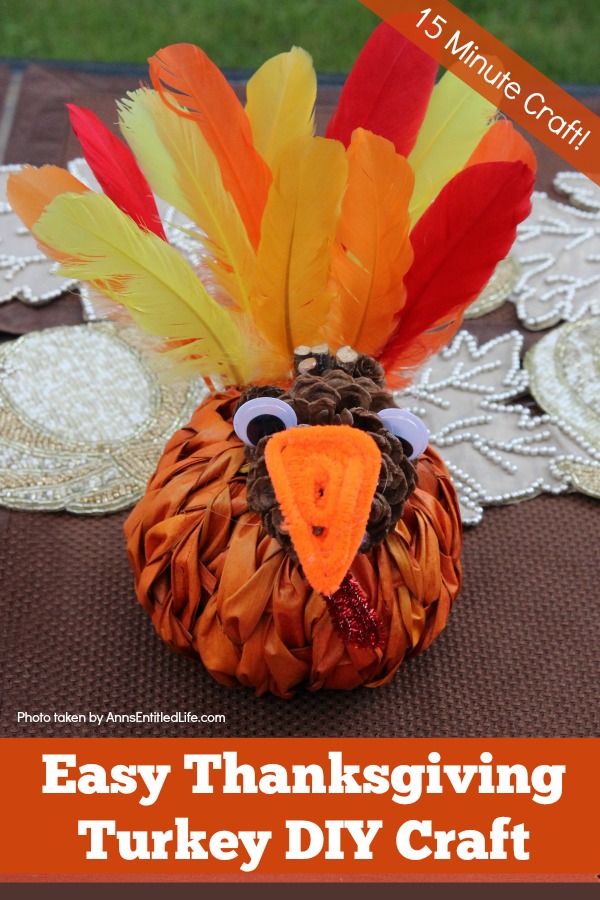 This is a simple to make 15 minute craft for Thanksgiving. Adults and older children will love this adorable little turkey, perfect for tabletop or mantel decor. If you are looking for a simple Thanksgiving craft idea, this easy Thanksgiving turkey DIY craft is it!
Easy Thanksgiving Turkey DIY Craft
● When my niece suggested this one, I was like "eh," but it is cute. I think it is more kid-ish, so keep that in mind. It would be GREAT for a children's table centerpiece.
● Because of the hot glue gun, I suggest this craft can be made by older children under adult supervision (and you may want to man the glue gun and then have your child hold the pieces together). Goop might work (although I have not done it), but it will have a longer drying time.
● The pumpkin purchased had folds. This worked great as it hid the ends of the turkey feathers in the pumpkin-body. Keep that in mind when selecting your artificial pumpkin for the turkey's body.
If you would like to make more Thanksgiving Day Crafts, you might enjoy these:
● Thanksgiving Turkey Jar Craft – Make your own adorable Turkey jar craft. This easy step by step tutorial will show you how to easily make a turkey out of a condiment jar that is perfect for a centerpiece, mantel decor or table decorations this Thanksgiving!
● Turkey Wine Glass DIY – Make your own adorable Turkey Wine Glass, or make three for a set!
● Easy Thanksgiving Wreath DIY – Make this simple yet pretty and easy Thanksgiving Wreath DIY for the holidays. In under an hour you can have festive Thanksgiving decor!
● Dollar Store Craft: Lighted Thanksgiving Centerpiece – you will not believe how easy it is to make a beautiful Thanksgiving centerpiece with items purchased at a dollar store!
● Floral Horn of Plenty DIY – one of my favorite crafts on this blog, it is simply gorgeous!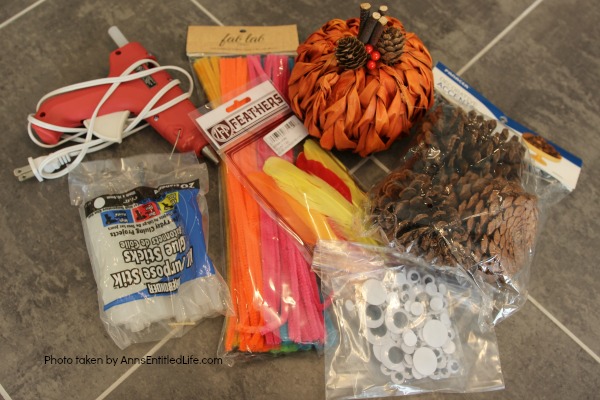 Easy Thanksgiving Turkey DIY Craft Materials:
● 2 Googly Eyes (these are large shown)
● 1 Pinecone (this is a large one)
● 1 small artificial Pumpkin
● 2 Orange Pipe Cleaners
● 1 Red Pipe Cleaner
● Glue Gun
● Hot Glue Sticks
● 12 Turkey Feathers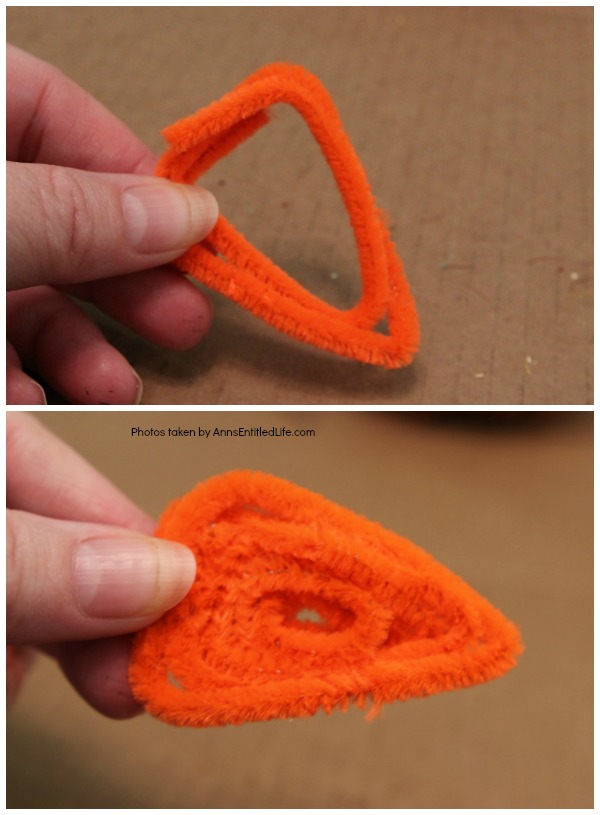 Easy Thanksgiving Turkey DIY Craft Directions:
● Form a beak using two orange pipe cleaners.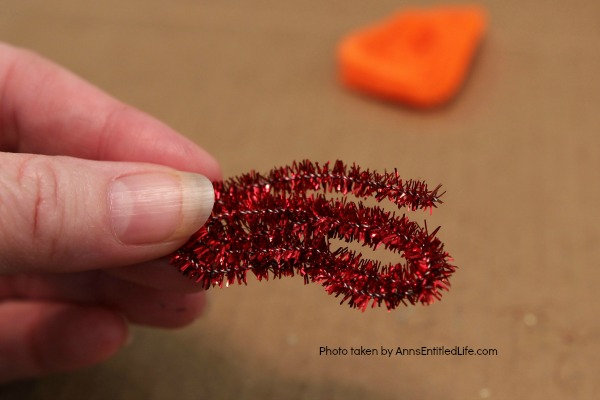 ● Form a waddle using a red pipe cleaner.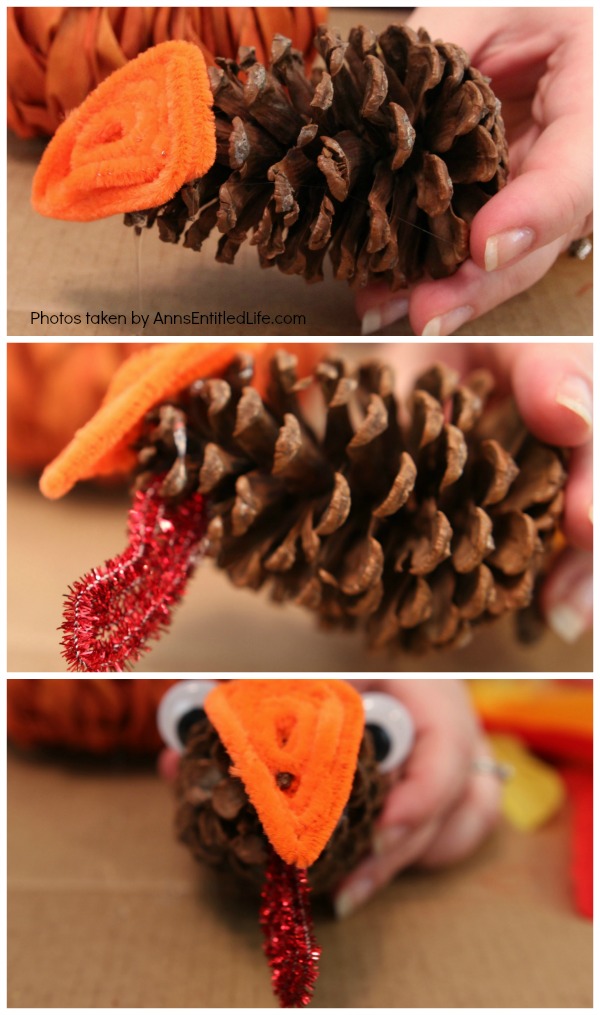 ● Hot glue the beak to the end of a large (medium could work too) pinecone.
● Hot glue the waddle to the underside of the pinecone.
● Position, and then hot glue two large googly eyes at the top of the pinecone. Hot glue in place.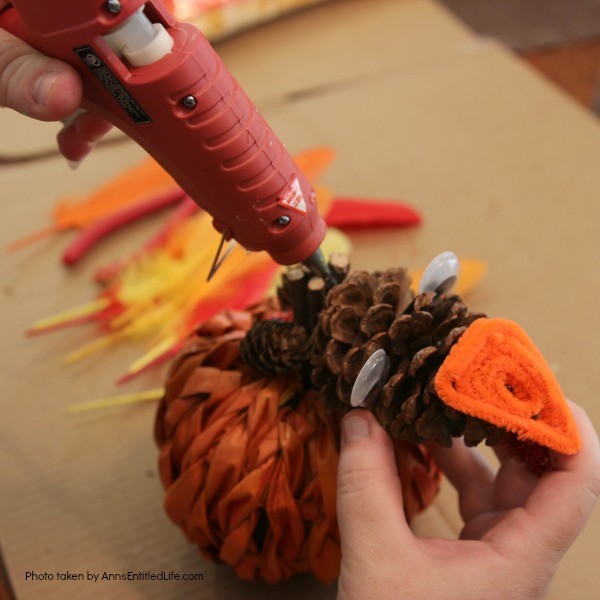 ● Hot glue the pinecone-head to the pumpkin-body. Hold until dry (this take a LOT of hot glue).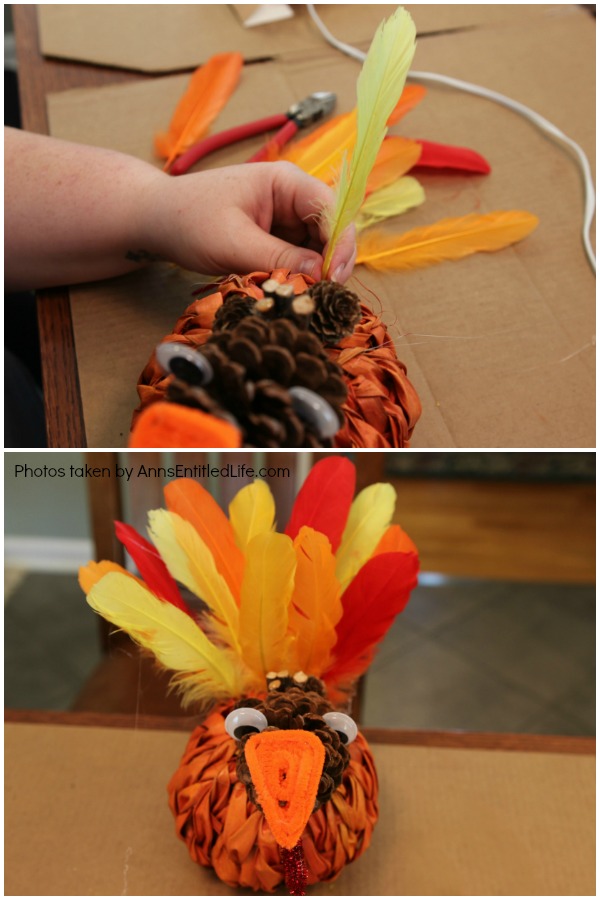 ● Position 12 turkey feathers in place on the back of the artificial pumpkin. Stagger for 2-3 rows so the plumage will look more "natural." If you can hide the ends of the feathers inside the faux pumpkin, do so.
● Hot glue the feathers in place.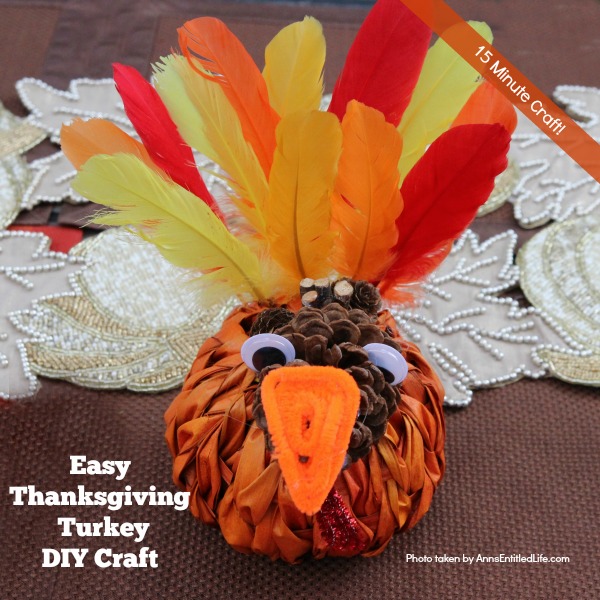 ● That is it! Your Thanksgiving Turkey is ready for display.
---
● Disclosure: the links in this post may be affiliate links.
● For more Holiday posts on Ann's Entitled Life, click here.
● For more Craft posts on Ann's Entitled Life, click here.
● If you enjoyed this post, be sure to sign up for the Ann's Entitled Life weekly newsletter, and never miss another article!
---