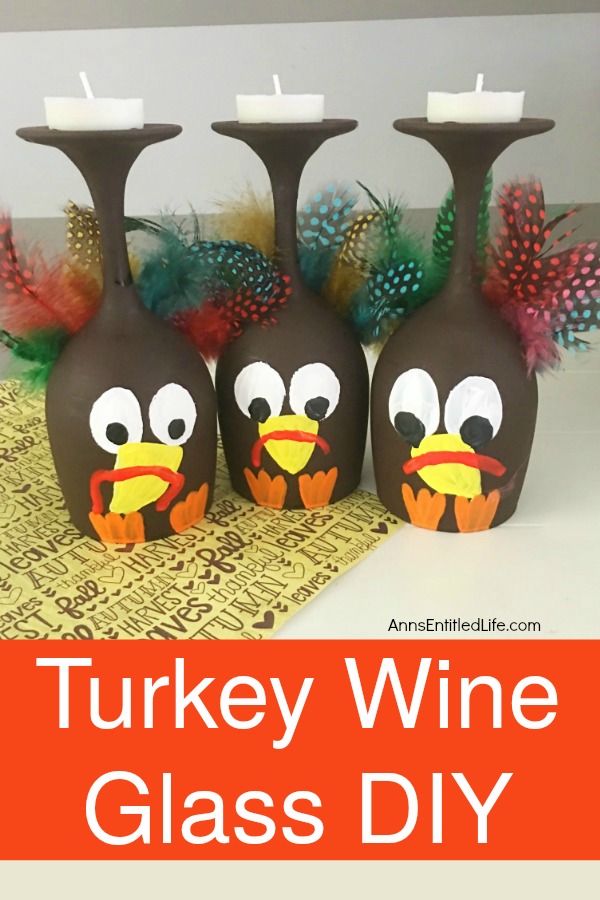 Turkey Wine Glass DIY
Make your own adorable Turkey Wine Glass. This easy step by step tutorial will show you how to easily make a wine glass turkey which is perfect for a centerpiece, mantel decor or table decorations this Thanksgiving! If you are looking for an adorable Thanksgiving craft project, this is it!
Thanksgiving seems to be the forgotten holiday in the US these days. And Thanksgiving decor, especially DIY home decor Thanksgiving crafts are difficult to find. However, these adorable Turkey Wine Glasses are the perfect, fun Thanksgiving craft decor!
They can go just about anywhere… round out your centerpiece (or make them the focus of your centerpiece), on a mantel, large window ledge, side table, etc. there really are all purpose Thanksgiving decorations.
How I clearly love painted wine glass decor, as evidenced by the DIY Wine Glass Snowman, DIY Wine Glass Witch and the DIY Pineapple Candle Holder crafts I have shared in the past. But the truth is, these painted wine glass crafts are simple to make, fun, and are finished in no time flat. Truly just about any adult can make them.
So, if you are looking for a fun Thanksgiving craft to make, give these cuties a try! You can make one, three or one for everyone at your Thanksgiving table!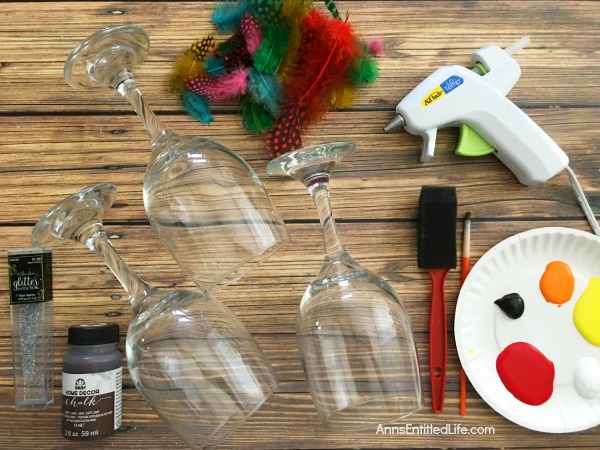 Turkey Wine Glass DIY Materials
• Any Wine Glass(es)
Paint Brushes
• Small Easel
or Paper Plate
• Paint in Brown, Orange, Yellow, Red, White and Black
Used in this craft:
• FolkArt Chalk Paint, 34165 Java
(Brown)
• Folkart, 2904W Vivid Orange (orange)
• FolkArt, 4017 Lemon Custard
(yellow)
• FolkArt, 437 Lipstick Red
(red)
• FolkArt, 4001 Wicker White
(white)
• FolkArt, 2934 Licorice
(black)
• Glue Gun
• Glue Sticks
• Multi-colored Craft Feathers

• Tea Lights
(for decoration)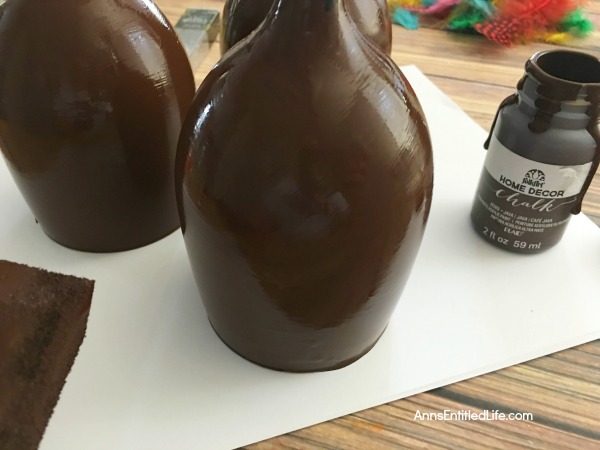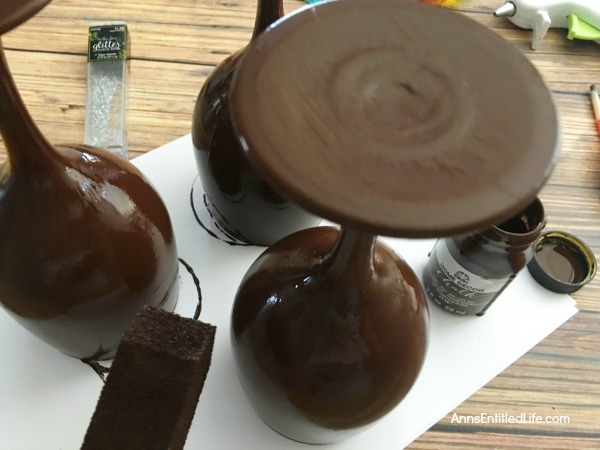 Turkey Wine Glass DIY Instructions
• Lay down a covering to protect your work surface.
• Paint the inside of your wineglass brown
with your foam paintbrush.
• Allow to dry.
• Now paint the outside of your wine glass brown.
Make sure you paint out all the overlapping marks.
• Allow to dry.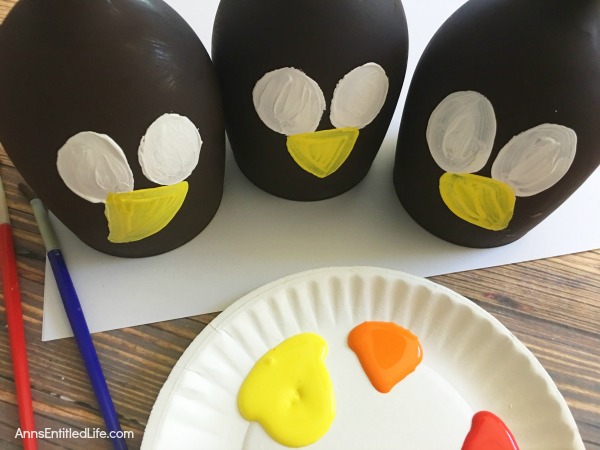 • Squirt a small amount of the white, yellow, orange, black, and red paints onto your paper plate or paint easel.

• Use a smaller paint brush to paint two white circles or ovals for the eyes on the painted wine glass.
• Below the eyes and centered (sorta) between them, paint a yellow triangle for a beak.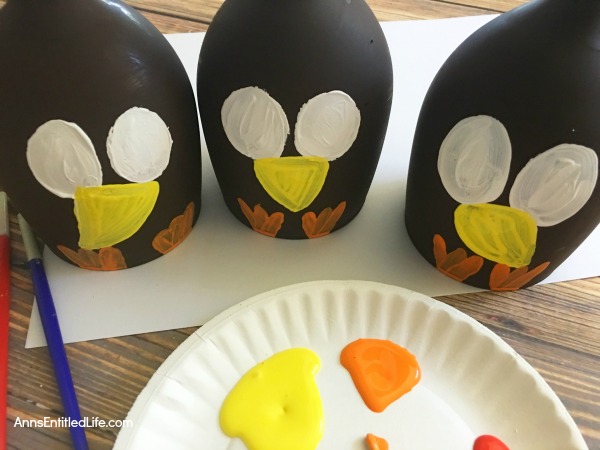 • Then paint two feet below the beak using orange paint.
• Allow everything to dry completely.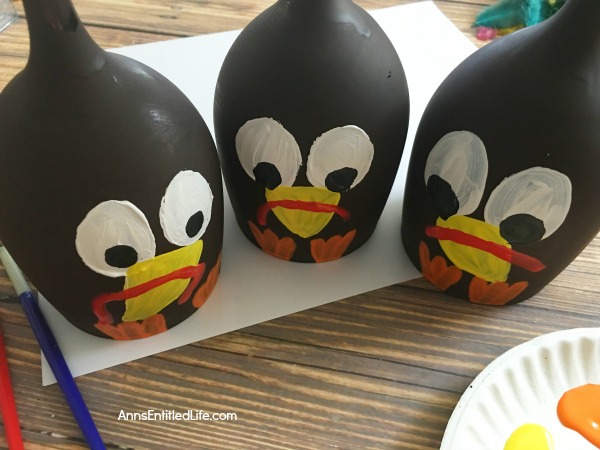 • Once your paint is dry, paint a black circle onto each eye to form a pupil (it will now look like an eye).
• Add a red squiggly line on the nose for the turkey's snood.
• Allow to dry completely.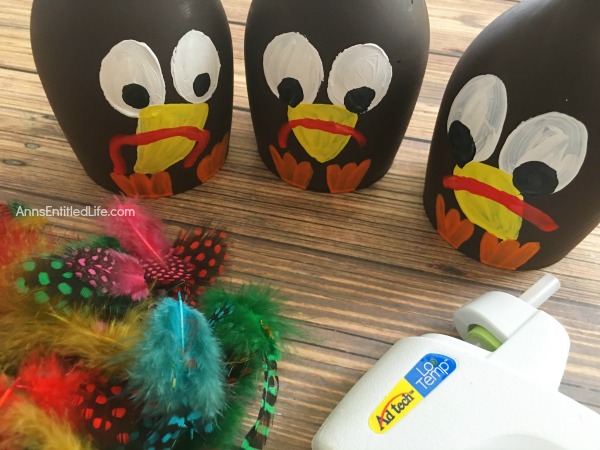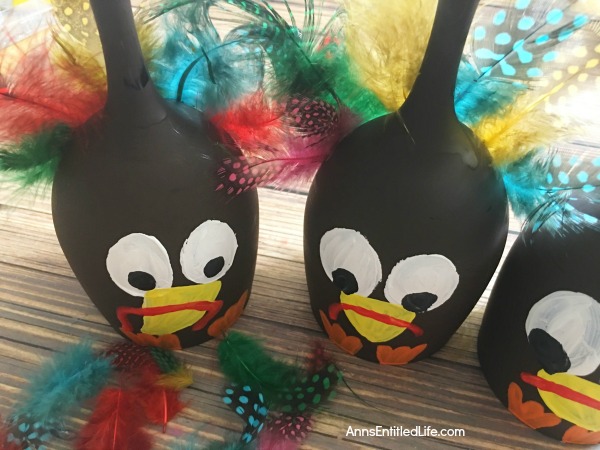 • Once the glasses are dry you can begin hot gluing feathers
on the backside of the turkey. Form an arch so it looks like a fan in back. Make certain the feathers do not touch the top of the wine glass.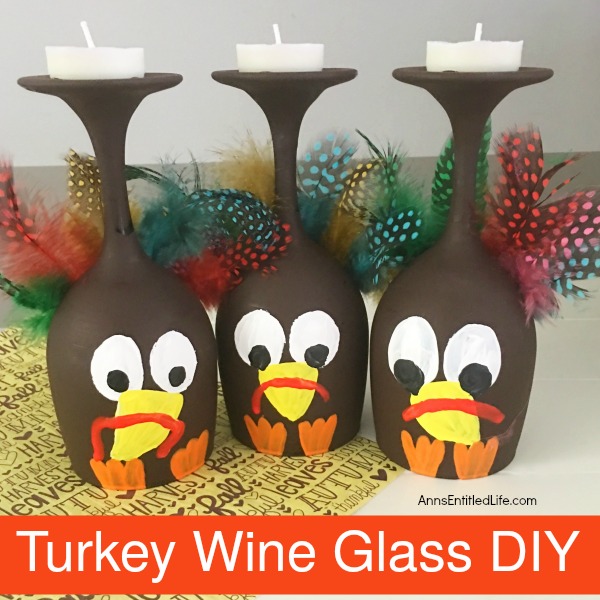 • Top off with a tea light candle (flameless may be best due to the feathers) and set this cute little wine glass turkey in the middle of your table, on your fireplace mantel or an end table for a great Thanksgiving decoration! Make a group of three in the same or in staggered height and set the trio among leaves, burlap, pinecones, etc for a sweet Thanksgiving centerpiece.
• To print the Turkey Wine Glass DIY Instructions, click here.
---
• Disclosure: the links in this post may be affiliate links.
• For more Holiday posts on Ann's Entitled Life, click here.
• For more Craft posts on Ann's Entitled Life, click here.
• If you enjoyed this post, be sure to sign up for the Ann's Entitled Life weekly newsletter, and never miss another article!
---