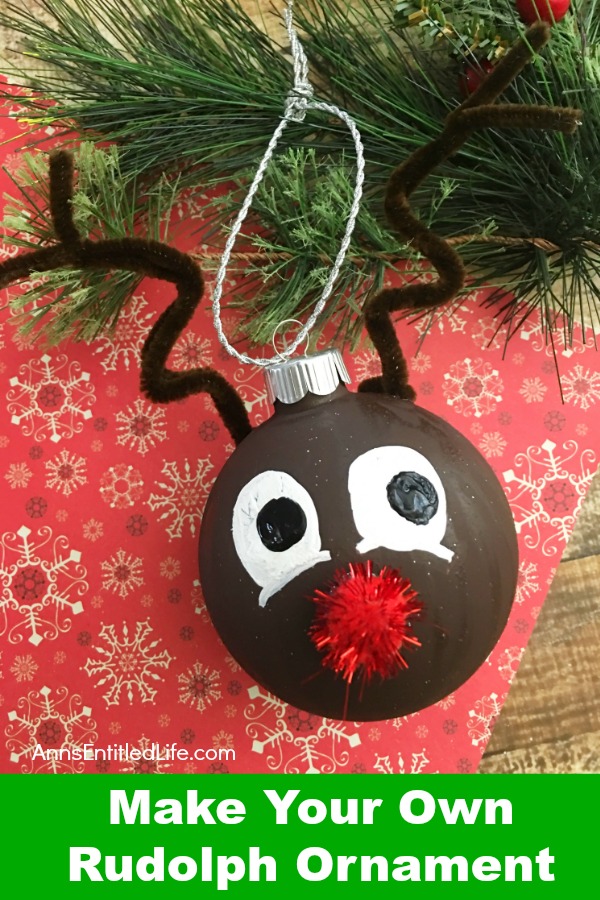 Looking for an adorable Christmas ornament craft that nearly anyone can make!? Here are step by step tutorial directions on how to make your own Rudolph ornament.
How to Make Your Own Rudolph Ornament
These diy ornaments are so cute! Make them for your tree, to give as a gift or to top a gift! If you use plastic ornaments use the ribbon and a piece of tape to attach to a Christmas gift in place of a bow. These are so sweet!
Under adult supervision (glue guns + glitter!), a child could easily make these. You may want to paint the globe in two steps and allow it to dry though. Set paint the top half, set on top of a plastic cup, and allow to dry. Then turn it over and allow the child to paint the bottom half. The paint dries fairly quickly.
If you are looking for more easy Christmas craft ideas, check out my craft and holiday pages.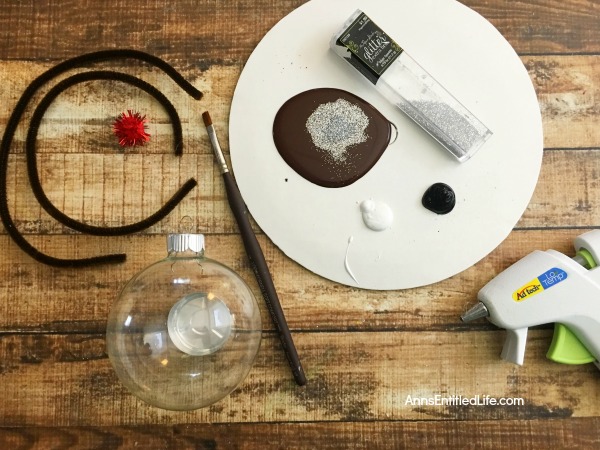 How to Make Your Own Rudolph Ornament Materials:
● Plastic Ornament
or Glass
● Extra Fine Silver Glitter

● FolkArt Chalk Paint, 34165 Java
(Brown)
● FolkArt, 4001 Wicker White
(white)
● FolkArt, 2934 Licorice
(black)
● Small Craft Paint Brushes
● Small Easel
or Paper Plate
● 1 Red Sparkly Pom pom
● 2 Brown Pipe Cleaners

● Thin Silver Ribbon
● Glue Gun
● Glue Sticks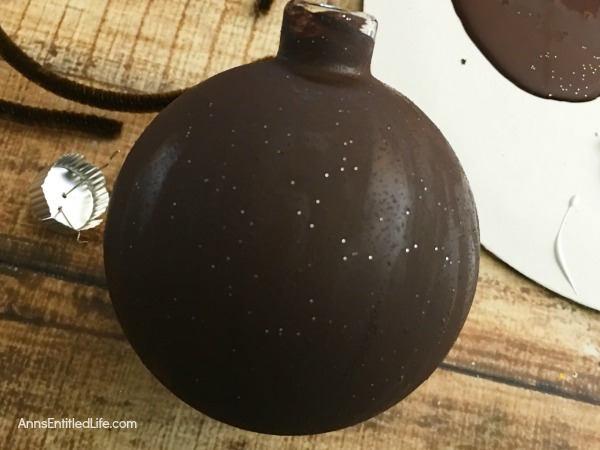 How to Make Your Own Rudolph Ornament Instructions:
● Cover your flat work surface with newspaper or cardboard.
● Remove the ornament cap; set aside.
● Mix together 1 tablespoon of brown paint with ½ teaspoon of silver glitter on a small easel
(or paper plate).
● Paint the exterior of your ornament completely with the shiny brown paint. (You may want to do this where you paint most of the ornament, then place it on a plastic cup to dry. After it is dry, turn it over and paint the bottom.)
● Allow to dry completely.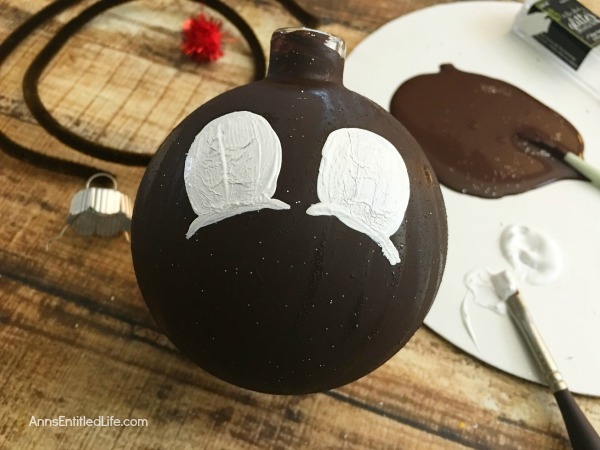 ● Once your ornament is dry, place the ornament cap back on your ornament ball.
● Paint two white oval shaped eyes on the front of your ornament along with 2 small half circle lines connected underneath.
● Allow to dry.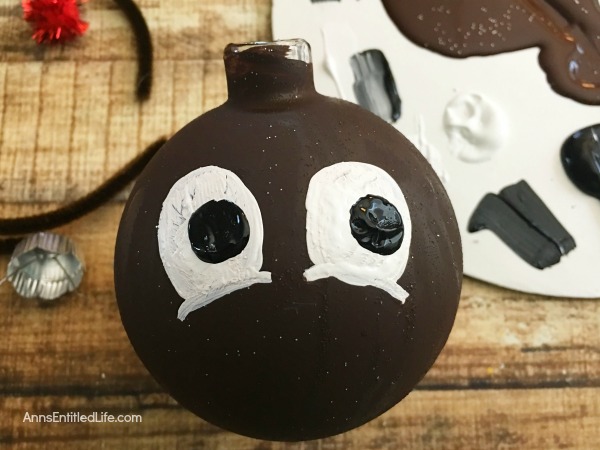 ● Paint one large black dot inside each white eye (make them even).
● Allow to dry.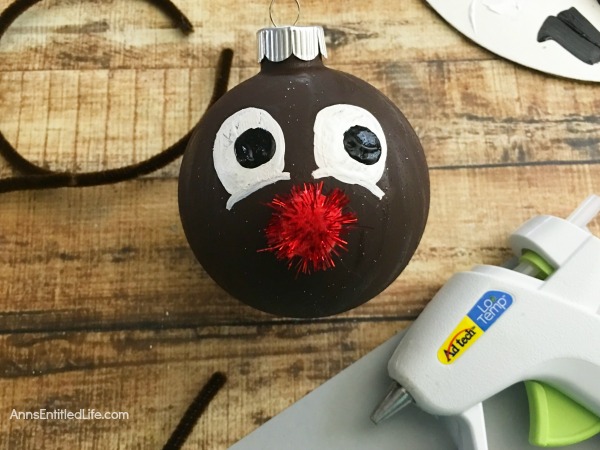 ● Hot glue the red sparkly pom pom underneath the eyes for Rudolph's red nose.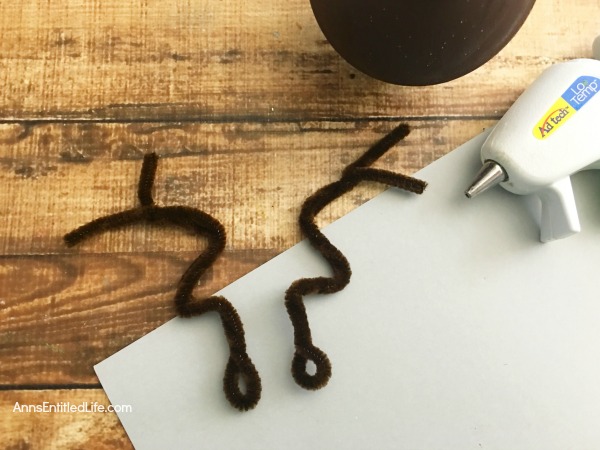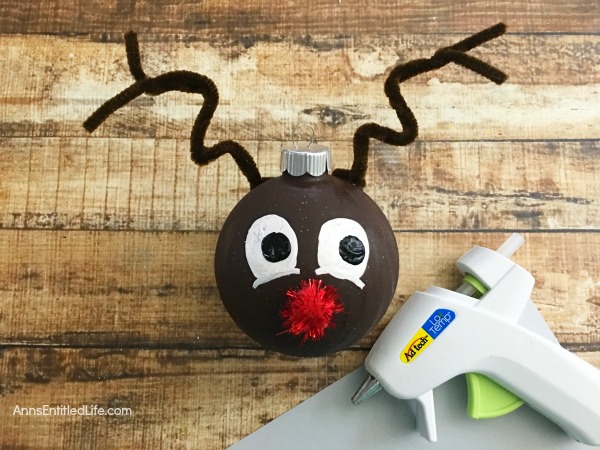 ● Fold two pipe cleaners in half, bend each one to look like antlers, and hot glue the bottoms onto the back top of your ornament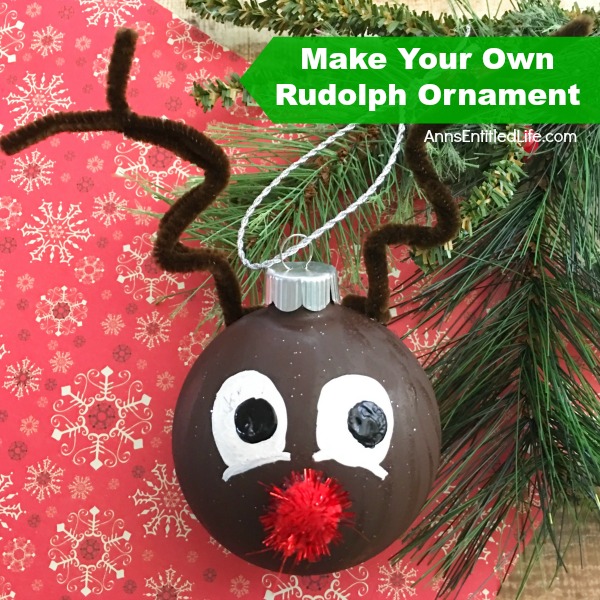 ● Cut a 8″ piece of silver ribbon (or any color you please), place one end through the top loop, and tie the ends into a knot to hang.
● To print the Rudolph Ornament Instructions, click here.
---
● Disclosure: the links in this post may be affiliate links.
● For more Holiday posts on Ann's Entitled Life, click here.
● For more Craft posts on Ann's Entitled Life, click here.
● If you enjoyed this post, be sure to sign up for the Ann's Entitled Life weekly newsletter, and never miss another article!
---