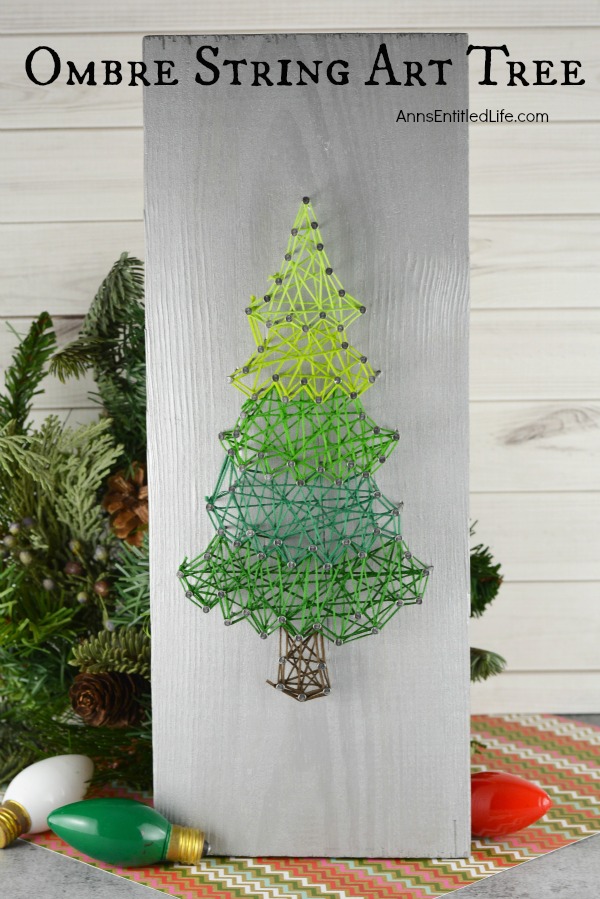 Ombre String Art Tree
Make your own whimsical Ombre String Art Tree with this step by step tutorial. Included are several printable tree patterns for you to choose from to make a Holiday Craft that you will be proud to display in your home, or give as a gift.
Ombre String Art Tree Materials:
● 1 pallet board
● Sanding Block
(if necessary)
● Embroidery Floss in 5 different shades of green

● Brown Embroidery Floss

● Wire Nails
( 7/8″, 17 gauge)
● Tack Hammer

● DecoArt Silver Morning Acrylic Paint

● Black Acrylic Paint (optional)
● Paintbrush
● Template, printed on PAPER, not card stock
* Narrow String Tree Template
* Regular String Tree Template
* Wide String Tree Template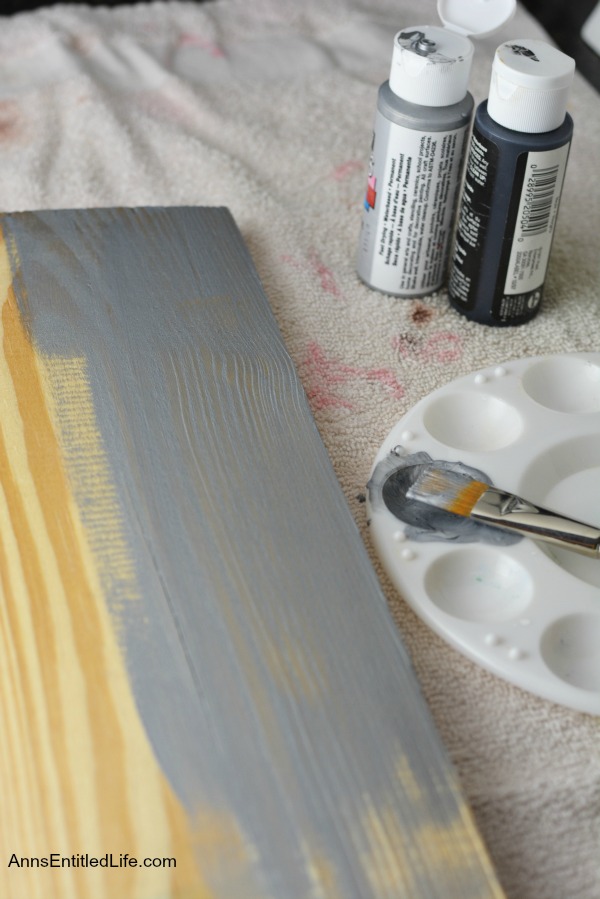 Ombre String Art Tree Instructions:
● Gather all the crafts and tools you will need for your project.
● On a flat surface, begin your work. Place a towel under your board to protect the surface and to quiet the pounding.
● Prepare your board by sanding it with a sanding block to remove edges.
● Paint your wood. Add a dollop of black paint (optional) to your silver paint to make it just a touch deeper.
● Apply a second coat if necessary and let dry.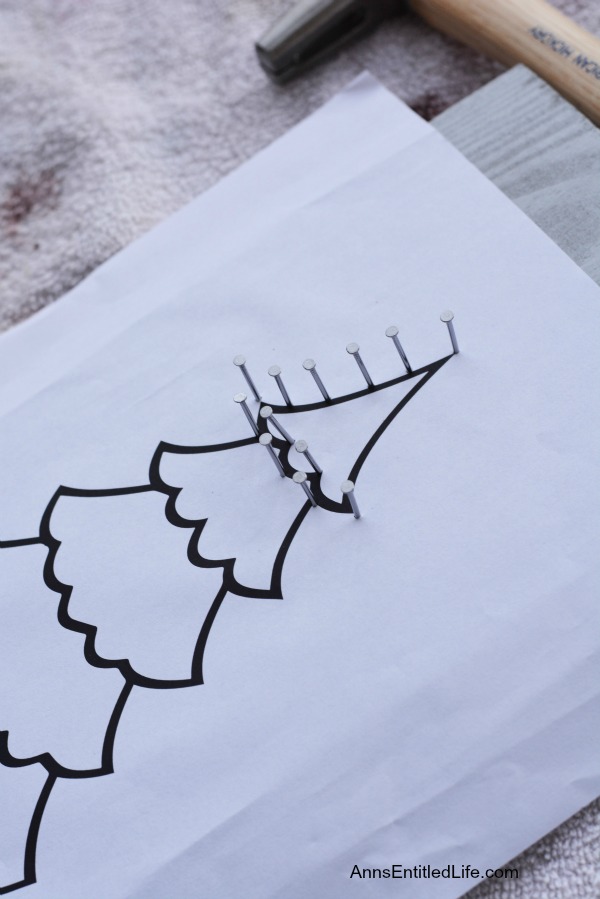 ● Print out your pattern template:
* Narrow String Tree Template
* Regular String Tree Template
* Wide String Tree Template
● Set your pattern in the center of your wood.
● Drive a nail in the top and bottom to hold the paper in place.
● Nails should be pounded in about 1/3 to 1/2 of their length.
● Continue to follow the pattern and pound your nails about 1/2″ apart.
WASH YOUR HANDS because the nails are dirty!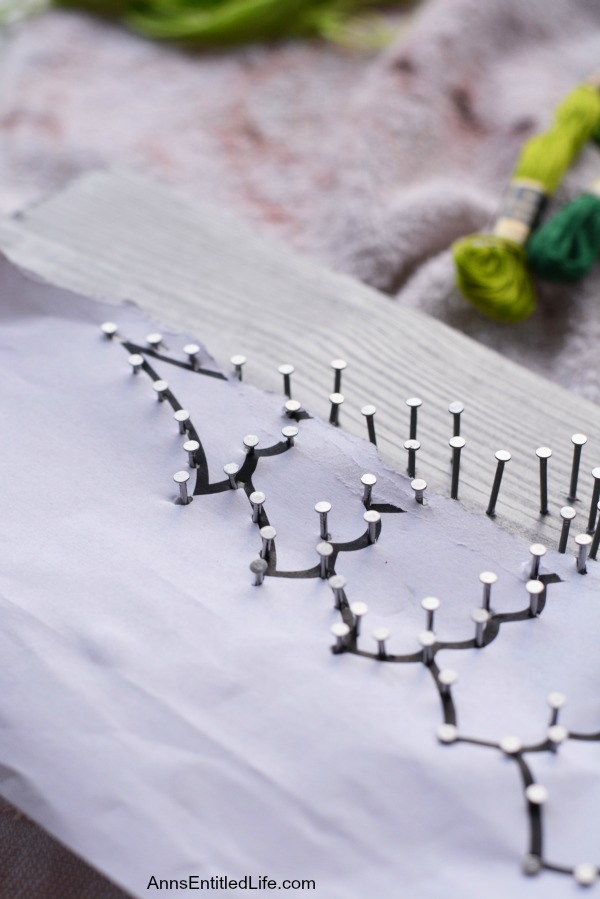 ● Remove your paper pattern by gently pulling UP and then tear off. Pulling up will help to eliminate stray paper pieces around your nails. If you have stray paper pieces, use tweezers to remove.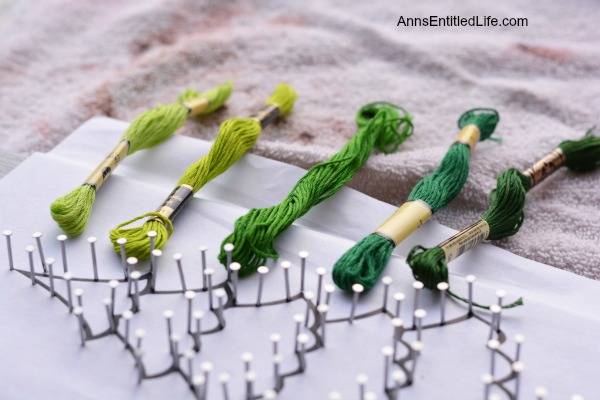 ● Begin to string your tree.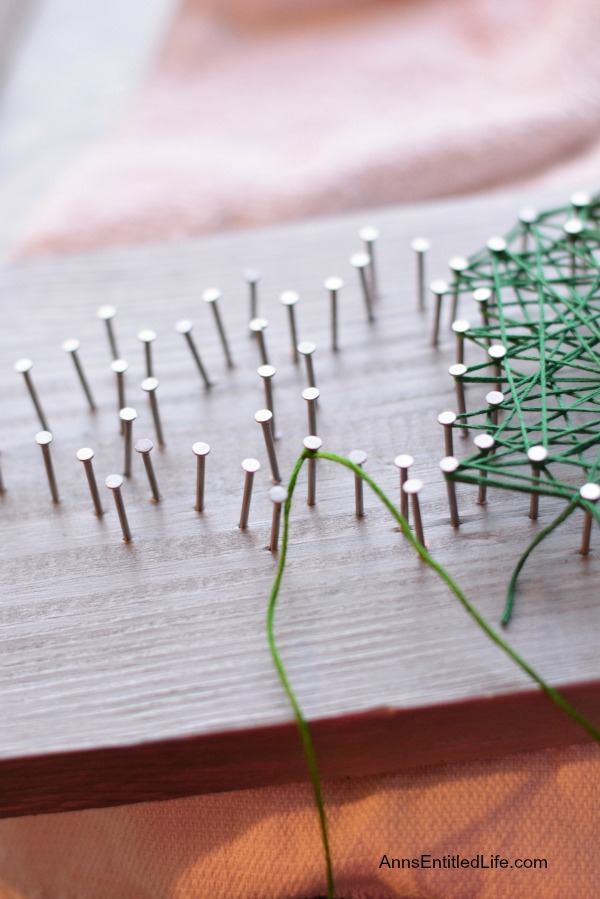 ● Start at the bottom using brown for the stem and move upward.
● Double knot your floss onto a nail in the corner.
● Zigzag back and forth, up and down and all around until you are happy with the look.
● Return the floss to where you began.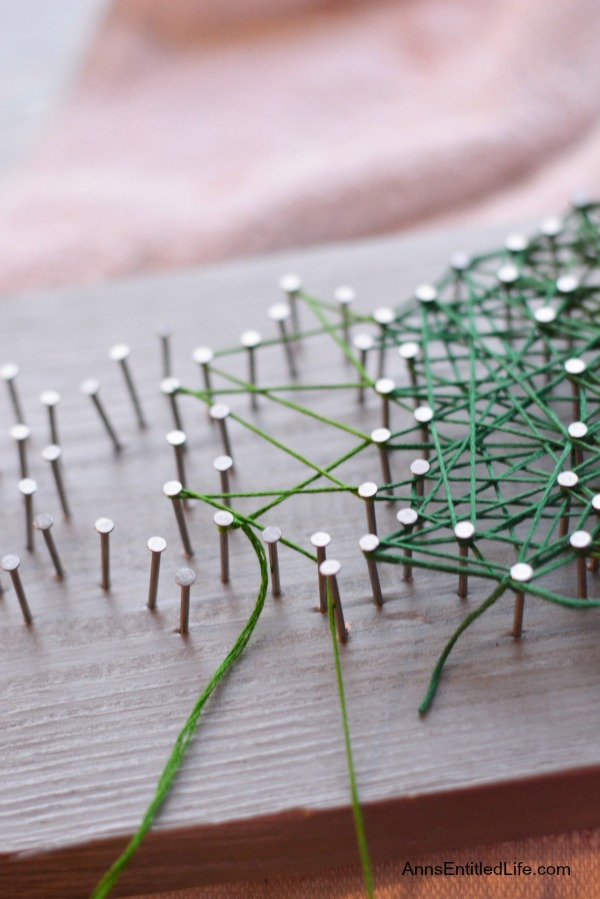 ● Now outline your section.
● You'll wrap floss around the entire head of the nail and carry it to the next nail. Wrap around that nail head and continue to the next. This will create either the inside or outside outline. Once you've made it all the way to the other side, reverse direction to create the opposite outline (i.e. if you made the inside outline, you'll now make the outside one.)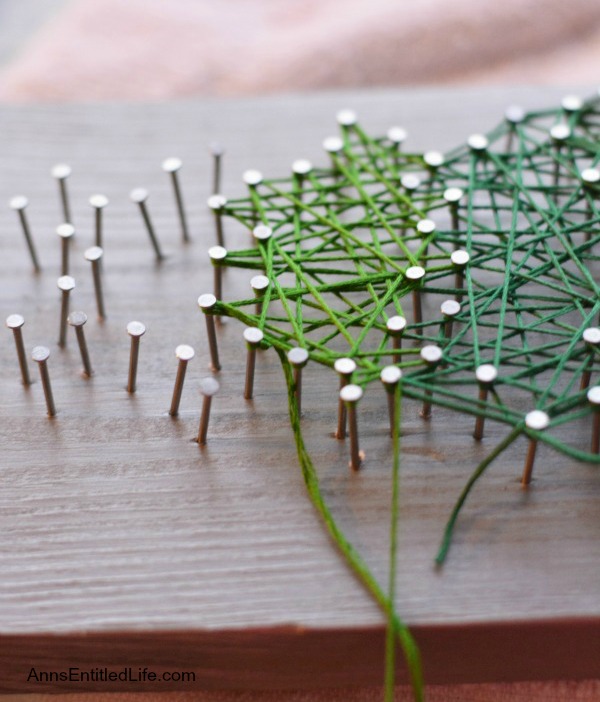 ● Note: When you outline the stem and bottom four tree sections, you only need to outline the left, bottom and right parts. When you get to the top, you'll need to outline the entire section.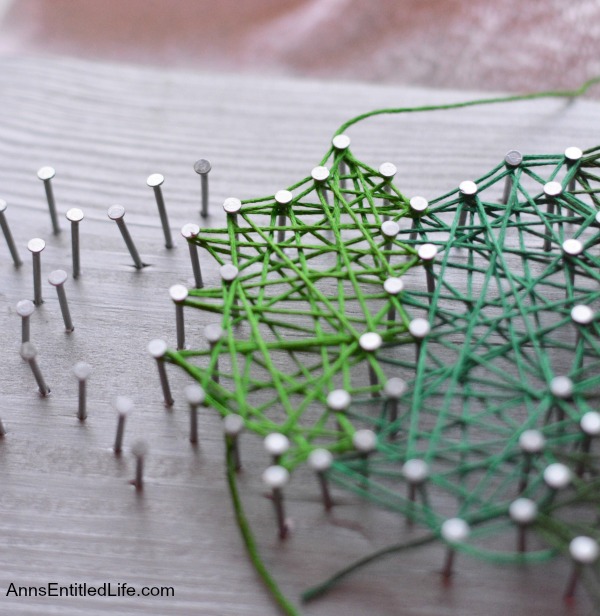 ● Return to where you began and tie the two strings together at the end and double knot. Trim strings.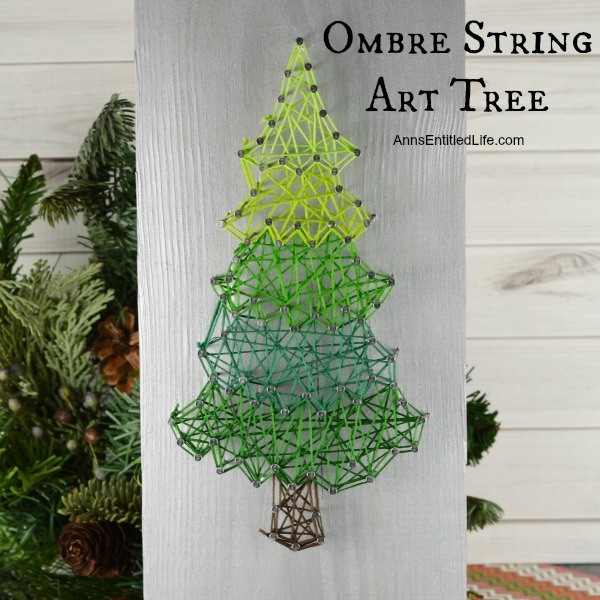 ● Continue with your green colors in sections, repeating the steps above! Start with the darkest green at the bottom and work to the lightest green. Or, start at the lightest green working to the darkest. This is very customizable depending on the colors you have chosen, and the look you are striving for!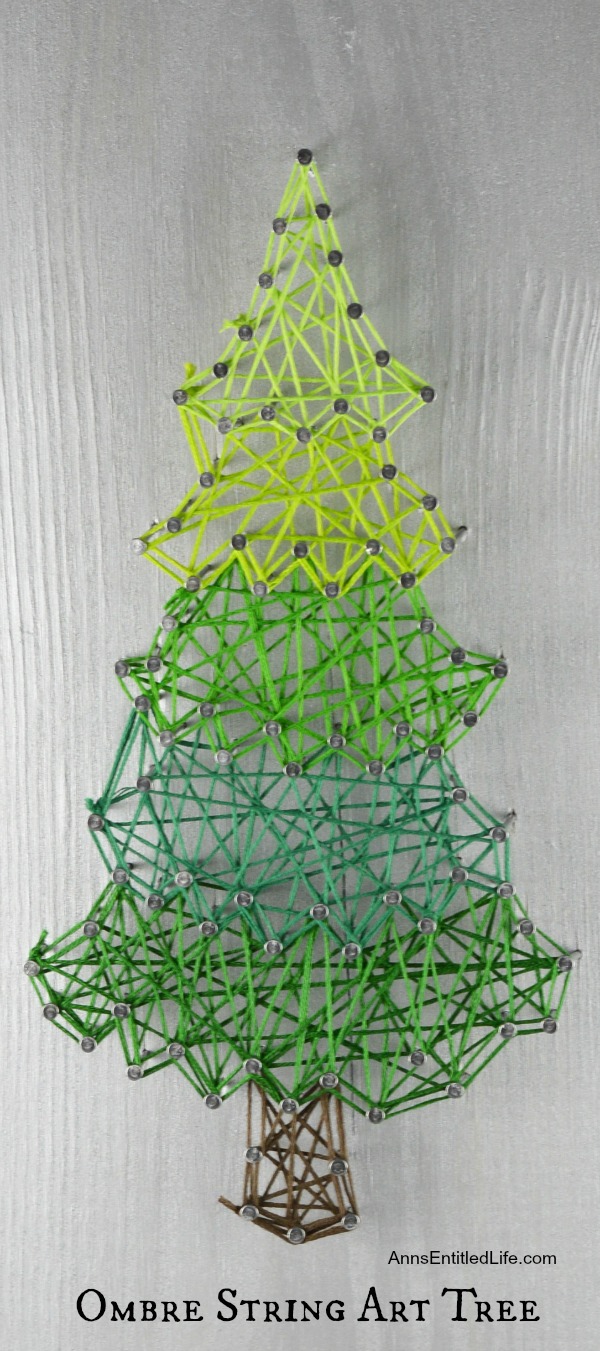 This is a truly beautiful craft; a work of ombre string art!
● To print the Ombre String Tree Art instructions, click here.
---
● Disclosure: the links in this post may be affiliate links.
● For more Holiday Posts on Ann's Entitled Life, click here.
● For more Craft posts on Ann's Entitled Life, click here.
● If you enjoyed this post, be sure to sign up for the Ann's Entitled Life weekly newsletter, and never miss another article!
---