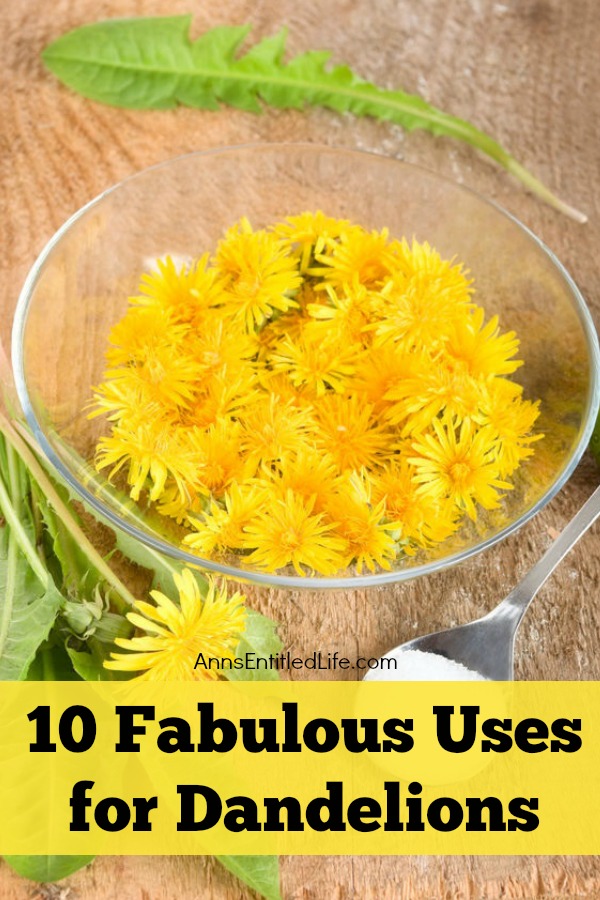 10 Fabulous Uses for Dandelions
Many people call them weeds but dandelions are actually a valuable herb to have around. People have relied on the powers of dandelions for eons as many find out exactly what these little yellow blooms and their foliage have to offer. If you want to use dandelions for good purposes instead of just tossing treating them as trash, take a look below at these 10 fabulous uses for dandelions. You will find that dandelions are worth their weight in gold and can be a valuable asset to your household.
Here is what you need to know about dandelions:
Dandelions are thought to have evolved about 30 million years ago in Europe and Asia. They have been used by humans for food and as an herb for much of recorded history. Dandelions are now found worldwide. Dandelions are are perennial plant.
It should be noted that dandelion pollen may cause an allergic reaction in some people when eaten, or adverse skin reactions in sensitive individuals.
Harvest the new dandelion greens in early spring to eat. If you use dandelion greens after the flower stalk grows tall and the flower opens they will be quite bitter. Larger leaves can be harvested late in the season. The blossoms are eaten as fully opened or green buds. The root is ready once a hard frost has killed off the green parts.
Only use fresh dandelions that are untreated and in their natural state. The dandelion is a diuretic that also contains potassium. Regular harvesting will keep the dandelion from going to seed and sowing itself. This will keep the spread of cultivated dandelions out of your lawn. No matter what use you want dandelion for, this easy growing plant can be a wonderful addition to your herbal garden.
1. Eat dandelions in a tasty salad.
Foragers know that dandelion greens are actually quite tasty! As long as your dandelions haven't been treated with any chemicals or fertilizers, they can be eaten. Just wash well to remove all dirt and debris and use a vinaigrette of your choice for more flavor. Some people even like cooking dandelion greens like you would spinach greens, which is also tasty. Dandelions are a bitter green, but if you love strong flavor you might very well enjoy them.
2. Make your own muscle rub using dandelions.
The oils in dandelions can be quite effective at helping soothe sore muscles.
● You can make your own muscle rub when you let dandelion blooms marinate in a carrier oil
of your choice (sweet almond oil
works great) for several days and then strain.
● Use your dandelion oil as you would any massage oil for amazing, muscle soothing results.
3. Steep dandelions blooms for tea.
When harvesting the dandelion flowers to eat, simply pop the bloom off of the stalk. To use, you want to remove the flowers from the green base. You can get nutrients and flavor from dandelion blooms, which is why many people like steeping them for tea.
Dandelions are a Diuretic, and so many people use dandelion tea to help rid the body of excess fluids. You can also dry the blooms and add them to your tea blends for extra flavor.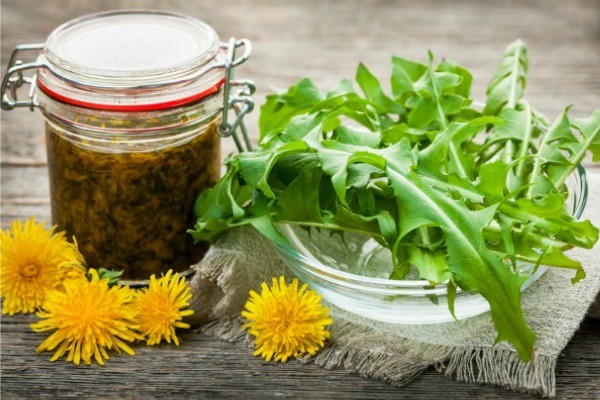 4. Make dandelion jelly!
There are a plethora of dandelion jelly recipes on the internet! Here are several dandelion jelly recipes that looked really interesting:
● Sweet Dandelion Jelly
● Dandelion Sunshine Jelly
5. Make dandelion wine:
I have a feeling that dandelion wine was the original herb wine. Dandelion wine can be made using the entire flower or just the yellow part for a less bitter flavor.
Here are a few dandelion wine recipes to try:
● Dandelion Wine
● Dandelion Wine Recipe
6. Make dandelion syrup for your pancakes and waffles!
The process to make dandelion syrup is time consuming, but not difficult. For a unique syrup for your next breakfast, try one of these dandelion syrup recipes:
● Dandelion Syrup
● Dandelion Syrup Recipe
7. Dandelion root can be roasted as a coffee-substitute.
● Clean the roots well.
● Cut roots into small pieces.
● Process cut roots in a food processor
or mini food processor.

● Spread out the roots on a jelly roll pan
(no more than ¼" deep)
● Roast on 250° for several hours until dry, stir or move the dandelion roots around several times.
● Cool, grind to a powder using a coffee grinder.

● Store in an airtight container.
8. Make dandelion soap!
Dandelion oil is considered effective in helping rough, dry skin. Considered a skin soother, there are a lot of dandelion soap recipes out there!
● Dandelion Lotion Bars
● Easy Dandelion Soap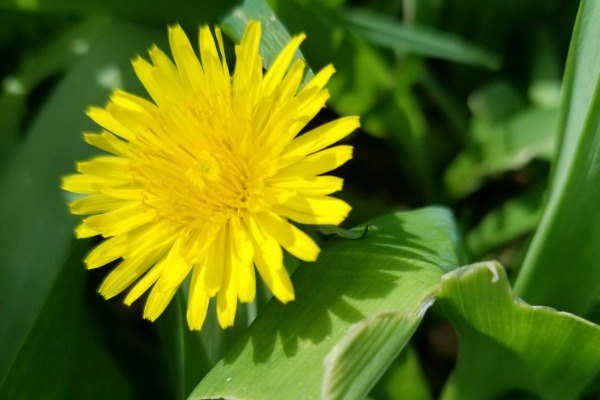 9. Use dandelions for crafts.
You can press dandelions for crafts with the use of a flower press. Or, you can make your own flower press out of a heavy book and some parchment paper. They will retain their color nicely and can make a nice addition to your DIY projects you are working on. You can also tie the stems together to make flower chains, flower crowns, and more.
10. Add dandelions to your compost.
Do not toss those dandelions out after you pick them. Add them to your compost pile where they will break down and help enrich your soil. The foliage of dandelions is nutrient rich and can give your soil a boost. So do not toss it, instead put any dandelions and their foliage in your compost for vitamin boost for free.
Remember, only try the above suggestions with dandelions that have not been treated with any chemicals or fertilizers. Even after washing, traces of these chemicals can stay present. Only use fresh dandelions that are untreated and in their natural state.
Amazing how much use you can get out of that "weed"! Do you have any suggestions or uses for dandelions?
Note: None of this is meant as medical advice. I am not a doctor, and do not play one on the internet. Please consult a physician if you have any questions about using dandelions so your doctor can better explain to you the benefits, possible side effects, and any warnings of using dandelions.
---
● If you enjoyed this post, be sure to sign up for the Ann's Entitled Life weekly newsletter, and never miss another article!
● For more Craft posts on Ann's Entitled Life, click here.
● For more Garden posts on Ann's Entitled Life, click here.
---