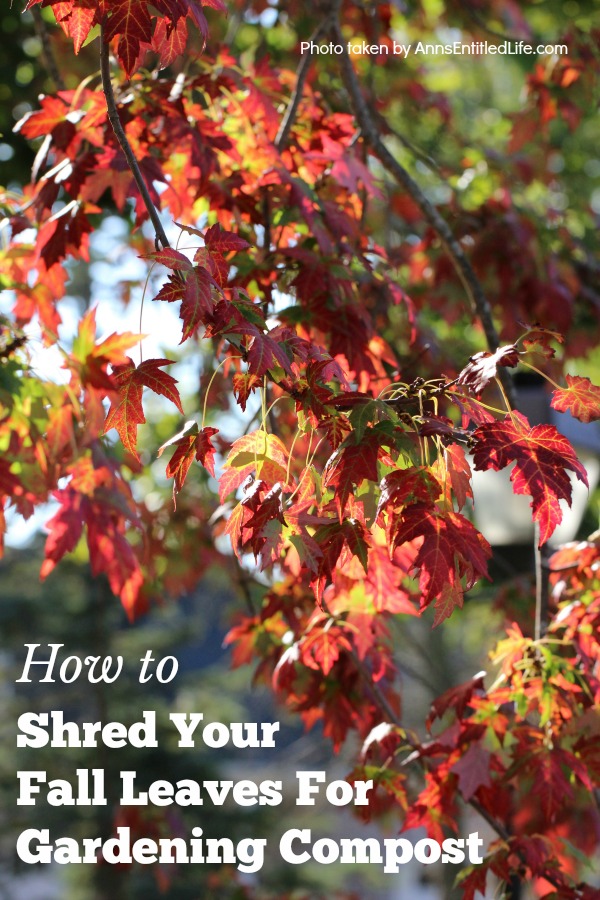 Uses for fall leaves as compost, what to do, what not to do, what leaves to use, what leaves not to use.
Shred Your Fall Leaves For Gardening Compost
I can't be the only one that hates to rake or leaf-blower autumn leaves! We have a lot of trees in our area, so a lot of autumn leaves! While beautiful in color when hanging from the trees, they lose their appeal as they drop to the ground.
For many moons now I have blown or raked my fall leaves under my bushes to provide compost and ground cover instead of bagging the leaves or taking them to the curb for pick-up. According to this article at Compost Guide, my laziness pays dividends! Pound for pound, the leaves of most trees contain twice as many minerals as manure.
● The easiest way to compost your leaves is to mow them with your lawnmower and allow the ground up bits that remain on top of the grass to work their way into the lawn, which will eventually benefit from the nutrients in the leaves.
● If you want to cover your garden beds with leaves, shred the leaves first to aid in their decomposition. The shredded leaves can be turned over into the soil in the spring to enrich the soil.
To compost leaves for your vegetable beds:
● Gather your dry leaves to shred.
● Turn your leaf-shredder on and drop the leaves into the shredder or mulcher.
● Place a bag underneath the shredder to catch the shredded leaves as they exit the shredder.
● Place under your shrubs, bushes, trees (avoid your tree trunks) or in your vegetable gardens.
Easy peasy, and no dragging all the autumn leaves to the curb!
Leaves to NOT shred for your garden bed:
● Oak leaves do not compost well, so be certain to shred them well.
● Do not use leaves from Black Walnut trees as they contain a toxin that inhibits plant growth.
Sources
University of Illinois Extension
Cornell
Compost Guide
Interested in fall gardening? These fall gardening posts may be of interest:
● Tips For Growing A Fall Vegetable Garden
● 20 Fabulous Bulbs to Plant in the Fall for Spring Blooms
---
● For more How Does Your Garden Grow posts on Ann's Entitled Life, click here.
● Follow my How Does Your Garden Grow pinterest board
---