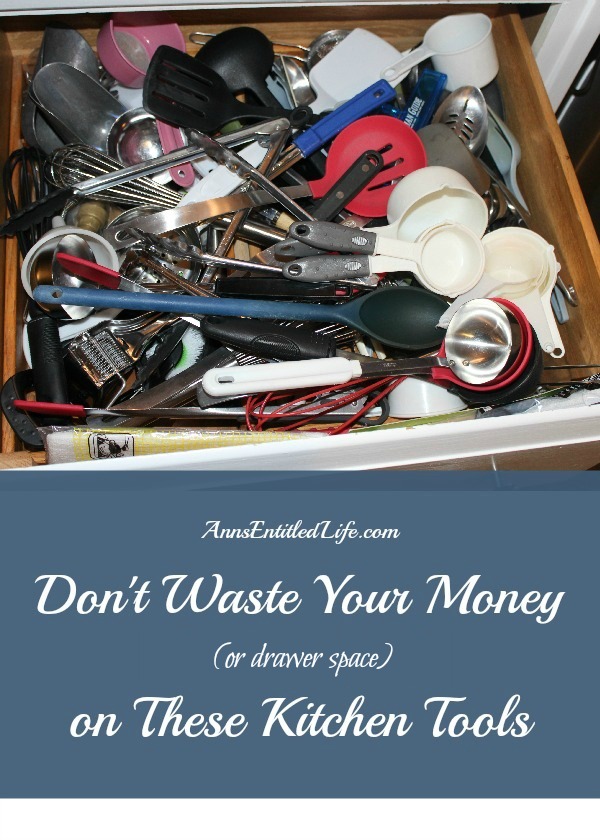 Don't Waste Your Money On These Kitchen Tools
We all have kitchen utensils we love, and kitchen tools we never use. This is my list of useless kitchen tools that I would advise you not to waste your money (or your drawer space) on!
See that drawer? That is what just one of our kitchen tool drawers looked like late last year. It doesn't look anything like that now, however. Before we went down to Florida, Hubby and I dumped everything from our kitchen tool drawers and went through everything! If it was gross, we dumped it. If we had duplicates, we decided what type/how many were staying up here, and how many were heading down to Florida for the kitchen there.
Since we had a lot of duplicates, we didn't buy many new utensils when we set up the kitchen down at our condo. And quite honestly due to space constraints, some of the items we did take down to the condo never made it to those drawers.
Clearly we have a lot of kitchen tools, utensils, gadgets…. whatever you want to call them. Too much stuff by any other name is just called junk.
And I blame Hubby.
What, you thought differently?
I have written on a number of occasions that my husband hates to part with anything "good" that might be "useful" in the future. And we all know my definition of "good" and "useful" don't always intersect with his definition.
So cleaning out those kitchen drawers was a good step for him. We got rid of the spatulas that were melted, the spoons that were pitted, and a few things we couldn't figure out why we had them in the first place.
Oh sure there were a few tears and much teeth gnashing, but in the end Hubby sucked it up and let some things go.
Now there were indeed a few things that we were scratching our heads over trying to figure out why in the world we paid good money, and dedicated good drawer space, to these items.
While we all have our favorite kitchen tools we can't live without, these are my picks for five items you should not waste your money or drawer space on: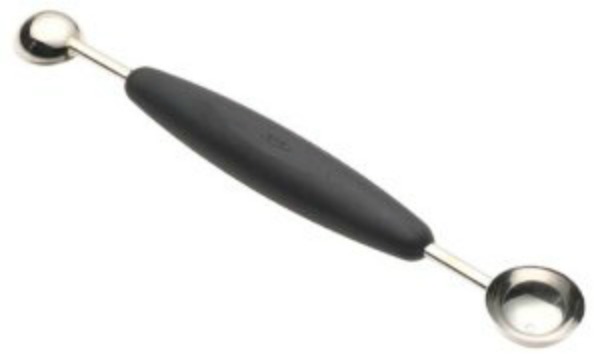 A Melon Baller – Come on, tell the truth. You have one of these in your drawer. And when was the last time you actually balled fruit for some grand party presentation?
I thought so.
Cutting your fruit in slices is just as pretty, a lot less time consuming, and no one will know or care that you didn't ball the fruit.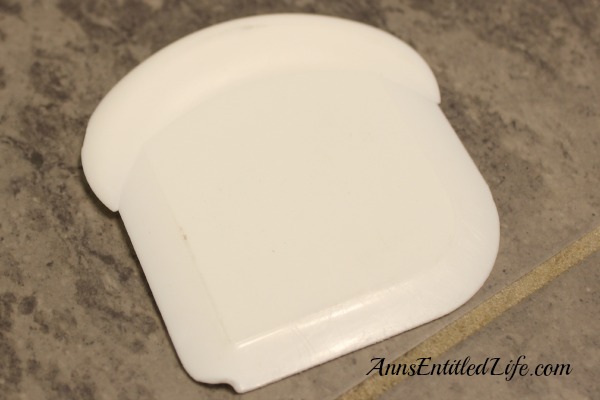 A Plastic Scraper – Hubby needed one. If he was going to get a pastry scraper, that I could understand, but this one? Not-so-much.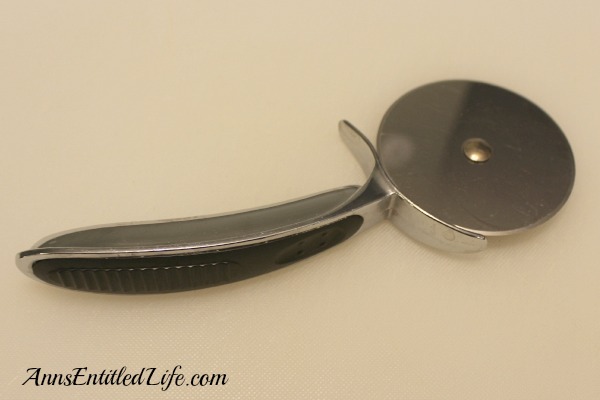 A Pizza Cutter – This one was alllllllll Sonny-boy. Apparently he never heard of a knife!?
And you will notice that he needed this pizza cutter so very much, that he left it here when he moved out.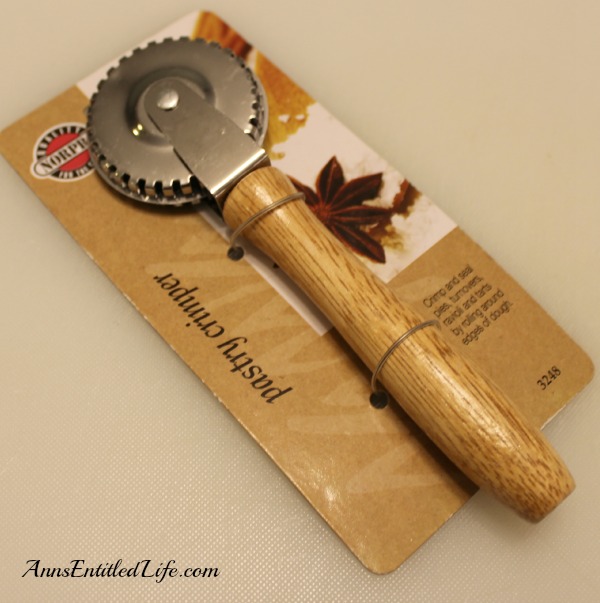 A Pastry Crimper – REALLY!? I have no idea when Hubby snuck this into the house but you will notice it isn't even out of its packaging. And from where we unburied it in the drawer, my guess is it had been there a long, long time.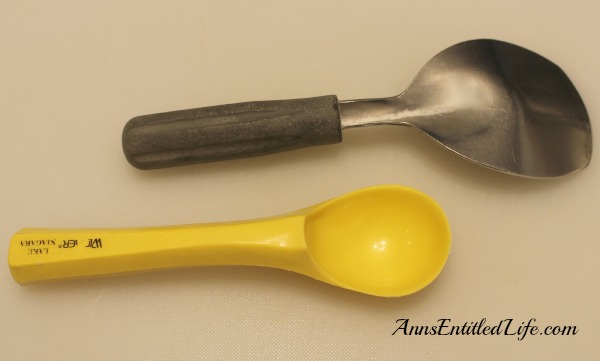 Ice Cream Scoop or Spade – There was no way I was writing this article and not including an ice cream scoop!!
Every single time I have ice cream, I get out a spoon to dish out my ice cream from carton to bowl.
And every single time I do this, Hubby's "ice cream scoop radar" goes off. He runs into the kitchen gasping and squawking, slams a few drawers, grabs the ice cream scoop, leans in, takes away my bowl, ice cream and spoon, and proceeds to dish up my ice cream using a scoop.
Meanwhile I am usually on the floor because I am laughing so hard.
He does this EVERY. SINGLE. TIME. I eat ice cream. The pattern never changes. Sometimes in the summer I get the ice cream out just for laughs. I don't want the ice cream, but this production is so hilarious I feel compelled to keep him on his toes.
Clearly I feel an ice cream scoop is pretty useless, and Hubby feels it is an essential kitchen tool. Where do you fall on the subject?
So what kitchen utensils would you tell someone: Don't Waste Your Money On These Kitchen Tools!
---
● For Recipe Posts on Ann's Entitled Life, click here.
● For more Library Topics on Ann's Entitled Life, click here.
---