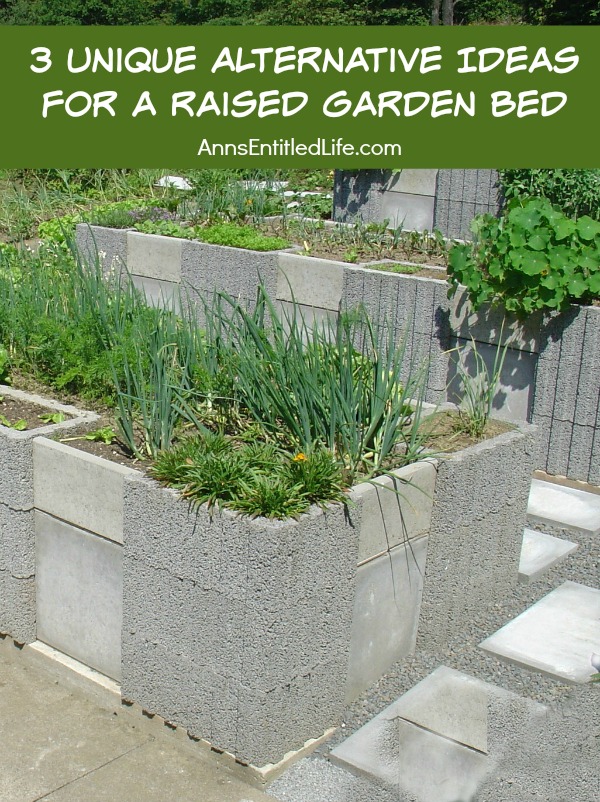 3 Unique Alternative Ideas for a Raised Garden Bed
Raised garden beds
are a great option for those who don't want to use traditional planting methods. It's a great option if your soil is not rich and healthy, it's painful for you to bend to tend to the garden, and just looks great when set up right. However, sometimes a raised garden bed is too much of a hassle to construct, or you may live in a neighborhood where everybody is doing them! To change up your garden décor and have a unique garden, try these three unique alternative ideas for a raised garden bed.
Make a Statement with Cinder Blocks
Instead of the traditional use of wood to construct a raised garden bed, a great alternative is to use are decorative or textured cinder blocks. Compared to the lumber needed to construct a raised garden out of wood, cinder blocks are much more inexpensive in comparison. Also, cinder blocks last longer than wood. Wood tends to corrode after a while and needs to be replaced. Cinder blocks don't really need replacing, and there is no chance of accidentally moving them.
Simply arrange them in a pattern of your choice: square, rectangle, circle, or hexagon, to name a few. Add your dirt and plants into each opening. You can even add a large combined plant variety in the center.
Create a Soothing Environment with a Tub Garden
Do you have an old bathtub or hot tub you are no longer using? These would make the perfect off-ground garden. You do need to drill a few holes in the bottom to allow the water to drain out. Then, fill the bottom with gravel and add the dirt over that. If you have a hot tub cover, keep that to shield your garden from the frost come wintertime.
Move Up with a Vertical Garden
If you don't have sufficient space horizontally, you may want to consider making a vertical garden in your yard. Vertical gardens are often shaped like a flight of stairs, each top side, allowing for a place to grow plants. This design saves a bit of space, giving you a way to grow your crops in tight areas.
Traditional raised garden beds are not for everyone. However, the above three unique setups can change your yard into a beautiful, extraordinary green scenery.
Do you have any unique raised garden bed ideas?
---
● Disclosure: The links in this post may be affiliate links.
● For more How Does Your Garden Grow? posts, click here.
● Follow my How Does Your Garden Grow board on Pinterest!
● If you enjoyed this post, be sure to sign up for the Ann's Entitled Life weekly newsletter, and never miss another article!
---