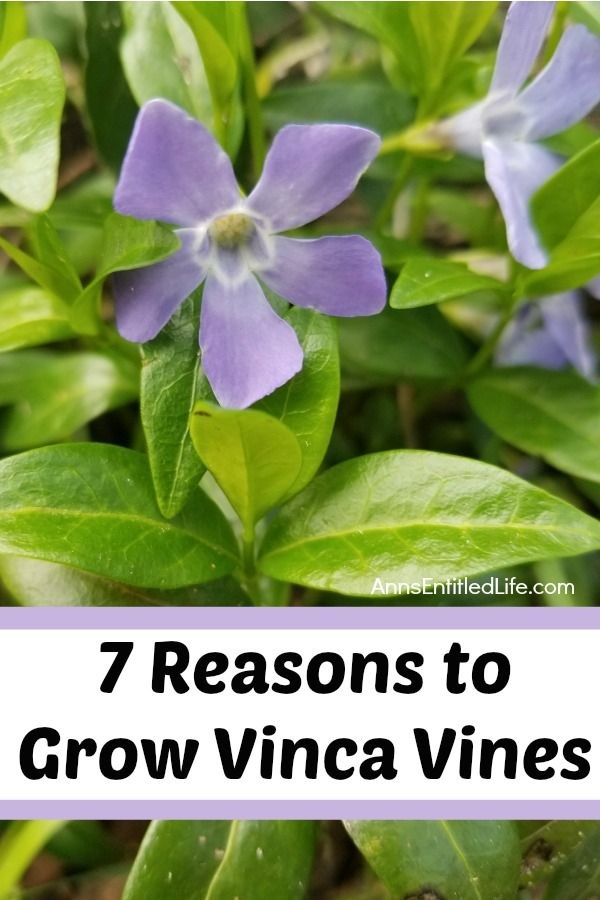 Perennial Vinca vines sure do pack a garden punch. These little flowers are beautiful and mighty, thriving even in less than ideal growing conditions. If you are looking for some colorful ground cover, vinca vines may be just the plant you are looking for. Read below for my 7 reasons to grow vinca vines and see what a great garden choice these little plants can be!
Years ago (like many, many years ago… ok, 25+ years ago) I bought vinca to use in my planters. Back then my budget was very, very tight, and I used inexpensive vincas to make my homemade planters look professional! They drape over the sides of planters and pots and look absolutely beautiful. They were sold as annuals in my local gardening center.
Well, I hated to toss them away, so I planted them on the side of my driveway to fill in the small dirt patch between my driveway and stockade fence (I lived in the city back then). Well, what do you know but not only did they survive, they thrived! Because the trailing vine vincas are actually perennials! I surmise they were labeled as annuals exactly because people used them in planters and considered them disposable plants.
Every year I'd make up my planters with flower annuals, vincas, and a spike, and every year I would save the vincas along the fence. By the time I moved 10 years later, they had nearly filled the whole area in.
Now since the vincas continued to grow as if they were a trailing drape (remember, these are used frequently in flower pots and planters as the "spillers") twice per season I would haul out my gardening scissors and cut off the long trails that grew onto the driveway itself. They always came back beautifully.
Note that there are several types of vinca:
● Perennial – evergreen leaves, trailing vines and purple-blue flowers
● Annuals – Catharanthus roseus, which is not a vine
7 Reasons to Grow Vinca Vines
1. Vincas are cost effective
You can find a vinca for as little as a few dollars, making them a great investment for gardeners on a budget. Even better is if you can score some plants for free from someone who is digging them up. Check local Craigslist listings to see if there are any current offerings and possibly score some vincas for cheap or free.
2. Vincas will return yearly
The perennial variety is hardy and will give you an excellent return rate. Once you plant it, you can count on it coming back in full force each spring and well into summer. In fact, it won't just come back but will multiply!
3. Vincas do not mind shade
If you have a yard that is shady, you don't have to worry about your vincas. They don't require full sun and actually do well in part sun and shade. While you might not get as many blooms, you will still enjoy some and get nice and rich foliage.
4. Vincas require very little care
Vinca vines are a plant it and forget it type of plant. Once in the ground, they tend to do their own thing. You don't have to prune, dead head the plants, or even do much in the way of watering. They seem to do well as long as you have regular rain showers and keep them in well draining soil spots.
5. Vincas can be relocated
If you plants get out of control you can dig them up and move them. They are hardy plants and will transplant well. This is a great way to get "free" plants and landscape your yard for less. Who doesn't love free plants?
6. You can enjoy all sorts of colors
Vincas produce tiny blooms in shades of white, purple, and pink. If you love color, you will find they offer a nice pop of it. In addition to looking great on trellis areas, fences, and borders, they also look great climbing out of flower pots, planters, and window boxes.
7. Hummingbirds and butterflies love Vincas
The bright colors of their flowers as well as the shape attract hummingbirds and butterflies. Their beaks and tongues fit into the flower perfectly allowing them to take a much needed sip of nectar. Vincas help these pollinators by keeping them fed, which is reason enough to let them grow.
While there are annual varieties of vincas, the perennial varieties discussed here are ideal for easy gardening. Give them your consideration and see what a great plant they can be! In no time, you can be enjoying a yard full of beautiful vinca vines, too!
Planting a flower garden? You might want to read these great ideas:
● 5 Pest Repelling Plants While pesticides or insecticides may have their place, most gardeners would prefer to keep insects and rodents out of the garden as naturally as possible. There are natural, organic methods, and better yet, plants that repel pests.
● 75 Acid Loving Plants – If you have acidic soil, you need plants that flourish within an acid soil environment. Flowers, vegetables, shrubs, and trees all have specific soil needs; these 75 acid loving plants are great choices for your gardening and landscaping needs.
● Why Your Garden Needs Nasturtiums – There are just some plants that should be grown in every garden. Nasturtiums are one such plant!
---
● Disclosure: the links in this post may be affiliate links.
● For more Gardening posts on Ann's Entitled Life, click here.
● If you enjoyed this post, be sure to sign up for the Ann's Entitled Life weekly newsletter, and never miss another article!
---