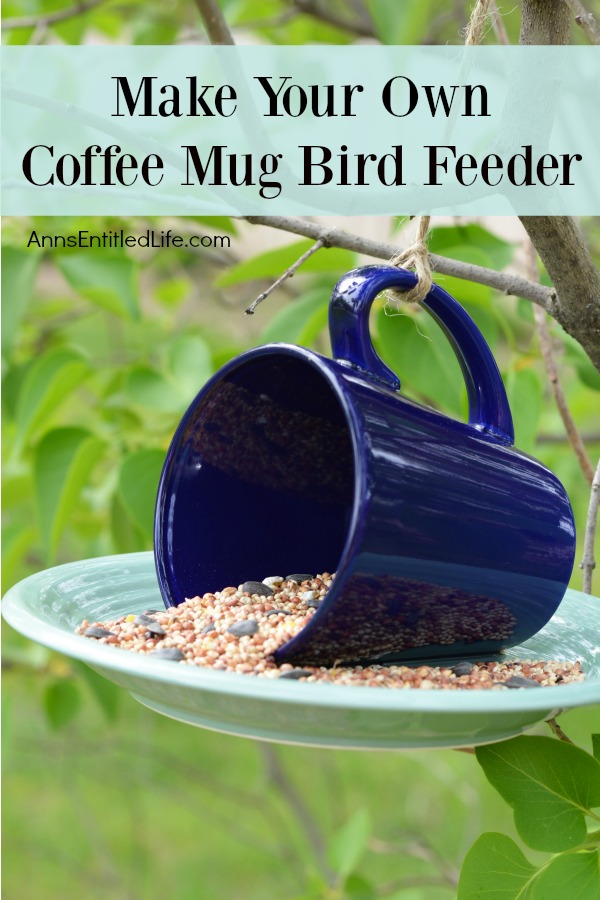 Make Your Own Coffee Mug Bird Feeder
This is the easiest garden craft project you will ever do! Add a touch of whimsy to your garden decor with this simple coffee mug bird feeder craft. A fast and inexpensive craft project, learn to make your own coffee mug bird feeder with this simple step by step tutorial.
This project is only limited by your imagination, and what type of mug, coffee cup or tea cup you can find. Whether ransacking your cupboards, buying at a thrift store or garage sale, online, or even at a dollar store, this is such a cute little project to add a touch of individuality to your garden decor. Mix and match mugs and cups, or do a few all the same. Your trees will look so dressy and cute with this sweet coffee mug bird feeder.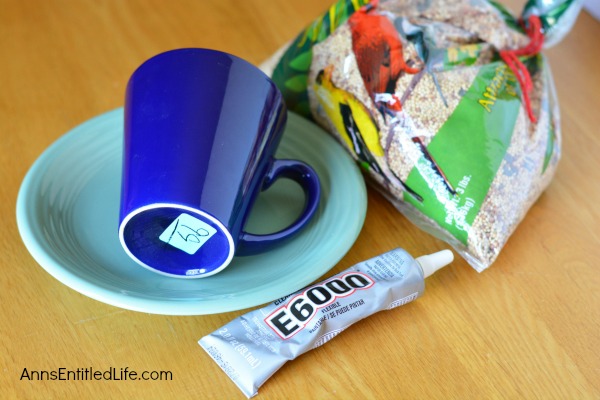 Make Your Own Coffee Mug Bird Feeder Materials:
● Coffee Mug
● Plate (plate used in this craft is 8″ in diameter)
● 2 Table Knives
● E6000® Craft Adhesive

● Twine

● Birdseed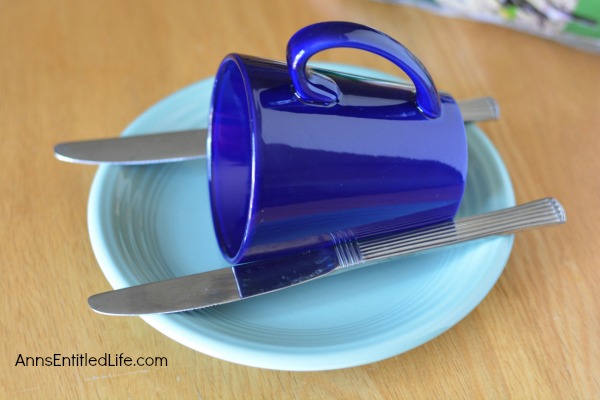 Make Your Own Coffee Mug Bird Feeder Directions:
● Note: While this craft can easily be done using a tea cup and saucer, or coffee cup and saucer, for purposes of this tutorial I will use the words "mug" and "plate". If you choose to use a tea cup or coffee cup, use that where I wrote mug, and use the saucer where I wrote plate.
● Wash and dry mug and plate with soap and water to remove any dust or debris.
● Be sure the mug and plate are completely dry before beginning this craft.
● On a flat surface, place your mug and plate and set two table knives onto the plate so that it holds up the mug as shown.
● This will help once you add the glue
to keep the handle straight.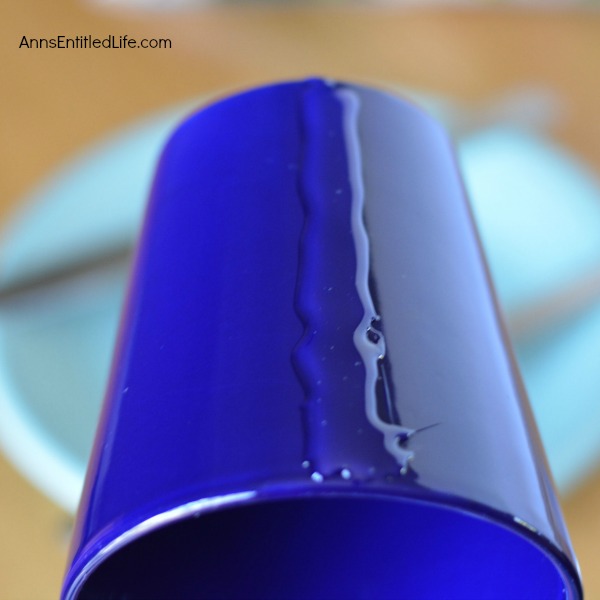 ● Add glue
to the mug in a line down the spine opposite from where the handle is located, and press firmly onto the plate.
● Line up your table knives to make sure the handle is in the center.
● Let set to dry according to the glue's
directions.
● Place on a table for one or two days to dry. Do not touch while drying.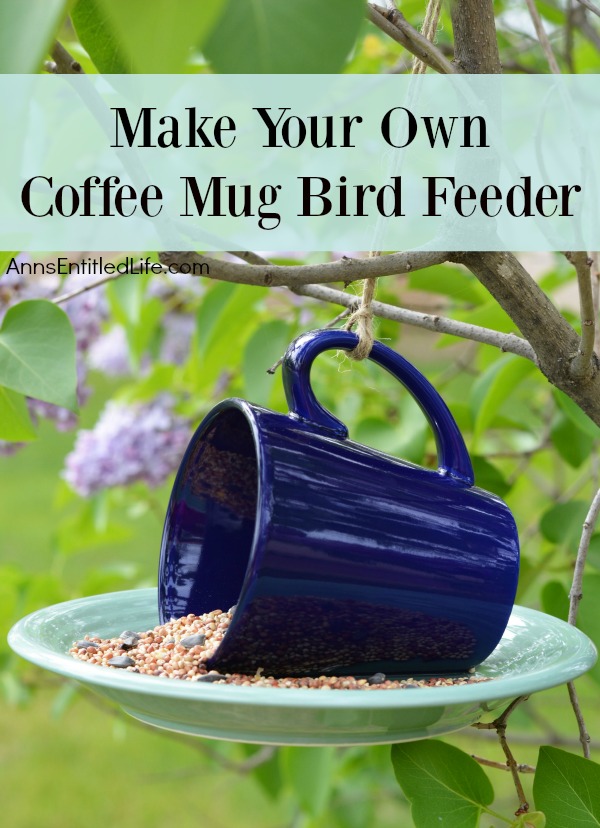 ● When the glue
is set up and dry, add a piece of twine
or string to the handle, and hang the bird feeder mug outside. Make sure you knot securely.
● You can hang the bird feeder mug in a tree, on a Shepard's hook, a plant hook, etc. The placement is endless.
● Fill with birdseed.
● Since the birds will be eating the seed, it may be best if this is placed in an area where you can see the birds, but not interfere with them in any way. You also will want a bird feeder away from an area where you may have little ones walking through droppings, or picking up the seed to er, sample.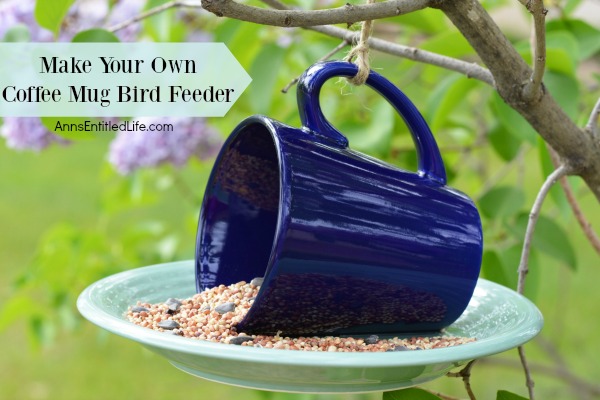 Notes:
● When searching for a mug and plate (or tea cup and saucer, or coffee cup and saucer) make sure you set them on top of each other and see how they will lay. Some mugs work better than others, have a flatter bottom, work well with the plate, etc. This is a good shape as you can see. The plate shown in this craft is 8″ in diameter and the cup was a standard coffee mug.
● Have a quite place ready to set your project for a day or two to allow it to completely set up and dry.
● This really is a very simple project. Use your cast-offs or inexpensive
● To print the Coffee Mug Bird Feeder instructions, click here.
---
● Disclosure: the links in this post may be affiliate links.
● If you enjoyed this post, be sure to sign up for the Ann's Entitled Life weekly newsletter, and never miss another article!
● For more Craft posts on Ann's Entitled Life, click here.
● For more Garden posts on Ann's Entitled Life, click here.
---