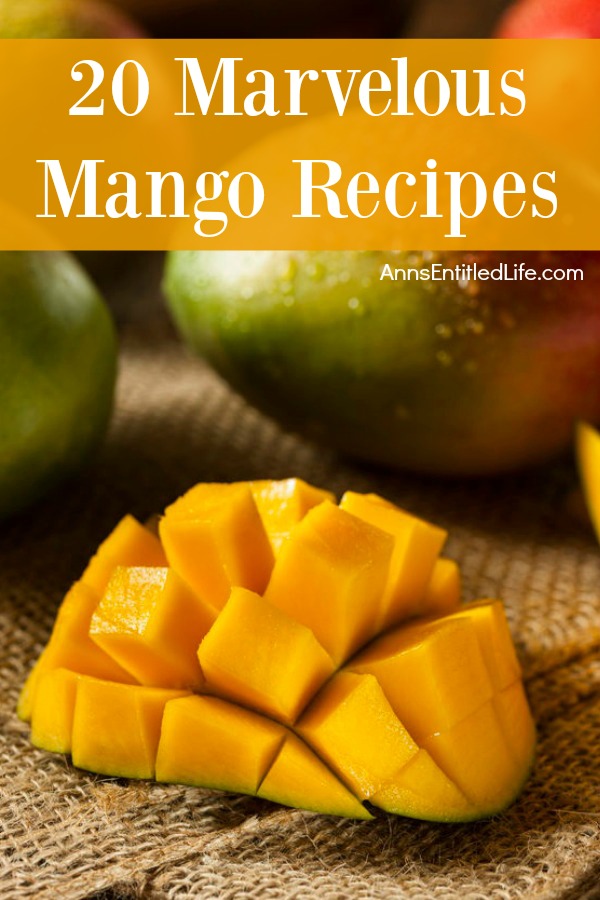 From healthy smoothies to delicious salsa, from tasty cocktails to decadent cakes; the mango is a key ingredient in many dinner, side dish and dessert recipes. Try one of these 20 Marvelous Mango Recipes today!
The mango is wonderful, juicy, tropical stone fruit. The mango species belongs to the flowering plant family Anacardiaceae. The mango is native to South Asia, where they have been cultivated for thousands of years. Nearly half of the world's mangoes are grown in India (they only account for 1% of the world mango trade as they consume most of what they grow), with China as the world's second largest producer of mangoes.The mango is the national fruit of India, Pakistan, and the Philippines.
A typical mango is approximately 60 calories, and is high in vitamin C and folate. A versatile, sweet fruit, mangoes are found in many dishes from drinks to sweet and savory dinner and side dishes. Mangoes can also be eaten alone.
● Caribbean Mango Salad Recipe | The Good Hearted Woman
● Easy Mango Chip Dip Recipe | East Sleep Be
● Grilled Pineapple and Mango Salsa Recipe | Food Done Light
● Grilled Salmon with Peach Mango Salsa Recipe | Family Balance Sheet
● Kiwi, Mango, and Cucumber Salsa with Lime and Jalapeno Recipe | Kalyn's Kitchen
● Low- Fat Mango and Orange Sorbet Recipe | The Mummy Toolbox
● Mahi Mahi with Coconut-Ginger Rice and Mango Salsa Recipe | Sidewalk Shoes
● Mango Cucumber Salsa Recipe | The Recipe Wench
● Mango Jicama Slaw Recipe | Caroline's Cooking
● Mango Orange Margarita Recipe
● Mango Panini Recipe | Baking Beauty
● Mango Quinoa Stuffed Peppers Recipe | Clean Eating Recipes
● Mango Strawberry Salsa Recipe | Mama Likes to Cook
● Mango Yogurt Cake Recipe | I am a Honey Bee
● One Pot Mango Chicken Recipe | All She Cooks
● Shrimp Tacos with Mango Salsa Recipe | Dinner at the Zoo
● Strawberry Mango Smoothie Recipe | Cincy Shopper
● Stuffed Avocados with Shrimp and Mango Recipe | A Calculated Whisk
● Tropical Mango Sundae Recipe | The Foodie and the Fix
---
● Disclosure: the links in this post may be affiliate links.
● For more Recipes on Ann's Entitled Life, click here.
● If you enjoyed this post, be sure to sign up for the Ann's Entitled Life weekly newsletter, and never miss another article!
---