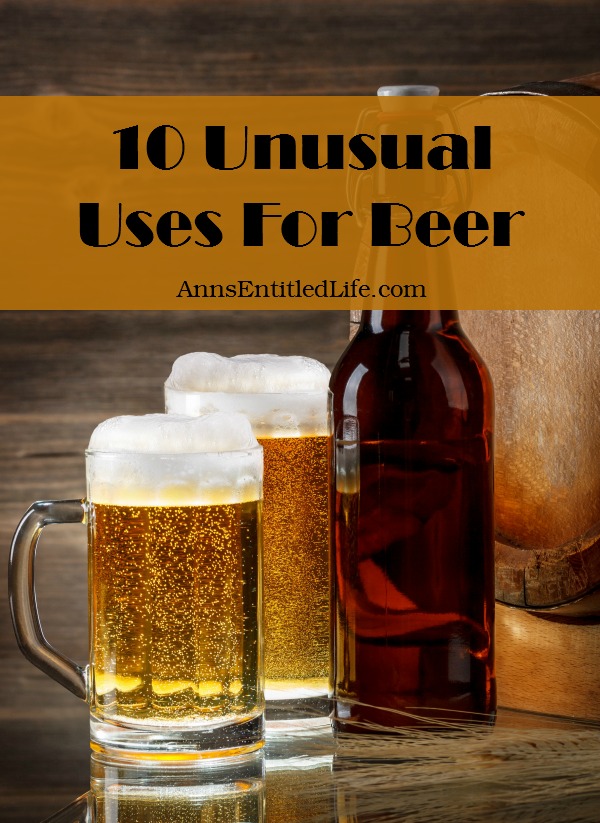 10 Unusual Uses For Beer
From pancakes to lawn repair, beer can be used in some unusual and clever ways. Here are 10 Unusual Uses For Beer you may have never thought of:
● Beer is effective in killing slugs
● Beer is effective in killing snails
● Beer can be effective in preventing and repairing brown spots (cause by animal urine) on your lawn. When traditional remedies fail in repairing those brown spots, you can try this formula:
● 1 can of beer
● 1 cup of ammonia
● 1 can of regular cola
● spray from your 20 gallon hose-end sprayer.
● Beer can be effective in removing tea and coffee stains. Just douse the (fresh) stain with beer, blot and repeat.
● Beer is effective in catching fruit flies.
● Make a beer trap:
● Fill a mason jar halfway with beer
● Puncture 3-5 holes in the metal lid of the mason jar
● Screw that lid and screw-top onto the mason jar
● Leave the beer trap where the fruit flies congregate
● Dump floating trap daily (or several times a day) and repeat until your fruit flies are gone
● Beer can be effective in giving your hair body. Now since you will smell like a brewery if you do this, you are better off laying in the sun after applying the beer:
● Spray or pour some beer on your hair while you are laying in the sun. After your hair is nice and toasty, wash away the beer (even better if you are on the beach and can use the ocean to rinse!)
● Make a Beer Stew!
● Beer makes a delicious fish fry batter. Beer-battered-fish is a regular Friday menu item in the Buffalo area.
Beer Fish Batter
1 12 oz Beer
1 cup Flour
2 TBSP Paprika
2 tsp Salt
2 tsp Pepper
1 Egg, beaten
● Heat oil in a deep fryer to 365°
● Rinse boneless, skinless haddock, pat dry.
● Combine flour, paprika, salt, and pepper.
● Stir egg into dry ingredients.
● Gradually mix in beer until a thin batter is formed.
● Dip fish fillets into the batter, then drop one at a time into hot oil.
● Fry fish, turning once, until both sides are golden brown.
● Drain fish on paper towels
● Serve hot
● Beer makes a delicious pancake
Beer Pancakes
1 cup Flour, sifted
1/4 cup Sugar
3/4 tsp Baking Powder
1/2 tsp Salt
1 Egg, beaten
1 cup Beer
2 TBSP unsalted Butter, melted
● In a large bowl, stir together the flour, sugar, baking powder and salt.
● Add egg, beer and melted butter; stir with a whisk until slightly blended ● Heat a vegetable oil coated skillet or griddle over medium heat.
● Spoon 1/4 – 1/3 cup of beer pancake batter onto the hot skillet for each of your pancakes.
● When bubbles appear on top of the pancakes, flip, and cook until browned on the other side.
● Serve hot
● Beer Can Make a Moist Chicken or Turkey – Hubby made one a few weeks ago, and even though he overcooked it, the chicken was still tender and juicy – the beer can saved the bird!
● Open a can of beer, stand a full chicken on the can
● Insert the neck into the top of the bird to close up that hole
● Cook your bird on the barbeque or in the smoker.
● The beer subtly flavors the meat as soon as the chicken started cooking on heat.
● Excellent results!
---
● For more Library topics on Ann's Entitled Life, click here.
---