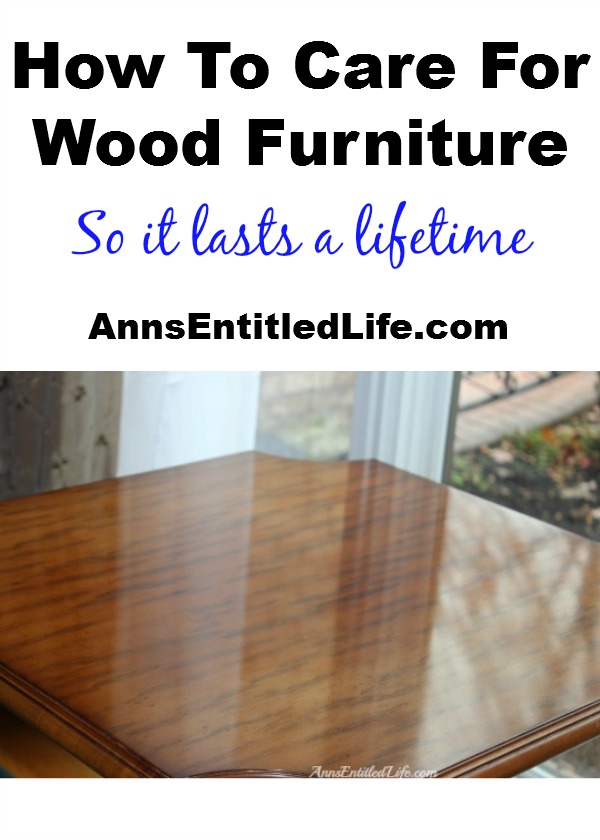 Simple and easy step-by-step instructions on how to care for your wood furniture so it might last a lifetime! These expert tips will help keep your wood furniture looking beautiful.
I have a lot of wood furniture. Table, chairs, upholstered chair and sofa frames, bed frames, dressers – you name it, we have it in wood.
My Grandfather worked for Kittinger Furniture Company for 40 years. His first 20 years as a cabinet maker, the last 20 years in the office. He enjoyed crafting furniture. For many people a job is a job, but Grandpa enjoyed furniture making so much, he was making furniture as a hobby in addition to his work. From refinishing to crafting to repair, he did it all. When I wanted to refinish the woodwork in my last house, he taught me how. After that, when he needed a piece of furniture stripped, I made myself scarce – otherwise I'd be enjoying that task. He often commented that he wished he had taught me 20 years earlier!
Wood furniture is beautiful. If you purchase a well crafted piece, care for that piece correctly, and keep it out of sunlight, it can last many lifetimes.
Note that: keep your wood furniture out of direct sunlight. Direct sunlight can fade furniture stains. Ever put a doily on a piece of wood furniture? If you keep that piece in front of a window and the doily in the same place for a long time, a few years later your will notice color differences in your wood – under the doily will be the original stain color, the areas surrounding the doily will be faded and lighter in color (this applies to a wood floor too – if you have a rug on top of your wood floor, move the rug sometime and see the difference!)
Before I wrote this piece, I reviewed with my Grandfather the proper way to care for wood furniture. Sure I'd been cleaning and caring for wood furniture myself for over 40 years (my mother believed firmly in using children as free labor), but it is always best to confirm with an expert – and my Grandfather is undoubtedly a wood furniture expert.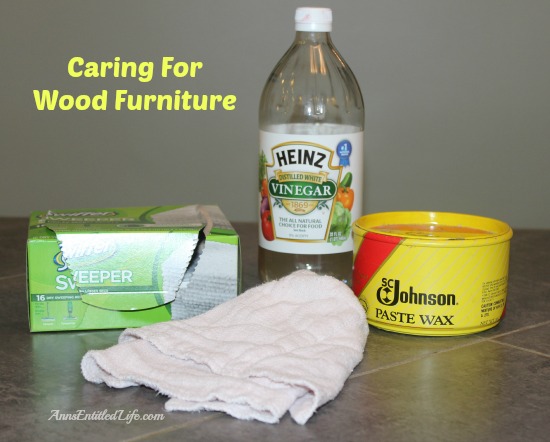 To dust your wood furniture, a soft, lint-free cloth is all you need. I use swiffers now, but my grandparents never did.
When a piece of wood furniture gets dirty or someone slops food on it, smears fingerprints on it, etc, the best way to clean a sealed piece of furniture (varnished or polyurethaned with no visible cracking or lifting) is:
1 cup of white vinegar

1 gallon hot water
1 lint free rag to wash with
2 lint free rags to dry with (baby diapers are ideal!)
Add 1 cup of white vinegar
to your 1 gallon of hot water. Dip your cloth in the water, and wring it dry. That means: no visible water should drip from the cloth. The cloth is barely even wet. As a general practice, you don't want to get furniture wet, yet sometimes it needs to be washed off to remove dirt and stains. The drier your cloth, the better.
Wash surface.
Immediately dry with your lint free rag.
Take the second lint free rag and wipe again, buffing until you see a high sheen (assuming there is a sheen on your wood furniture).
Swap out your drying rags as they become damp. You want to dry the wood furniture completely. No wet should remain. I can't emphasize that enough. Water will destroy your wood, so you must remove the water as soon as you apply it! Saying that, I've been cleaning my furniture like this for over 40 years, my grandparent's furniture was cleaned like this going back 75 years! Just make certain before you begin that the sealant on your furniture is solid and doesn't have any cracks or chips.
My Grandmother never used Endust or Pledge on a stick of furniture in her life. My Mother used Endust on a rag to dust until swiffers came along, and my parents furniture is still beautiful 50+ years later.
Keeping your furniture clean and out of direct sunlight are just a few pieces of the How To Care For Wood Furniture puzzle. The other important piece is to make sure you wax your sealed furniture. My grandfather recommends once or twice a year. Try not to wax more often then that.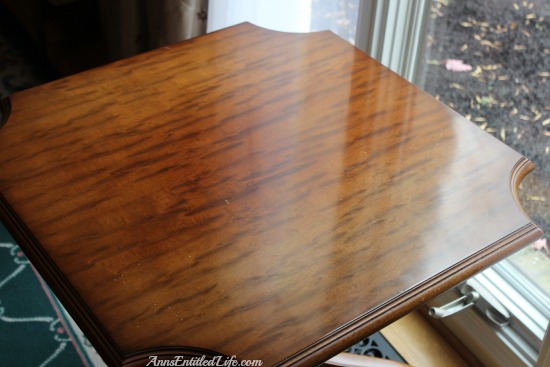 I moved one of my living room end tables into the bright light of the dining room so you could see what it is waxing does for wood furniture!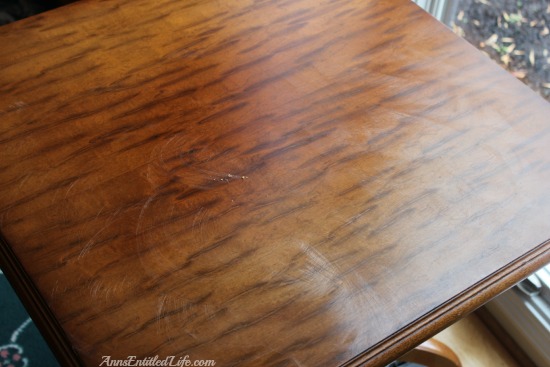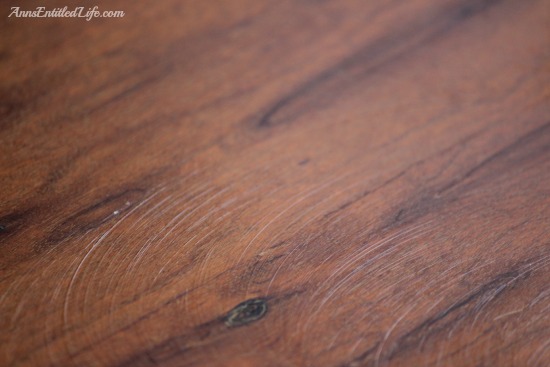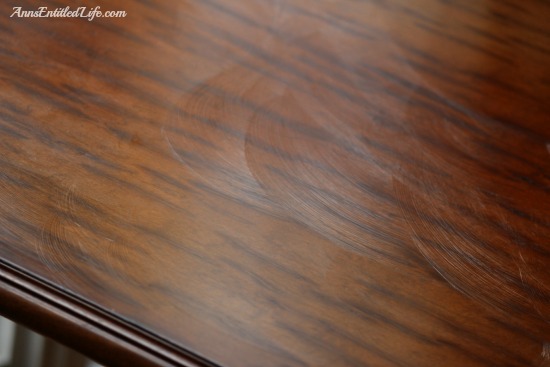 Mr. Miyagi had it exactly right when he told the kid circular motions "wax on, wax off". You want to apply a thin layer of wax in a circular motion with a lint free cloth.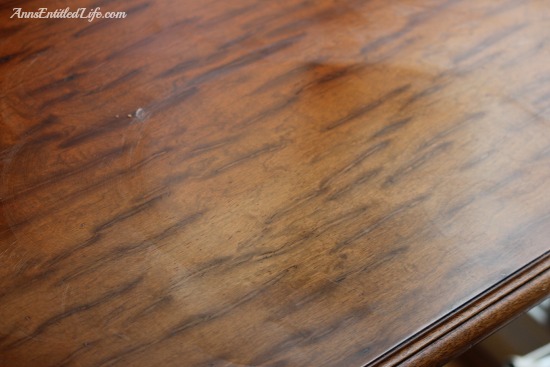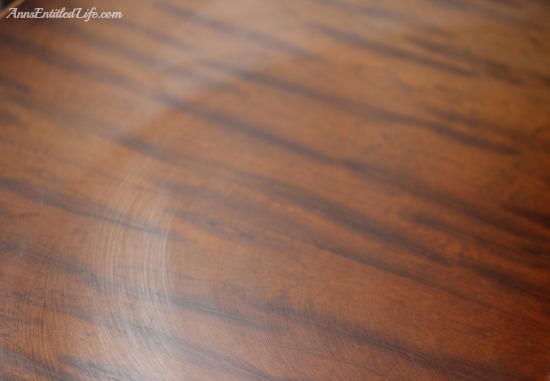 Allow to just dry to a haze (don't leave the wax on a long, long time or you'll need some real elbow grease to remove it).
Then, with a lint free rag, in a circular motion, buff the woodwork to remove the wax.
Once the wax is removed, get a clean, lint free rag and buff to a high shine.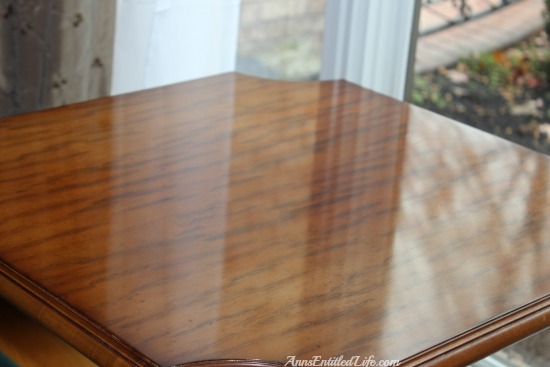 Just that little bit of waxing makes a tremendous difference in the wood furniture sheen. The wax also serves as a protectorant from dust and dirt.
Take care of your wood furniture investment by keeping it well cared for! You, and your descendants, will be glad you did.
---
● Disclosure: the links in this post may be affiliate links.
● For more Library Reading posts on Ann's Entitled Life, click here.
● If you enjoyed this post, be sure to sign up for the Ann's Entitled Life weekly newsletter, and never miss another article!
---