A few years ago, a great spice coupon came out and I needed to check our supplies to see if we needed anything. The spice rack (aka a Lazy Susan) was in such a disarray, I had to reorganize everything!
As you may or may not know, I do not cook. Ok, I hardly ever cook. And when I do, it is very plain. I cooked like that for nearly 20 years, and it was hard to change my habits when I met and married Hubby.
As you may or may not know, my hubby LOVES to cook, and he is very good at it. He has a collection if spices like you won't believe! Now, you may have heard me complain once or twice (ok, a million times) that hubby is not very organized. I'm poorly organized but he is so disorganized he makes me look like I have an organizational compulsion. His lack of organization (as well as mine) spills over into nearly all aspects of our house, but the place we have the most er, friendly discussions about the lack of organization in our home is the kitchen.
That is because while hubby loves to cook, he really only has time on the weekend to do so. He'll prepare four meals and I can usually finagle one or two nights for leftovers which leaves me one night to cook.
And it is VERY difficult, not to mention time consuming, to cook when the last person cooking *cough*Hubby*cough* does not put items back in their proper place.
So, with hubby OOT I took the opportunity to organize the spice rack (I left his Indian spices alone – they are in a neatly labeled storage container in the pantry). We use the lazy Susan in the corner of the kitchen to house our spices. I swear if I ever get to redo a kitchen, I want something like this for the pantry, and a smaller scale version for spices.
This is our lazy Susan "spice rack":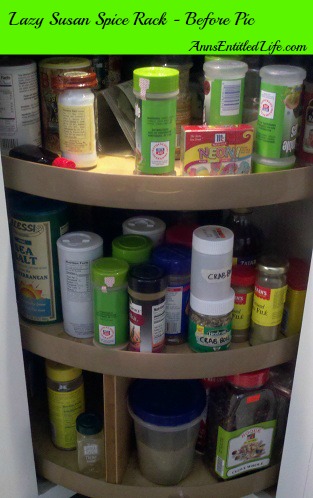 I hauled everything out of the spice rack and onto the kitchen island. I wanted to see what it was we actually had on hand, what we needed, and what we had copious quantities of.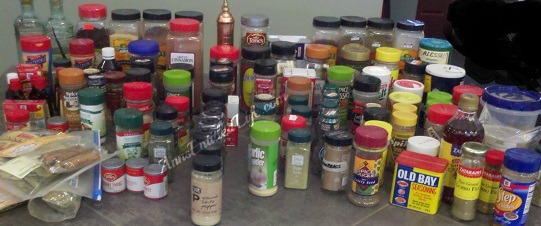 Is that insane or what? There was a row in the middle that was just various types if peppers!
And this is the portion of that mess that I use to bake with (to be fair, I have items like baking soda, powder, chocolate and sugars in another cupboard):

The rest is alllllllllll hubby's spices.
With everything on the island, I wrote up what we had and what we needed. I used a spreadsheet and sorted by type and alphabetical order.
I then put everything back, and faced all the spices off so "we" (ie, me) could find what "we" were looking for.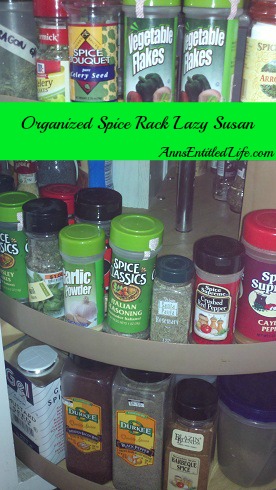 Now to be quite honest, I face-off the spice rack at least every other month. I try and keeping baking together, Italian spices together, the Cajun together, etc. However when hubby uses a spice, IF hubby "puts it away", it is plopped on the top shelf of the lazy Susan without regard to grouping. This drives me nuts! So, every 12-16 weeks I haul it all out and regroup and reorganize. grrrrrr The difference this time is the list, and the list is for my shopping benefit so I do not overbuy, or purchase the wrong item.
I originally wrote this post on Coupons, Deals and More in 2011. Since then, we purchased a place in St Augustine Florida where there is a great little spice and tea shop! Want to take a guess how many spices we've purchased there?
The spice rack still looks good, bur I foresee a little TLC in the near future.