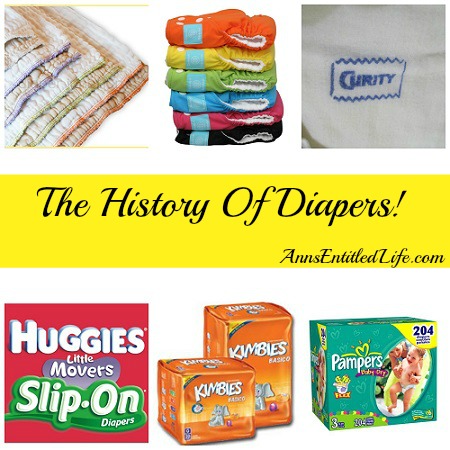 Darla sent me a deal a while back for disposable diapers on Amazon. She was buying for her grandchildren. This started me thinking about the history of diapers, and how my thoughts have changed over the years.
Way back in the stone-age when I was born, disposable diapers were unheard of for everyday use. Apparently, they did exist, but my mother said they were so expensive no one bought them unless you were going on a trip – and even then only if there were no facilities to wash cloth diapers. By the time my youngest brother was born, my mother used disposable diapers more regularly, although I remember cloth diapers in the house. I also remember that cloth diapers made the best cleaning and dusting rags, and I buy them to this day for that express purpose!
By the time Sonny-boy was born in the late 80s, cloth versus disposable diapers was a real debate. People were debating the municipal waste versus water usage environmental issue. They still are. I did try cloth for him for a few weeks but moved on to disposables before he was two months old. I couldn't figure out how to keep us dry – plastic pants could result in diaper rash, and the diaper wraps were just coming onto the scene. I recall these fuzzy ones out of Australia that were neat, but he was born in the summer and they seemed rather hot to me. And let's face it, rinsing a diaper is gross. Even with services, you rinsed before you dropped them in the pail. Disposable diapers are just so much easier!
But like everything convenient, the cost of disposables comes at a steep price. They just are not cheap. Conversely, you pay for cloth diapers once, and use them for an awfully long time. However that is just the sunk cost of cloth – there is also the washing and drying to consider, along with the soaps and disinfectant costs.
Whatever decision is made, the issue of using disposable or cloth diapers is much more complex than what it appears at first blush.
The History Of Diapers
● Ancient Times – animal skins, moss, linens, leaves, Milkweed leaf wraps, and other natural materials. Many babies tropical environments wore noting at all
● Elizabethan era – cloth type of diaper that was seldom changed
● Early 1800s – a square or rectangle of linen, cotton flannel, or stockinet was folded into a rectangular shape and knotted.
● Late 1800s – when the safety pin was invented in 1849, those were then used by those that could afford the pins to hold the rectangular square in place.
● 1942 – Disposable diapers were invented by Hugo Drangel of the Swedish paper company Pauliström using unbleached creped cellulose tissue.
● 1946 – Marion Donovan invented the "Boater" – a waterproof covering for cloth diapers. Her first model of the disposable diaper was a conventional cloth diaper inserted into shower curtain plastic. She had four pattens for her designs, including one for plastic snaps.
● 1948 – Johnson & Johnson introduces the first mass-marketed disposable diaper in the U.S from the Swedish import, the Chux diaper.
● 1950 – the prefold diaper was invented by a diaper service owner and produced by Curity.
● 1950 – Sybil Geeslin Kennedy invented the Safe-T Di-Dee diaper, a preformed, pinless diaper.
● 1950s – Pampers were developed
● 1968 – Kimberly Clark introduces Kimbies. Huggies were introduced in 1978.
Since the late 60s disposable diapers have evolved for more dryness. It is estimated that disposable diapers now make up 2.5% of all municipal waste, and will not dissolve until the 26th century.
What kind of diapers did you use on your children? What do your grandchildren use? What did you use? Have your thoughts on diapers changed over the years?
Disclosure: the links in this post may be affiliate links