Unlike many people, I don't mind wallpaper – as long as I am not hanging it or removing it, that is. I am sure many of you have removed wallpaper in your time. Whether you have rented a machine, used fabric softener and water, used the tool to puncture mini holes in the wallpaper for better water intrusion, scraping wallpaper off the wall is not anyone's definition of fun. Not only is it time consuming, unless you have plaster and lathe walls, you can do some serious damage to the Sheetrock underneath the paper which can then require patch work, skim coating the whole wall and/or total wall board replacement!
My father has never objected to wallpapering in my parent's house. The only caveat have been that whatever wallpaper my mother chooses has to be cloth-backed. My father is the easiest going guy in the world. He has seldom told my mother "no", but he has steadfastly refused to entertain papering with anything other that cloth-backed wallpaper regardless of how she insists. He has always felt that not only did it go up easier, but that the walls wouldn't be damaged on removal.
On our long list of renovations this year at the Ann's Entitled Life household, is painting and carpeting Sonny-boy's old room. Prior to painting, the wallpaper had to be removed. Hubby nominated me for that job. Since I knew he was going to paint, I didn't object too strenuously – especially since I knew the paper was cloth backed.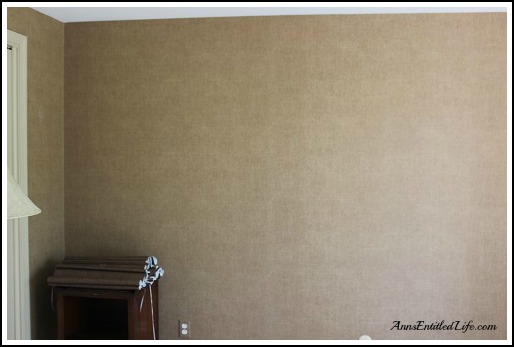 All four walls were wallpapered. This was the wallpaper I was to remove.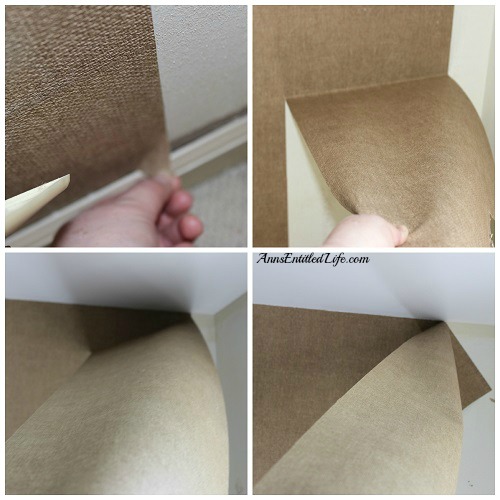 To remove, I slipped my fingernail under a corner, and pulled. That was it. I did a steady pull for each piece.

When I hit a snag – like this old telephone jack, I just pulled the paper hard. It would tear, so I'd give it a tug and remove the entire sheet, then go back and remove whatever bits remained.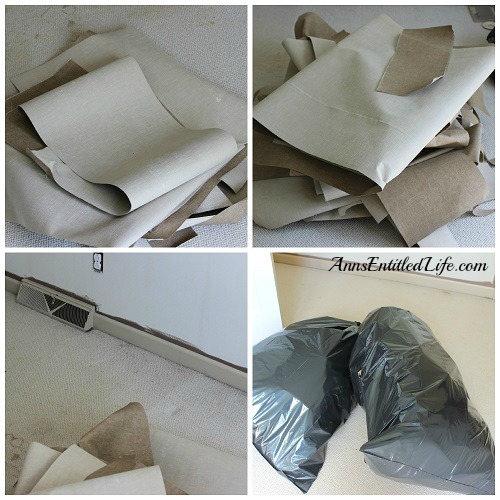 This was how I piled the removed paper. Notice no stray pieces of wallpaper or paste stuck to the floor? That was how clean the removal was! Those two bags are all the removed paper from the four walls.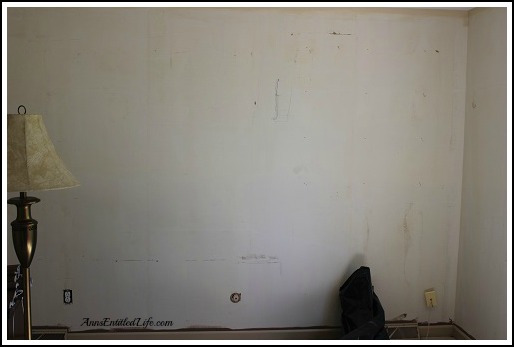 And the wall itself? No damage. There were some nail holes Hubby needed to patch, but the walls themselves were intact, no skim coating, no tear downs, no issues.
If you like to wallpaper, definitely look into cloth or cloth-backed wallpaper. The removal really is super easy! The entire room took under an hour to do , and that included walking the bags of trash down to the garbage cans!
Have you ever used/removed cloth wallpaper? What was your experience?