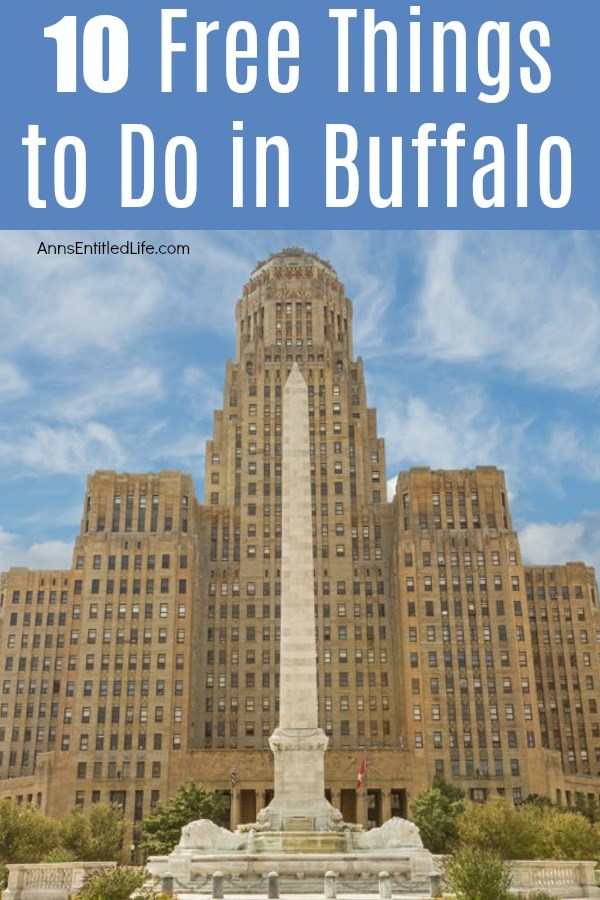 There is a lot to see and in Buffalo, New York that will not cost your family any money. Whether you live in Buffalo and want something cheap to do on the weekend, are visiting for the first, or fiftieth time, there is always a great new interesting place to explore.
10 Free Things to Do in Buffalo, New York
While I have my master list of 365 Things to Do in Niagara Falls, NY and Buffalo, NY (I told ya there is a lot to do here!), I compiled this list of 10 Free Things to Do in Buffalo, NY for the days you would like something to do in the area without spending a lot.
Please note that these are things to do within the city limits of the city of Buffalo, and do not extend to the metropolitan area. For those items of interest, please see my massive list of the something to do every day in Buffalo and Niagara Falls, New York.
They say the best things in life are free! Whether a local or a tourist, these ten free things to do in Buffalo are some of the best places to see and explore in the area.
1. Tour Buffalo City Hall
Buffalo is known for its historic sites and outstanding architecture. One of those sites is located in Niagara Square in the heart of the city in downtown Buffalo; Buffalo's City Hall!
Buffalo's city hall offers free tours! Visit at noon on a weekday for an hour-long tour of the 32-story building, which includes the observation deck with a 360° view of the city (on a clear day you can see Niagara Falls!), Counsel chambers, and the Mayor's office. Meet in the main lobby of the building to begin the tour.
The city hall building itself is an Art Deco masterpiece that was completed in 1931. When you go inside, you will see why it is considered one of the premier City Hall buildings in the United States.
For more information, call (716) 852-3300.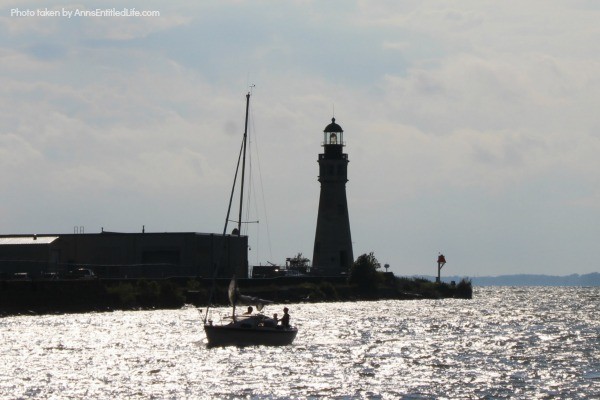 2. Canalside Buffalo
Canalside is an event hotspot at the intersection of Pearl Street and Marine Drive. Located at the 1825 terminus of the Erie Canal (which has been excavated), the formerly deserted area now hosts free events, concerts, restaurants, water sports like kayaking and boating, water access to the Buffalo River and Lake Erie (one of the five Great Lakes!) and on to the Niagara River, as well as ice skating, ice biking, and workout groups. Grain elevators light up every night until 11 pm for a colorful photo opportunity. If you visit Buffalo in the summer, you are likely to stumble upon something fun at Canalside!
While it is free to walk around, attend events, hear live music, and take pictures with iconic statues and enjoy the natural wonders of the Buffalo waterfront, there are other attractions at Canalside that cost money, like ice cream shops and children's museums. Take advantage of the free events by checking out the calendar!
3. Outer Harbor
The Outer Harbor can be found at Wilkeson Pointe (225 Fuhrmann Boulevard) just over the skyway. There are more than 200 acres of green space to walk or bike. The park features sculptures, pedestrian bridges, a gazebo, a slide built into the side of a hill, walking trails, sand volleyball courts, and a beach (perfect on a summer day). The Outer Harbor hosts special events and festivals as well as free summer fitness classes.
While free to walk around bike and water sport rentals are available at a cost, and there is a Beer Garden to enjoy on a hot (or cold) day.
Just down the road at 1200 Fuhrmann Boulevard and situated on the Outer Harbor, Tifft Nature Preserve offers 264 acres of restored habitat with five miles of trails and boardwalks. Access to Tifft's grounds, boardwalks, and nature trails is free and open to the public. Trails open dawn to dusk.
4. Shakespeare in the Park
Cities all over the world celebrate the theatrical tradition of performing Shakespeare outdoors. Buffalo's Shakespeare in Delaware Park (also known as SDP) is free and family-friendly. Since it is outdoors, Shakespeare in the Park is a seasonal attraction.
Founded in 1976 by students from SUNY Buffalo, SDP is one of the largest Shakespeare in the Park companies in the country. Every summer, they host one comedy and one tragedy. For a more family-friendly experience, make sure you attend their comedy show! So grab some popcorn, pop, and lawn chairs, and head over to the next Shakespeare in the Park!
5.Japanese Garden at Mirror Lake
This beautiful Japanese garden is perfect for hiking, photos, and just relaxing. It represents the connection Buffalo has with the city of Kanazawa, Japan, with an homage to Japanese shrubbery and architecture. Located behind the Historical Museum, the Japanese garden connects to the rest of Delaware Park, and it is free to explore this tiny paradise, so get your blanket and a camera ready and find a spot to relax!
The Japanese Garden was constructed in 1974 with the help of Japanese architects and landscape gardeners to ensure its authenticity. To celebrate Japanese culture there's an annual Cherry Blossom Festival in the springtime! The festival offers free activities as well as paid options.
Delaware Park was designed by Frederick Law Olmsted and is part of the first designed urban park system in the United States. Delaware Park has 350 acres of meadows, forest, and Hoyt lake. On one side of the Scajaquada Expressway are the Japanese garden and Buffalo History Museum ('historical museum' to the locals) tennis courts, walking trails. On the other side of the Scajaquada Expressway is the Albright-Knox Art Gallery, Terrace at Buffalo (Marcy Casino), the Buffalo Rose Garden, and where Shakespeare in the Park is performed. It also is home to the Buffalo Zoo, an 18-hole golf course, basketball courts, soccer fields, and lawn bowling. There are also many walking and running trails on this side of the expressway.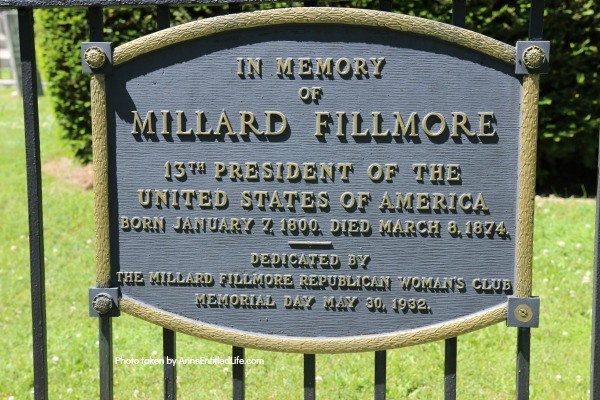 6. Forest Lawn Cemetery
Visit Forest Lawn Cemetary. I know it sounds odd, but Forest Lawn is both fascinating and beautiful. Using the self-guided tour app you can tour the cemetery for free visiting the notable graves within. Notable graves include United States President Millard Fillmore, Seneca Indian Chief Red Jacket, as well as singer, songwriter, and producer Rick James.
Of course, there is a paid tour available if you would like a guide and presenters. I highly recommend taking this tour (when available) as it is a look into the history of the area. The stories are interesting and educational.
7. War of 1812 Walking Tour
You can use this map to walk (or drive) the historic War of 1812 Trail.
8. Movies in the Meadow
Every Friday evening in the month of August, the Parkside Community Association hosts the annual ' Movies in the Meadow' program. Movies begin just after dusk in beautiful Delaware Park behind the Parkside Lodge (84 Parkside Ave, Buffalo, NY 14214).
All movies are rated G or PG (unless noted) and can be enjoyed by the whole family. Pack a cooler, grab your lawn chairs, and head out for a movie under the stars. Family fun time!
There are refreshments available for purchase including popcorn, candy, and ice water. There is no obligation though, and the movies are free.
9. Slow Roll Buffalo
Looking for something active to do in Buffalo? Slow Roll Buffalo is a free, slow-paced community bike ride that takes place every Monday. The event's mission is simple: have fun exercising at your own pace. You will need to bring your own bike, and children under 14 are required to wear helmets (according to New York State law). Bring your bikes to Buffalo to enjoy this 10-mile leisurely ride! One of the most fun things to do in the city of Buffalo.
To maintain everyone's safety, Slow Roll Buffalo utilizes a police motorcade. There are now thousands of riders, all of whom can ride without worrying about a dangerous activity. This weekly event is truly safe and accessible for people of all ages!
Of note: Minors under 18 must be accompanied by a parent/guardian. No gas guzzlers or training wheels are permitted.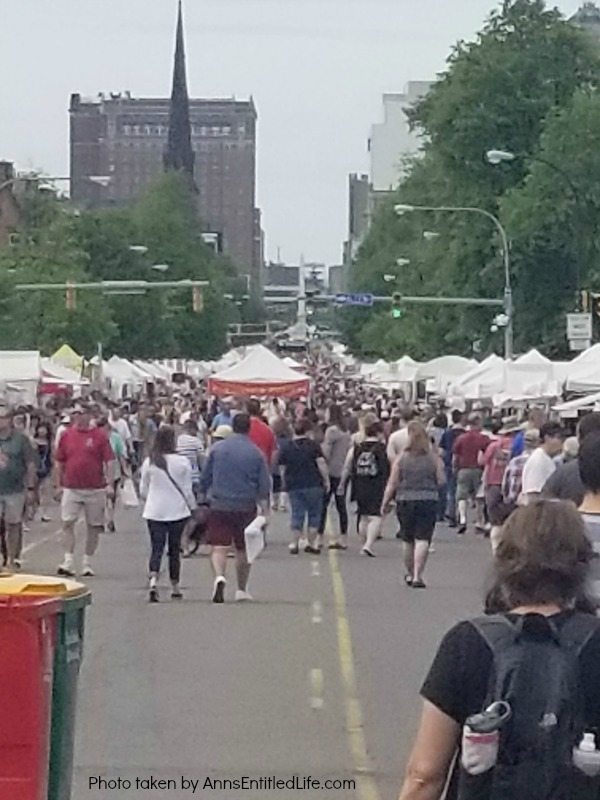 10. Allentown Historic Neighborhood
This Buffalo neighborhood is historic, hip, and luxurious. In June, the Allentown Art Festival draws thousands of visitors to Buffalo for vendors and craft beer (image above). The festival is free to attend! You can also catch some live musical performances on the weekends. Every Saturday afternoon at 4:30 pm, a Celtic jam group performs at Nietzche's which is a casual bar in the neighborhood. Grab a beer and enjoy the show!
And while you are in Allentown, walk the streets for some beautiful, historic architecture. These types of homes are not available in many cities, but the Allentown historic district offers some real show-stoppers.
I would like to add the Albright-Knox which is usually a premier part of this list. However, the Albright-Knox Northland is open Fridays–Sundays through May 16. The museum is closed for construction until 2022.
Albright-Knox Art Gallery
On the first Friday of every month, the Albright-Knox Art Gallery offers free admission! At the art gallery, you will find contemporary works from artists like Andy Warhol and Frida Kahlo. The museum is open until 10 pm on Friday nights, so you will have plenty of time to squeeze a visit into your schedule!
The Albright-Knox Art Gallery has been collecting art for well over a century. Their timeline shows their art acquisitions dating back to 1862 and which art style was used.
Western New York is full of wonderful attractions, and most of them are right in the heart of Buffalo. A weekend in this city is inexpensive, family-friendly, and fun. If you have not been to Buffalo already, add it to your bucket list!
You can spend as much or as little as you like to take in the area attractions, but these free items are a great way to spend less when you are enjoying your day trip, or week vacation, in the city of Buffalo.
If you decide to stay overnight, here are great places to find a hotel: Buffalo, NY hotels.
---
First Published: September 09, 2019 Last Updated: March 15, 2021
● For more New York State Travel posts on Ann's Entitled Life, click here.
● If you enjoyed this post, be sure to sign up for the Ann's Entitled Life weekly newsletter, and never miss another article!
---