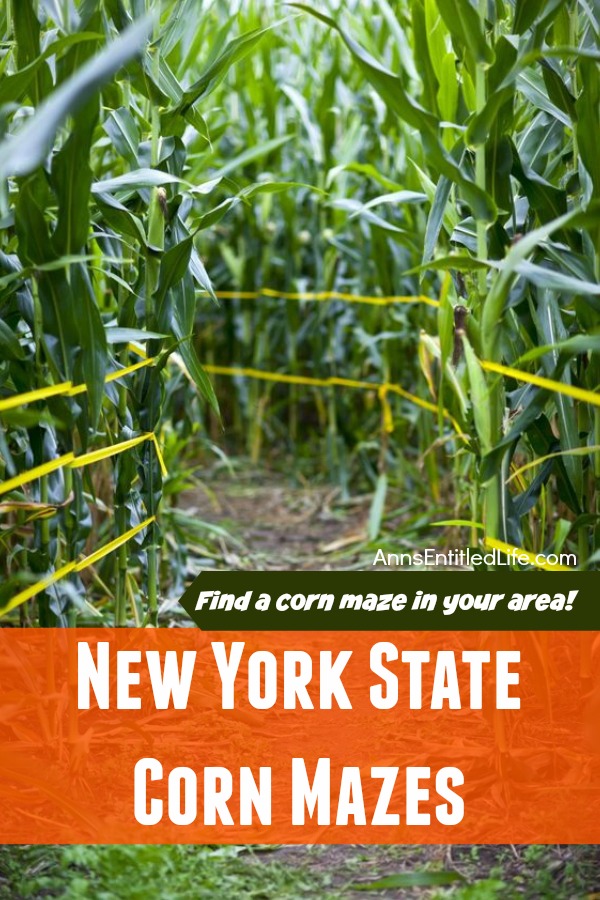 2016 New York State Corn Mazes
Have some great outdoor family fun this fall at a New York State corn maze!! Whether you are looking to spend the day in a corn maze, for a fright night scream or corn mazes by moonlight there is something for everyone on this list of 2016 New York State Corn Mazes!
Many people are surprised to find so many corn mazes available in New York State. There is over one million acres of corn planted in New York State, and it is the fourth largest corn producing state in the US. Needless to say, we have a lot of corn mazes!!
Click the link to the Corn Maze website for opening dates, times open, fees, and policies. Please note that due to the hot, dry growing season some past corn mazes are not operating this year.
● Becker Farms – Becker Farms is known locally for their apple picking, pumpkin patch, hay rides and petting farm. In addition to the corn maze they have a grape maze, pony rides, goat races, duck races and more. This really is a family fun farm experience.
3724 Quaker Rd., Gasport, NY 14067
● Cambria Corn Maze – There are 12 acre corn maze, pumpkins, refreshments, local products and produce. They open September 10,2016 and their corn maze has a definite political slant.
5274 Lockport Junction Road, Route 270, Lockport, NY
● Critz Farms – If you are in or near Cazenovia, New York, this is the corn maze for you. Last year they had an octopus design that was nothing less than a work of art. This farm is 325 acres and holds a fall festival every year that would be the perfect addition to a day in the corn maze.
3232 Rippleton Road – State Route 13, Cazenovia, NY 13035
● Ellms Farms – An Amazing Maze as well as several children only mazes. Located near Sarasota, Ellms Farms also offers hay rides and pumpkins!
448 Charlton Road, Ballston Spa, NY 12020
● The Great Adirondack Corn Maze – Theme for this year's Corn Maze is "Adirondack Music". This one is already open for the season. In addition to regular corn maze activities, there are flashlight nights, private grop rates, and Fright Night special event. if you visit their website, there is a $1 off coupon available for the 2016 season.
Tucker Farms, Inc.
112 Hobart Road, Gabriels, NY 12939
● The Great Pumpkin Farm – I watch this one go up for months!! From pumpkins to mazes (corn and hay) to a petting zoo and more, this is a very popular weekend family destination.
11199 Main Street, Clarence, NY 14031
● Greg's U-Pick – 6 acre corn maze all proceeds go to Roswell Park Cancer Institute. Fall veggies are for sale, along with mums, cornstalks and cider.
9270 Lapp Road, Clarence Center, NY 14032
● Hank's Pumpkin Town – Nestled into a gorgeous part of Watermill, New York, this farm has three different mazes that will suit any age. Need a quick maze? Hank has a 15-minute maze that won't keep you los. t for long. The design is impeccable every year and there is always a neat tale and mystery to go along with the maze each year.
240 Montauk Hwy., Watermill, NY 11976
● Headless Horseman – If you're looking for a super creepy and scary corn maze, the Headless Horseman offers an Evil Reaping: Dark Harvest Corn Maze for those who are not faint of heart. Located in Ulster Park, New York, this place is perfect for those who like the nightmarish side of fall.
778 Broadway, Ulster Park, NY 12487
● Liberty Ridge Farm – This year they have teamed up with Peanuts® to celebrate the 50 Year Anniversary of It's The Great Pumpkin Charlie Brown! offering an 11 acre maze, children can learn the dynamics of agriculture. For older kids and adults, check out the Field of Screams. They have been up and running for 17 years.
29 Bevis Road Schaghticoke, NY 12154
● Long Acre Farms – Running from September 10th through October 30th, this is one glorious corn maze set-up. If you are looking for an unusual date night, they even offer Moonlight maze beginning in mid September!
1342 Eddy Rd, Macedon, NY 14502
● Queens County Farm Museum – This farm is said to have the only corn maze in New York City. The maze is 3 acres and has enough activities to keep the entire family entertained. The maze opens September 24th. Maze by Moonlight is held October 15th and 22nd.
73-50 Little Neck Parkway, Floral Park, New York 11004-1129
● Schmitt's Family Farm – This farm is located in Melville, New York and has a very long list of fun activities including their corn maze. Their design and theme for this year's maze is "Everest Adventure." They cut out a very intricate design which can only be considered a work of art.
26 Pinelawn Rd, Melville, NY 11747