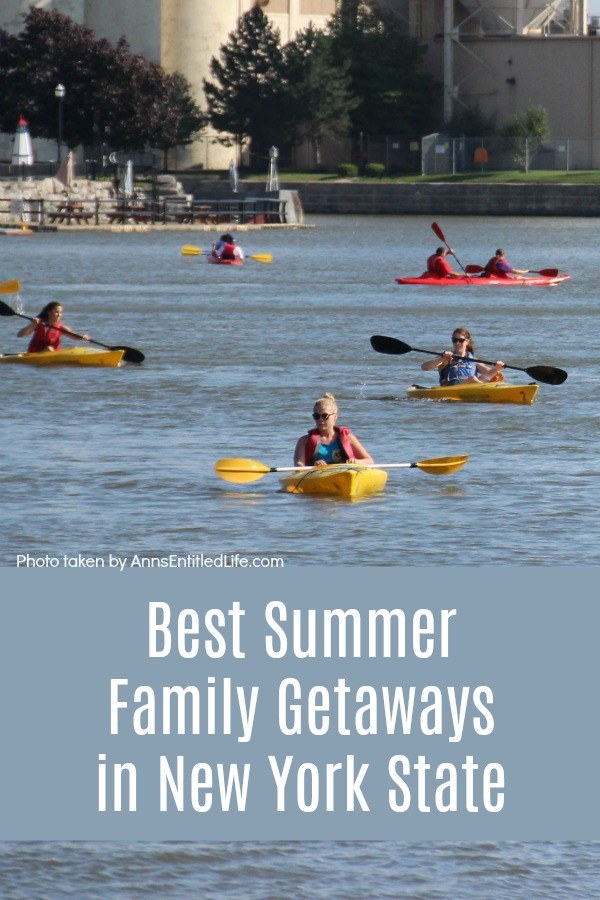 Summer means vacation time! New York State is home to many inviting spots to spend a long weekend or a full week (or two) with the family. From retracing the steps of great Olympians to camping and fishing outdoors to checking out some of the scary and fun attractions at amusement parks, New York State invites you to enjoy some great quality time with your loved ones on a terrific family getaway.
Best Summer Family Getaways in New York State
I think everyone knows I love New York! Hubby and I spend a lot of time traversing this great state, seeing and doing so much that is offered. New York State is mostly rural. While many people think of it as a concrete jungle due to NYC, the truth is New York State is mostly farmland, forests, parks, and waterways. While there are a plethora of indoor activities, New York State shines in the outdoor hiking, boating and sportsman areas – perfect for fun, adventurous family getaways!
Note: You can get a New York State Fishing License online in about 2 seconds (I just did it last week). You can immediately print it to have to show the game warden as s/he taps you on the shoulder. You can also request one be sent to you. The fishing license you receive in the mail will be of the non-tearable type. Everyone 16 and older that is fishing in NYS needs a fishing license unless you are fishing on one of the free weekends. Check out the NYS DEC website for complete details.
Albany, New York
A look at New York's history and government highlights a visit to the capital city. Guided and self-guided tours of the New York Capitol building are offered daily Monday-Saturday. You will learn the history of the specially designed capitol building, which consists of two styles – Italian Renaissance and Romanesque. Following the capitol tour, visit the Empire State Plaza, which explores the state's history.
Enjoy the view of Albany and the surrounding area as the family embarks on a Hudson River Cruise with Dutch Apple Cruises. The 90-minute early afternoon cruise includes a 45-minute narration about the city, its history, and nearby sights. Then, you can relax and enjoy family time during the second half of the tour.
If your family wants to take in some challenging and fun activities, check out area ziplines or indoor rock climbing.
Albany is home to several family-friendly hotels, including Fairfield Inn by Marriott and Homewood Suites.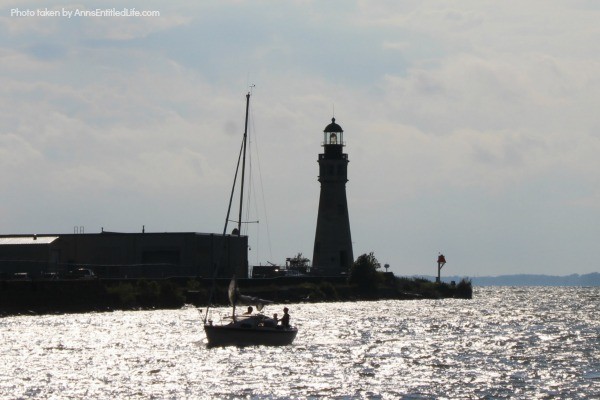 Buffalo, New York
Any visit to Buffalo requires a visit to Canalside (I took the photo at the top of this post at Canalside – well, Riverworks – close enough). Home to outdoor concerts, festivals and other events, including children's activities, the area is perfect for a family outing. Enjoy water activities such as kayaking or paddle boating on the water as you take in the skyline of this western New York gem. Children and history buffs will enjoy touring retired naval vessels and other military attractions at the Buffalo and Erie County Naval and Military Park.
Grab a seat and enjoy a harbor cruise, where you can enjoy the sights and learn a little history about places such as Black Rock Lock and Canal. A two-hour narrated cruise takes you through four bodies of water – Lake Erie, Niagara River, Buffalo River and Black Rock Canal.
Buffalo is home to the nation's third-oldest zoo. With more than 25 animal displays, the Buffalo Zoo offers an opportunity to see some of the most endangered animals in the world, such as the snow leopard. From otters to lions and gorillas, the zoo offers something for everyone in the family.
With exhibits that take a look at extinction and its current implications to a look at Buffalo from space, the Buffalo Museum of Science is a must-see for kids of all ages. Learn about the stars with a stop at the Kellogg Observatory during one of its public shows.
A Buffalo Bison minor league baseball game makes for a fun family event. A Triple-A affiliate of the Toronto Bluejays, the Bison affordable ticket prices and concessions. Watch tomorrow's Major League stars today.
A visit to Buffalo is not complete without dinner at one of the city's many wing joints. Home to the original chicken wing – Buffalo wings to the rest to the rest of the world – Anchor Bar is where it all began, although many people love Duff's (I prefer LaNova's).
With a great selection of hotels, Buffalo offers families excellent accommodations, such as Country Inn and Suites by Radisson and Hilton hotels as well as VRBOs.
If you would like more things to do in Buffalo, check out my 365 Things to Do in Niagara Falls and Buffalo, NY post.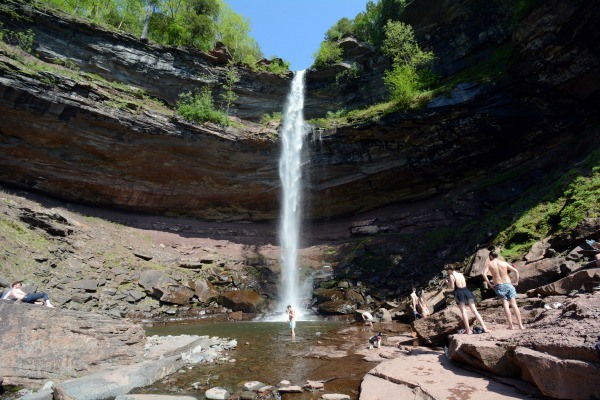 Catskills Mountains, New York
There is something special about petting or hugging an alpaca. The South American animals are soft and friendly, so it adds to a fun experience of visiting an alpaca farm. Buck Brook Alpacas opened in 2013 in Sullivan County and offers public tours. Tours take up to 45 minutes and will introduce you to more than just hanging out with the pachyderm. You'll learn about the process to shear the alpaca's fiber, as well as see an Angora rabbit, a cousin to the alpaca.
Enjoy canoeing, rafting, tubing or kayaking on the river with Lander's River Trips. You can join a tour at one of eight spots along the historic Delaware River. You can also reserve overnight camping as part of the water tour.
Become a farmer and stay at an actual working farm. Stony Creek Farmstead welcomes visitors who want to learn about farming. During the stay, you'll spend nights in a well-appointed platform tent. In the mornings, you will help milk cows and pick eggs for breakfast. Stop at the farm store for a few more provisions and you can enjoy a farm-fresh meal. Farmers host guided tours of the farm on weekends.
If farm life is not for you, then consider spending nights at one of the local hotels or resorts, such as Cold Spring Lodge and Cabins.
Cooperstown, New York
Home to the Professional Baseball Hall of Fame and Museum, Cooperstown is about as a red-blooded American town as you find. The small community welcomes Hall of Fame visitors who come to see the busts and exhibits featuring the greatest players to take to the ball diamond. From Babe Ruth to Grover Cleveland Alexander to recent inductees like Chipper Jones and Jack Morris, the Hall of Fame offers a historical insight into America's game. Down the street from the Hall of Fame fans can see life-size statues of some of their favorite players at the Heroes of Baseball Wax Museum.
At the Fenimore Art Museum, view art exhibits, which share New Yorkers' cultural heritage. Once home to a prominent family, the Fenimore House became a museum in the mid-1940s. With a majestic view of Otsego Lake, a walk around the mansion's grounds is one to remember.
Travel back to the 19th century with a visit to The Farmer's Museum. Located at a living history farm, you can enjoy a ride on a horse-drawn carriage while learning about early American farm life.
The Otesaga Resort Hotel provides a beautiful location to stay during your Cooperstown visit. Located next to the Otesaga Lake, the resort is just minutes from area attractions.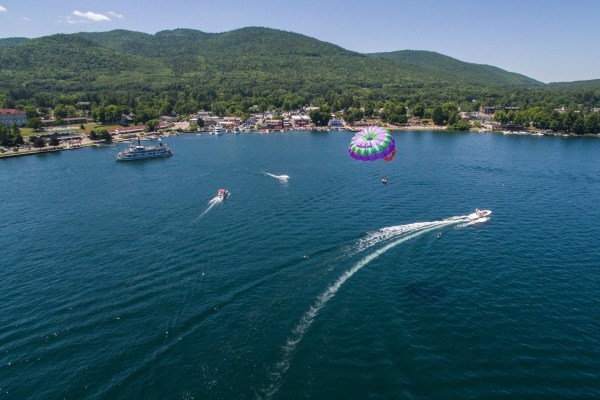 Lake George, New York
First of all: beautiful, beautiful, beautiful! Offering magnificent views, you will likely want to spend most of your time outside when visiting Lake George. How about taking a bird's eye view of the region with a trip down a zipline with Eagle Flyer? Taking off from the summit at French Mountain, you'll travel 50 mph as you speed down about 1,000 feet while dangling just over 100 feet above the treetops. The breathtaking experience may leave you wanting a trip down the mountain.
While maybe not everyone in the family will be gung-ho for a zipline adventure, they will likely all go for a boat ride on Lake George. Rent a boat with Brodie's Lakeside and you can enjoy a tour of the lake at your pace with either a speed boat or a pontoon boat. Rent a boat for half a day, a full day or a three-day visit.
With three boats available, you can decide what type of steamboat tour you would like to take with Lake George Steamboat Company. From a one-hour sightseeing tour to a lunch/dinner cruise to an island exploration cruise that covers the lake's 32 miles, there's a steamboat to meet your needs. With some of the oldest paddlewheel boats in the United States, a cruise with Lake George Steamboat is more than just a ride on the water, it is a trip through history.
Since the lake is the driving factor of any visit to Lake George, consider these resorts for your family's accommodations – Trout House Village or the Lodges at Cresthaven.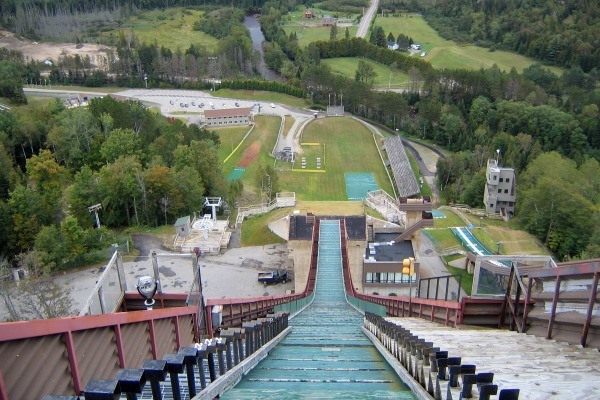 Lake Placid, New York
Learn about not one, but two winter Olympics that Lake Placid hosted. While the 1980 Games may be more famous for the "Miracle on Ice" when the United States shocked the world by winning the gold medal in men's ice hockey, the 1960 Olympics produced its fair share of great stories. Visitors can learn about the heroes and background stories of both Olympic events. The Olympic site also offers tours of attractions, such as the hockey arena and luge track. Now used as a training center, time your summer visit right and the family can watch Olympic hopefuls practice ski jumps in July and August. They speed down the ramp and soar high in the sky before landing on inflatable targets in a pool.
Take in a view of the Adirondacks with a visit to the summit of Whiteface Mountain. Standing nearly 5,000 above the ground you will witness a breath-taking view of the forests and the valley. Or, if you are interested in a more secluded area, along with a long hike, visit Mount Van Hovenberg, site of the luge and bobsled competitions during the 1980 Olympics. The view from about 2,900 feet completes a 4.5-mile round trip hike. Cascade Mountain provides an excellent day hiking activity for any family. Easily navigable, the mountain peak is perfect for a day trip.
Lake Placid is a great spot for water sports such as kayaking or canoeing. For the risk takers, whitewater rafting is available nearby. Boating is also available on the lake, ranging from classic wooden boats to motor boats. You can also enjoy water skiing, wake boarding or tubing on the water.
The area is home to nice accommodations to make your downtime enjoyable. From the Golden Arrow Lake Resort to Lake Placid Lodge, the area offers a range of hotels and resorts at affordable prices.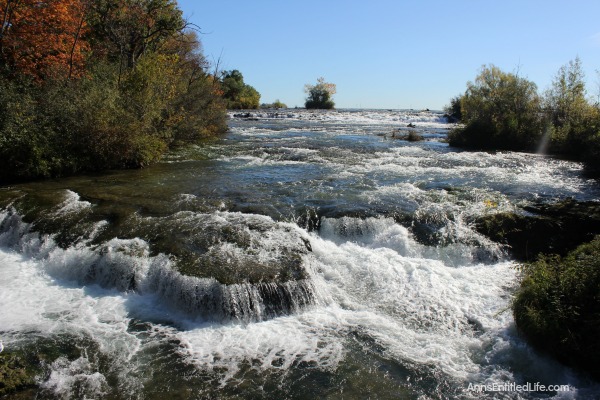 Niagara Falls, New York
Niagara Falls has a plethora of activities and attractions for families beyond the falls themselves. While the Falls may be the most popular attraction in the area, a family visit is enhanced with a cruise about the Maid of the Mist. The tour boat will take you as close as humanly possible to the falls, short of jumping into a barrel going over the falls yourself. Ensure you don the water poncho as you board so you're not soaked by the sprays of the water as you near the falls.
Seeking to educate visitors about the importance of sea life and its creatures, the Aquarium of Niagara is home to penguins, sea lions, seals and sharks, as well as other salt water and fresh water animals. The aquarium also offers personal encounters with the Humboldt penguins, seals and sea lions.
As the country's oldest state park, Niagara Falls State Park allows people to get up-close to the water above the falls. You can explore Niagara Falls through the Cave of the Winds and feel the water pelt you at Bridal Veil Falls.
Take a step back into history with a visit to Old Fort Niagara. Established more than 200 years ago, the fort has served through several wars and contemptuous times in American history.
Finding the perfect family-friendly hotel is easy in Niagara Falls. You may want to consider spending your visit at the Four Points by Sheraton or the Sheraton Niagara Falls.
If you would like more things to do in Niagara Falls, check out my 365 Things to Do in Niagara Falls and Buffalo, NY post.
Rochester, New York
Catch a minor league baseball game during your visit to Rochester. Home to the Triple-A affiliate of the Minnesota Twins, the Rochester Red Wings provides some of the most exciting baseball you will see in the minor leagues.
The Seneca Park Zoo is home to animals from the arctic, Africa, North America and Asia. From elephants and tigers to otters and polar bears, you can travel the world during a tour of the 20-acre zoo.
Dating back to the mid-1800s, the Seabreeze Amusement Park is one of the oldest parks in the United States. From roller coasters and log rides to splashing around in the waterpark, Seabreeze offers families an adventure they'll long remember.
Considered one of the best in the nation, Dogtown serves hotdogs with names like Boston Terrier and St. Bernard. Each is created with fresh ingredients and locally-sourced bread.
Staybridge Suitesor the Homewood Suites are two of the dozens of family-friendly hotels to consider when planning your visit.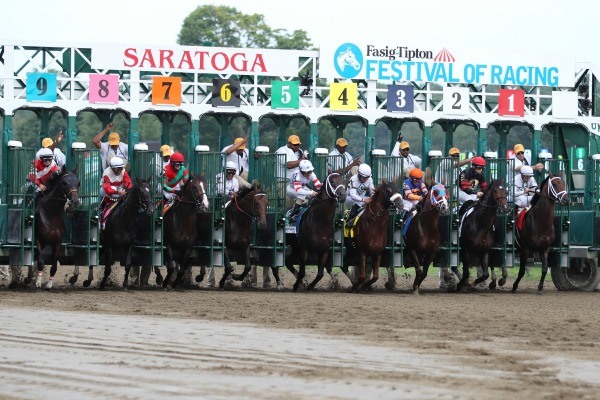 Saratoga Springs, New York
A historical landmark, Saratoga Race Course is the oldest race track in the United States and a must-see attraction for horse and horse racing fans. Its race season runs for six weeks beginning in July, so you can see some of the best thoroughbreds run for the victory. Across from the race track is the National Museum of Racing and Hall of Fame. With notables like Man O War depicted in paintings, the museum also features collections of photographs and memorabilia. Outside the museum, a beautiful statue, Thoroughbred, greets visitors.
The Battle of Saratoga is remembered at the Saratoga National Historical Park. The Battle of Saratoga in 1777 was the site of the first known British surrender in military history. Monuments, trails, and living history reenactments are available during visits.
If the family is in the adventurous mood, head to Lake Luzerne, about 30 minutes north, and visit the Adirondack Adventure Center and take in outdoor activities, such as tubing on the lake or enjoying treetop obstacles and challenges, ziplines and – not for the faint of heart – a 65-foot freefall at the end of the challenge.
For a luxurious stay, visit the Pavilion Grand Hotel. If you prefer a more casual environment, consider the Adirondack Inn.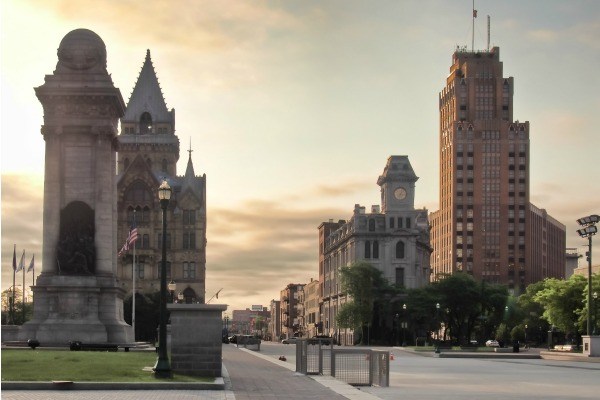 Syracuse, New York
Home to Onandoga Lake Park, families will enjoy spending time outdoors at the playgrounds and hiking four trails along a seven-mile stretch. A visit to the salt museum also provides an interesting experience.
Wonderworks Destiny is a mix of a science museum with an amusement park. Wonderworks' interactive exhibits entice kids of all ages. With exhibits like an imagination lab, rope course and laser tag, try not to have a fun visit.
Rosamund Griffin Zoo is home to more than 700 animals at a 43-acre complex. With animals such as the ring-tailed lemur as well as penguins and elephants, the zoo has about 270 species of animals on display.
Syracuse-area family friendly hotels include the Homewood Suites and Maplewood Suites.
Summer is one the best seasons to enjoy the outdoors, and New York State is home to amazing places to spend that time with your family. From ziplining down mountains to retracing some of the country's greatest sports accomplishments to life on the lake, your family is sure to find the perfect spot at which to spend your summertime vacation together. Have a great summer and enjoy the sights and sounds of New York State!
If you are looking for more things to do in New York State, check out these posts:
● 15 Family Friendly Spooky Places in New York State – Halloween is a spooktacular time of year! Ghosts and goblins abound everywhere – and most especially in New York State. Spooky and fun family attractions your entire clan will love abound in this great state, so I have gotten together a list of my favorite 15 Family Friendly Spooky Places in NYS for you to visit and explore. Have a haunting good time.
● 10 Fabulous New York State Springtime Getaways – While we may take it for granted sometimes, those of us who live in New York State know that it is a wonderful place to live and play during the springtime. Whether you are a New York State resident, or you are just vacationing in this beautiful region, you can find some pretty amazing places to visit here in the Empire State.
---
● For more New York State Travel posts on Ann's Entitled Life, click here.
● If you enjoyed this post, be sure to sign up for the Ann's Entitled Life weekly newsletter, and never miss another article!
---