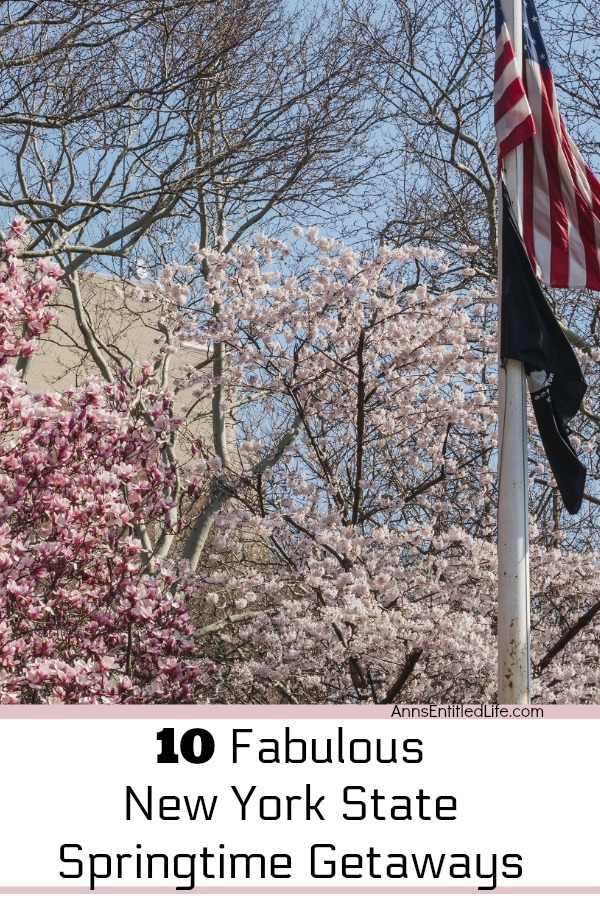 While we may take it for granted sometimes, those of us who live in New York State know that it is a wonderful place to live and play during the springtime. Whether you are a New York State resident, or you are just vacationing in this beautiful region, you can find some pretty amazing places to visit here in the Empire State.
10 Fabulous New York State Springtime Getaways
With the spring thaw right around the corner, people are chomping at the bit to get out and enjoy some nice weather. Whether it's a trip to the park or a drive to a museum in another town, people are eager to put the chill of winter behind them and enjoy a weekend getaway. We're taking a look at few locations around New York that make for a perfect springtime weekend getaway or even a day trip if you live close.
Albany, New York
Home to the New York State Capitol and Legislature, Albany offers visitors a mix of history and culture during a weekend getaway. Serving as the state's capitol since the late 1880s, the uniquely-designed building sits at the top of the hill on State Street. Constructed using Italian Renaissance and Romanesque architecture, primarily because the state switched designers during the build, the capital is perhaps the most unique-looking capitol in the country. Public tours are conducted Monday-Saturday (except for holidays). Combine the capitol tour with the Empire State Plaza, which offers a look at the state's history and people.
Include the New York State Museum as part of your weekend getaway's history tour. Opened in 1836, the museum is the country's oldest and largest state museum. Providing exhibits exploring New York's history, visitors can view items from the development of the Erie Canal to Woodstock. The museum offers several special exhibits, so return visits are recommended.
Once used in World War II to fight Nazi U-boats, the USS Slater is a former destroyer now on display along the Hudson River. The ship provides a look at naval life during the war. Tours are offered April-October.
With several wineries and vineyards available in the Albany area, it's easy to find a good winery, such as Saratoga Winery. Located in nearby Saratoga Springs, the winery has more than a dozen varieties to try during a tasting. It also offers local beer. The winery offers live music and wood-fired pizza on weekends, so it's easy to spend a day at Saratoga Winery.
Looking for a good meal in Albany leads you to Delmonico's Italian Steakhouse, where you can find the city's best steak, as well as delicious chicken and pasta entrees. Another outstanding restaurant to visit is the Barnsider Albany. Home to steaks aged 28 days for their best quality, they are trimmed and perfected by the restaurant's onsite butchers. Teamed with tasty fish and pasta dishes, the Barnsider is an excellent choice for dinner on your weekend getaway.
During your weekend getaway, the Renaissance Albany Hotel provides a luxurious stay downtown. Located in the former DeWitt Hotel, the Renaissance also prides itself on the building's history. In addition, the Washington Park Inn is home to seven guest rooms in a Victorian-era mansion. Built in 1884, the inn is minutes from attractions and restaurants.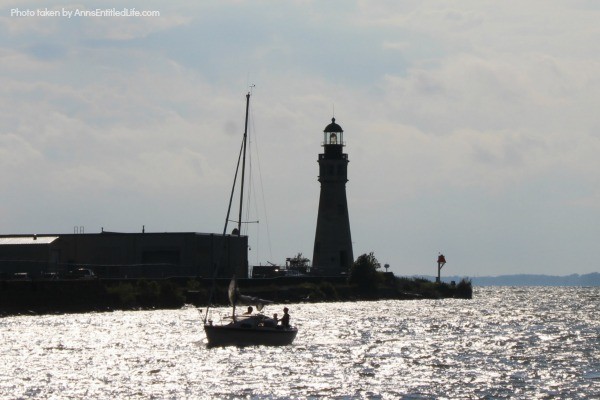 Buffalo, New York
Buffalo offers visitors an eclectic selection of attractions for a springtime weekend getaway. From catching a Buffalo Bison minor league baseball game to enjoying activities along the Canalside, visitors enjoy their time in the city.
Canalside is the city's waterfront gem. Home to concerts and festivals throughout the year, the area is the place to be. Home to the Buffalo and Erie County Naval & Military Park, you can tour ships and a submarine, as well as view military vehicles and equipment. Try your hand at piloting a vessel with a maritime simulator. A walk along the Canalside is a great way to take in people watching during your visit.
As the third oldest zoo in the country, the Buffalo Zoo offers visitors an opportunity to view animals from around the world. Featuring animals endangered animals such as the Japanese macaque and snow leopard, the zoo shares these animals' stories, as well as others in an attempt to prevent the species from extinction. Other animals featured at the Buffalo Zoo include the polar bear exhibit, seals, lions and rhinos.
The Buffalo Museum of Science is an attraction for all ages. Not just aimed toward children, the museum's interactive exhibits feature a look at Buffalo from space, connecting the region with outer space. You can also walk through a beehive to get a realistic look at how a bee colony works and human reliance on bees. With eight major exhibits, the museum offers a fun way to explore the area on your weekend getaway.
For wine aficionados, a visit to Chateau Buffalo offers a taste of local wines and ciders. Starting out selling ciders, Chateau Buffalo added regional wines. Later, they decided to add their own line of wines to the inventory. With weekend tastings, Chateau Buffalo is a great spot to sample a variety of brands.
As the saying goes "When in Rome…" Buffalo is the birthplace of what's affectionately known nationwide as Buffalo wings. Why not visit the place where it all started? The Anchor Bar is credited with inventing chicken wings in 1964. Today, most people believe that Bar Bill Tavern makes the best wings in the Buffalo area (IMO it is a LaNova's), so a stop there should be included on your weekend getaway.
For non-wing fans (is there such a thing?), head to Raclettes for an impressive French culinary experience. From escargot on the appetizer menu to entrees such as cassoulet (featuring duck confit) and boeuf bourguignon (braised beef). Your weekend getaway to Buffalo can cross palates.
The Lenox Hotel and Suites offers a stay in history. The boutique hotel is situated in a building dating back to 1896 in the Allentown area. With beautifully-designed rooms, the hotel offers a luxurious experience on your getaway.
With only three guest rooms, you are guaranteed an intimate experience at the Parkside House Bed and Breakfast. Located in the Parkside neighborhood, the late 19th-century house offers a perfect spot for a couple's weekend visit. The neighborhood is home to several uniquely-designed houses, so a morning or evening stroll may be in order. The bed and breakfast is near several attractions, including the Frank Lloyd Wright's Martin House Complex.
If you would like more things to do in the Buffalo area, check out my long list of 300 Things To Do In Niagara Falls and Buffalo, NY – This is a long list of events, places, and things to do in Buffalo, and Niagara Falls, New York! Coming soon – 365 Things To Do In Niagara Falls and Buffalo, NY where I give you something to do every day of the year!
Cooperstown, New York
Home to the National Baseball Hall of Fame and Museum, baseball fans will love a weekend getaway to Cooperstown. Baseball fans can also visit the Heroes of Baseball Wax Museum, which showcases 30 life-size stars in key game settings.
But, Cooperstown is more than a baseball mecca. The Fenimore Art Museum presents an array of art exhibits, focusing on sharing New Yorkers' cultural heritage through special exhibitions. Donated to the state historical association, the Fenimore House became a museum in the mid-1940s. Overlooking Otsego Lake, the museum's grounds are among the most beautiful in the state and provide an impressive view during a walk.
A visit to The Farmer's Museum (open April-October) takes you back to life on a 19th-century farm. The living history museum is one of the oldest in the United States. Enjoy a ride on a horse-drawn carriage during your visit as you learn about early American farm life. With farm tools and equipment from the 1800s housed in buildings resembling the era, a trip to the farm is a true lesson in appreciating the farmer's role in America.
Located in Burlington Flats, about a 20-minute drive from Cooperstown, Rustic Ridge Winery is home to a variety of wine created from grapes vineyards in the Finger Lakes. Opened in 2010 on a family farm, Rustic Ridge's menu includes sweet and semi-dry wines, whites and reds.
After a day of touring the Cooperstown area, head to Toscana Italian Fusion & Grill for a unique dinner. Using fresh ingredients, the chef seeks to create memorable dining experiences. With a variety of Italian dishes, such as pasta featuring little neck clams in red or white sauce, the restaurant ventures on to entrees such as osso buco Milanese, a pork shank simmered in fresh herbs and tomato broth.
Offering a casual dining experience, Council Rock Brewery is the perfect spot for a sandwich or burger. Of course, Council Rock has to have New York pastrami on the menu. While you can enjoy an Empire State favorite, know that the burgers aren't just a burger and American cheese. Using black angus steak burgers, the menu includes toppings from applewood bacon and whole grain mustard to a variety of cheeses, such as extra sharp cheddar and brie. Council Rock also brews its own beer, offering a selection featuring golden rod ale to a red ale.
While enjoying your weekend getaway, it's tough to beat a stay at the Otesaga Resort Hotel. With views of Otesaga Lake, the resort presents a luxurious experience to its guests. The resort is also minutes from Cooperstown attractions.
The Inn at Cooperstown provides a cozy stay for guests. With only 18 guest rooms, the Inn allows guests a relaxing environment less than two blocks from the baseball hall of fame. From classically-designed rooms to luxurious suites, the Inn at Cooperstown is an excellent choice for accommodations.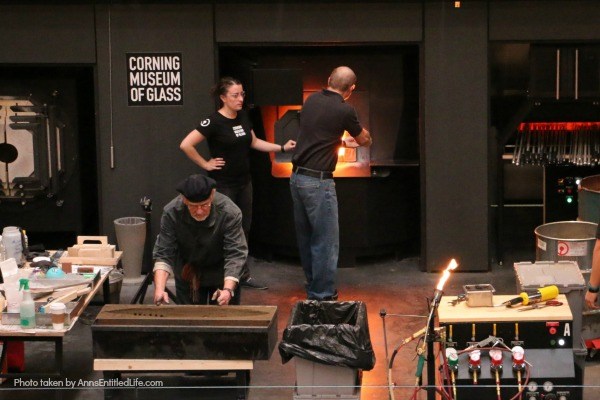 Corning, New York
Home to the Corning Glass Museum and the Rockwell Museum for a look at the famous art created by Norman Rockwell and special exhibits, a weekend getaway to Corning takes you to just south of the Finger Lakes region, so you can mix visiting attractions in town with taking a Finger Lakes wine country tour.
A visit to the downtown Gaffer District takes you among beautiful historical buildings, great shopping, and dining. Start your history tour on Market Street and learn about the area as you visit storefronts and buildings. While taking a self-guided tour, check out the stores and boutiques in the area. Grab lunch at any of the restaurants in the area.
While you're visiting the Corning area, consider taking an hour drive north to the former Seneca Army Depot to take the white deer scenic tour. It is a rare opportunity to see the white deer up-close.
As you finish your day's activities, check out Stonecat Café for a seasonal menu highlighting regional cuisine. Located in a former farmers market, Stonecat's menu features entrees such as duck confit and pulled pork bbq. For a casual meal, visit Aniello's Pizzeria in the Gaffer District for authentic New York-style pizza.
Located near the city's attractions, the Staybridge Suites is an excellent choice for your weekend getaway. Offering a casual, relaxing environment, the Staybridge provides a nice spot for a weekend getaway. For a secluded location with six guest rooms, Nel's Place bed and breakfast provides a beautiful wooded setting just minutes from Corning's attractions.
Cornwall-on-Hudson, New York
Nature enthusiasts enjoy visiting Cornwall, about an hour north of New York City. The area is home to Pollepel Island and outdoor adventure guide Storm King Adventures.
Enjoy a guided tour of Pollepel Island, leading to Bannerman Castle. During your visit to Cornwall, head out on the Hudson River with a kayak tour organized through Storm King Adventures. Or, you may want to leave the driving to the captain of a boat and enjoy a view of the area on a river cruise with Pride of the Hudson.
If land adventures are more to your liking, take a drive to the US Military Academy's visitors center in nearby West Point. You can purchase tickets for one- or two-hour tours through West Point Tours for visits beyond the visitors center.
Prima Pizza is a third-generation pizza restaurant in Cornwall that specializes in New York-style pizza. The restaurant even ships its pies around the country. Its pizzas are economically priced and are popular in the area.
The Canterbury Brook Inn offers an upscale European-style menu. With entrees such as a classic Wienerschnitzel to Swiss cheese fondue, you'll be dining at a Swiss chateau.
A short drive from Cornwall, the Storm King Lodge bed and breakfast in Mountainville provides a cozy stay for your weekend getaway. With less than 10 rooms available, the B&B offers an intimate visit.
With a view overlooking the Hudson River and the US Military Academy, you'll enjoy a weekend at the Thayer Hotel in West Point. The historic hotel, with well-appointed rooms, has hosted presidents and other dignitaries over the years.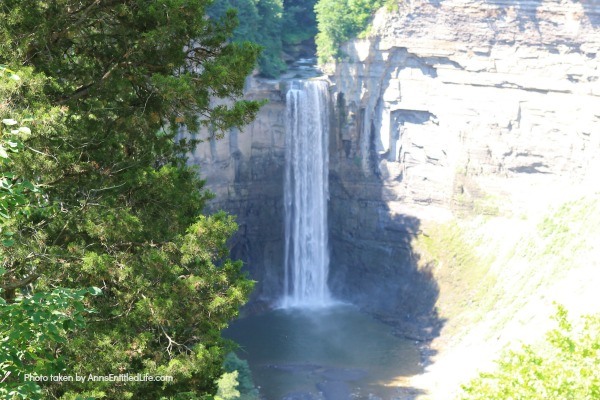 New York State Finger Lakes Region
Located in upstate New York among a series of long, narrow lakes resembling fingers, the Fingers Lake region is home to cities such as Ithaca and Geneva. The region is ripe with vineyards and wineries. The Seneca Lake wine trail features many, many wineries and vineyards around the lake. Open year-round, the wineries offer tastings, as well as food pairings. As you travel the trail, remember to use a designated driver, and maybe buy a bottle or two or three for home or family and friends.
Since Hubby and I have spent so much time in the Finger Lakes area going back and forth to Cornell with Max, I wrote up a bunch of posts about the area wineries. If you are going to the Finger Lakes for wine tasting, be sure to check out these posts:
● Estate Wineries on Seneca Lake
● Wine Tasting Seneca Lake (east side)
● Wine Tasting On The West Side Of Seneca Lake
● Wine Tasting On Canandaigua Lake
● Wine Tasting On Cayuga Lake
Largest of the Finger Lakes, Seneca Lake is considered the lake trout capital of the world. Nearly 40 miles long, the lake has a long history. Formed by glaciers millions of years ago, the region was once home to Iroquois villages. Today, the lake offers an excellent area for boating and scenic views.
For an amazing view on Cayuga Lake, visit Ithaca Falls, just a short drive north of Ithaca. The 150-foot tall waterfalls is the largest in the region and marks Fall Creek's plunge into the lake. The waterfall is a popular photo opportunity, as well as a picnic site.
While in Ithaca, visit the Cornell Botanic Gardens. With 35 acres dedicated to the botanic gardens, the attraction is home to 12 special gardens, including flowers, perennials, vines, and ornamental grasses. A 100-acre arboretum examines the role of trees, plants, and shrubs in the environment while offering visitors an attractive area to stroll. (This area is beautiful!)
Seneca Falls is home to the Women's Rights National Park. The history of women's rights officially started with a convention at the spot that was later named to the National Park Service. Your visit will cover the history of struggles for civil and equal rights within the United States, as well as internationally.
Enjoy a wood-fired pizza in a casual environment at Ciao Wood-fired Pizza and Pasta in Ithaca. Besides pizza, Ciao also serves pasta, sandwiches, soups, and salads.
Located on Cayuga Lake, the Boatyard Grill offers a casual upscale dining experience with steaks, fresh seafood, and burgers.
With a variety of hotels and inns dotting the Finger Lakes landscape, the Argos Inn provides an intimate hotel stay in Ithaca. The boutique hotel features 13 elegantly-designed rooms in a historic mansion.
Bed and breakfast fans will enjoy staying at the William Henry Miller Inn. The Ithaca B&B is situated in downtown Ithaca, minutes from local colleges and attractions. Opened in 1999, the inn offers nine well-designed rooms for its guests.
Lake Placid, New York
Hosting the 1932 and 1980 Winter Olympics, Lake Placid may be a winter sports fan's retreat, but the area also offers a beautiful setting for a springtime weekend getaway. With Olympic attractions as a backdrop, a visit to the Winter Olympics Museum and Visitor Center make for an interesting look into the event's history. A tour of the Herb Brooks Arena – site of the United States' men's hockey team's run to the gold medal – should top your list of things to do. The arena is named for the late Herb Brooks, who coached the Americans to the gold medal.
Take a drive around Mirror Lake and enjoy the beauty of the lake, mountains, and forest. While known for the colors of the leaves during the fall, Mirror Lake is beautiful year round.
A short drive south of town takes you to the John Brown Farm State Historic Site. Home to the famous abolitionist, John Brown led freed slaves to the area to live and find work. He is also buried on the farm.
Hikers enjoy traveling the Brewster Peninsula Trails along Lake Placid. Former access roads along the lake have been turned into the hiking trails.
Wine aficionados will enjoy a trip to the Goose Watch Lake Winery's tasting room in downtown Lake Placid. With wines produced in the Finger Lakes region, the Lake Placid tasting room features more than 20 wines to sample and purchase.
Enjoy a freshly brewed craft beer at the Lake Placid Pub and Brewery. All beer served at the pub is brewed on site. Bottles and cans are produced at a brewery at the Utica brewery. The Lake Placid brewery opened in the late 1990s and has grown into one of the area's most popular brands. The beer was even served at a White House in the early 2000s. Besides excellent beer, the pub also has a casual dining menu featuring burgers, sandwiches, and pizza.
With views of Mirror Lake, the Mirror Lake Inn is home to three restaurants. The Cottage Restaurant features a casual family menu with burgers and sandwiches, while Taste Bistro and Bar offers a higher end menu including Kilcoyne pot roast and beef tips. The View Restaurant features fine dining with entrees such as braised lamb cheeks and free range chicken breast.
Lake Placid offers several hotels and resorts in which to stay. The Haus on Lake Placid provides outstanding views of the area, as well as a luxurious visit. The Golden Arrow Resort offers beautifully-appointed rooms at a downtown location.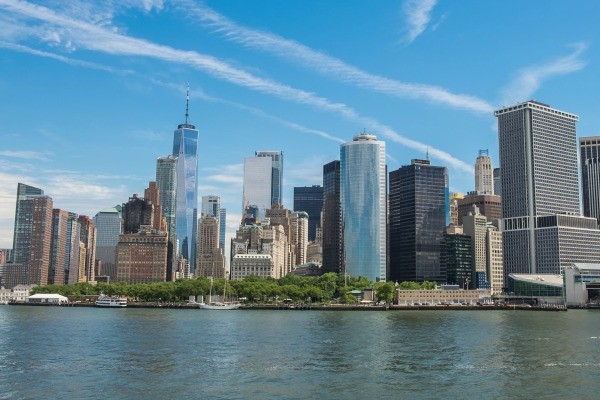 New York City, New York
Of course, the Big Apple appeals to everyone around the world regardless of the time of the year. But, for New Yorkers, a trip to the city may be just what they are looking for a weekend getaway, or maybe even a long weekend. With more attractions offered in the city than time to see them all, people need to plan their visit to ensure they cover as much of New York's attractions as possible.
The National September 11 Memorial and Museum tops most visitors' lists today. Dedicated in 2011, on the 10th anniversary of the terrorist attacks that killed nearly 3,000 people at the World Trade Center, Shanksville (Pennsylvania) and the Pentagon in Washington DC, as well as the 1993 attack, the memorial and museum rank as one of the most visited sites in New York. Built on the grounds of the World Trade Center, the memorial and museum consist of two reflection pools and the largest manmade waterfall in the country. The names of the victims of each attack are inscribed around the reflection pools.
Mention New York City and most people will respond with Times Square, so a visit to the busiest spot in the world is a must-do for most visitors. Once home to the American Horse Exchange in the carrier district, the neighborhood experienced a series of changes as it grew to become the attraction it is today, home to the annual New Year's Eve party and ball drop, as well as dozens of attractions. A visit to Times Square will surely mark off a spot on anyone's New York bucket list.
With Broadway nearby, catching one of the hit shows or musicals would top anyone's weekend getaway adventure to New York. From Hamilton to Wicked, and more, the Great White Way welcomes all theatre fans.
You don't need to be King Kong to reach the top of the Empire State Building. Instead, take the stairs or an elevator to the observation deck on the 86th floor. The views of New York and the area are impressive. With views of Central Park, Times Square and the Statue of Liberty available on the 360-degree deck, the Empire State Building offers a wonderful reason to visit.
Speaking of the Statue of Liberty, a trip to the national monument is a must. A gift from France, the statue was dedicated in 1886. It's undergone renovations over the years to remain a popular attraction. The view of the city from the crown offers a special experience. Please note that advanced reservations are required to visit the crown.
If museums are your thing, then head over to the Museum of Modern Art, where you can view some of the most outstanding contemporary art in the world. The American Museum of Natural History offers a look at ocean life, ecological diversity, as well as New York's environmental history. The museum hosts several special exhibitions throughout the year.
With so many amazing restaurants and cafes calling the city home, it is nearly impossible not to find a menu you will like. Mario's in Brooklyn gives visitors a real taste of New York-style pizza. If you're interested in a more formal dining experience, check out One if by Land (Hubby proposed to me there, so it will always have a soft place in my heart!)
When looking for a hotel, consider the New York Marriott Marquis in Times Square. Minutes from attractions, the Marriott provides upscale comfort and luxury experience. The Warwick Hotel in Manhattan offers elegantly-designed rooms and suites for an extravagant stay. (I hosted several events there – the rooms are lovely!)
Rochester, New York
Watching a minor league baseball game is a fun and economical way of watching future stars of professional baseball. Home to the Triple-A affiliate of the Minnesota Twins, the Rochester Red Wings offers visitors an opportunity to watch the up-and-coming stars of the Eastern League.
Once home to a photography genius, George Eastman Museum recognizes his accomplishments. The museum's exhibits outgrew the mansion, so a new museum building was opened. The mansion has been renovated and reflects life when Eastman occupied. The mansion also hosts special photo exhibits throughout the year.
Spread over 20 acres the Seneca Park Zoo offers a nice area to view animals from the arctic, Africa, North America and Asia. From elephants and tigers to otters and polar bears, a visit to the zoo is a literal tour of the world. Nicely laid out, the zoo takes visitors on an international tour beginning with tropical birds and ending in Africa where you can see up to 16 animals, ranging from a white rhino to an amur tiger.
With a history dating back to the mid-1800s, Rochester is home to the country's fourth-oldest amusement park. Seabreeze Amusement Park offers families and couples a day's worth of entertainment. From roller coasters and log rides to stage shows and waterpark attractions, Seabreeze is a fun experience for everyone.
History buffs will enjoy a visit to the Susan B. Anthony House and Museum. A leader of the suffrage movement to give women the right the vote, Susan B. Anthony's hard work paid off in 1920 when the 19th Amendment was added to the U.S. Constitution giving women the right to vote. Though she died 14 years before the amendment was passed, her work was credited as crucial in getting states to ratify the amendment.
Built in 1911, the Lamberton Conservatory provides a beautiful setting for visitors to view flowers, plants and trees. Open daily, the conservatory also hosts special exhibits.
Named as one of the top hot dog joints in the United States, Dogtown proudly serves hotdogs using dog breed themes. With 18 hot dogs, featuring names like Boston Terrier and St. Bernard, each is uniquely created using fresh ingredients and locally-sourced bread. Dogtown also serves burgers and sandwiches.
Creative a unique menu from scratch, The Owl House features a menu ranging from roast duck to sweet potato steaks, as well as burgers. The restaurant also offers a gluten-free option for diners.
For a comfortable hotel stay, check out the Country Inn and Suites by Radisson. The hotel is known for nice rooms and suites, as well as a complimentary breakfast. The hotel is nearby attractions.
Bed and breakfast enthusiasts will enjoy a weekend at the Ellwanger Estate. With four guest rooms, the bed and breakfast also features a 2.5-acre garden for walks and relaxation. The B&B is centrally located in the area and is a perfect spot for a couple's weekend getaway.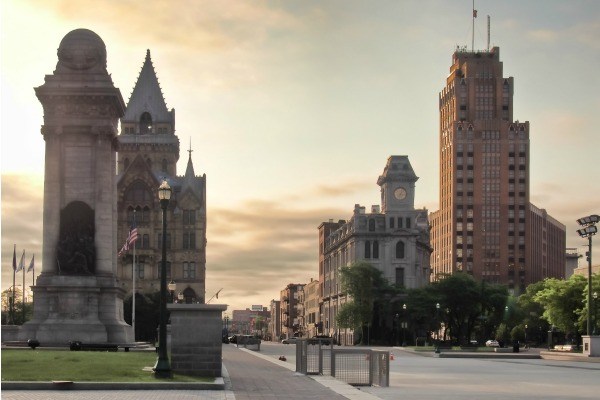 Syracuse, New York
History fans will enjoy a visit to Syracuse. With attractions such as the Niagara Mohawk Building (also known as Niagara Hudson Building), you can take in some of the beautiful architecture that is listed on the National Register of Historic Places.
Housed in the historic Weighlock Building, the Erie Canal Museum provides a look into the history of the famous waterway and its uses today. Using interactive exhibits, a visit to the museum is fun and interesting for visitors of all ages.
Wonderworks Destiny is a little bit science museum and a whole lot of amusement park. Aimed at all ages, Wonderworks combines interactive exhibits, such as imagination lab and natural disasters, with physical challenges, featuring a ropes course and laser tag. It's a fun way to spend part of your weekend getaway.
Nicknamed the "Central Park of Central New York", outdoor enthusiasts will enjoy visiting Onondaga Lake Park. The park includes four trails, playgrounds and a salt museum along a seven-mile trek just west of Syracuse.
Rosamund Griffin Zoo welcomes visitors to its 43-acre complex, featuring more than 700 animals ranging from the ring-tailed lemur to the snow leopard. More than 270 species are represented the zoo. With more than half of the zoo's creatures housed indoors, the zoo is attractive year-round. However, even the outdoor exhibits are open daily based on the weather. You can see penguins and elephants moving about in their exhibits, as you tour nine displays.
Enjoy an Italian dinner at Joey's. Serving the Syracuse area for more than 35 years, Joey's menu features Italian dishes such as veal parmigiana and stuffed rigatoni in vodka sauce. You can also enjoy a steak at Joey's.
Opened more than 12 years ago, the Stellakis sisters once dreamed of opening their own diner. Today, Stella's offers a casual menu for breakfast through dinner (on weekends). With a variety of entrees available, diners are sure to find something to satisfy their appetite.
Home to Syracuse University, the city offers a wide range of accommodations, from upscale hotels to economy level. For your weekend getaway, check out Jefferson Clinton Hotel. Offering a luxurious stay, the Jefferson Clinton Hotel calls the historic Armory Square home. Near shopping and attractions, the hotel make your getaway an even more special occasion.
Located inside a former temple, Hotel Skyler provides its guests with a unique hotel experience. Each room is specially designed, adding to the special experience.
With New York full of great attractions to visit, your choices seem almost unlimited. As you head out for your spring weekend getaway, have fun.
If you are looking for more things to do in New York State, check out these posts:
● 15 Family Friendly Spooky Places in New York State – Halloween is a spooktacular time of year! Ghosts and goblins abound everywhere – and most especially in New York State. Spooky and fun family attractions your entire clan will love abound in this great state, so I have gotten together a list of my favorite 15 Family Friendly Spooky Places in NYS for you to visit and explore. Have a haunting good time.
● 300 Things To Do In Niagara Falls and Buffalo, NY – This is a long list of events, places, and things to do in Buffalo, and Niagara Falls, New York. This includes things to do in all of the 8 counties of Western New York. From touristy things to do, to things only locals know about, this great list of 300 Things to do in Niagara Falls and Buffalo, NY has something for everyone on it!
---
● Disclosure: the links in this post may be affiliate links.
● For more New York State Travel posts on Ann's Entitled Life, click here.
● If you enjoyed this post, be sure to sign up for the Ann's Entitled Life weekly newsletter, and never miss another article!
---