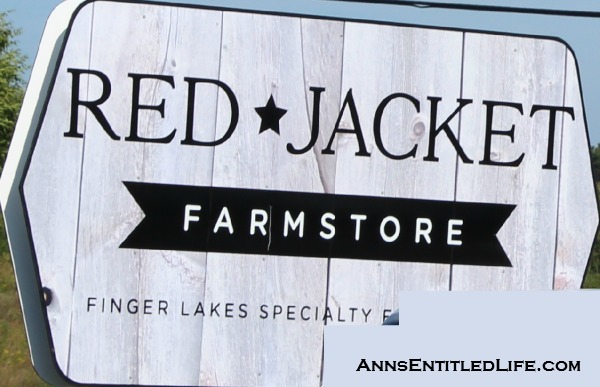 When Hubby and I stayed in Geneva last month, one of the places we wanted to stop was the Red Jacket Orchards Farm Store. We buy the Fiji Apple juice at our local Dash's Market, and we wanted to see where it came from!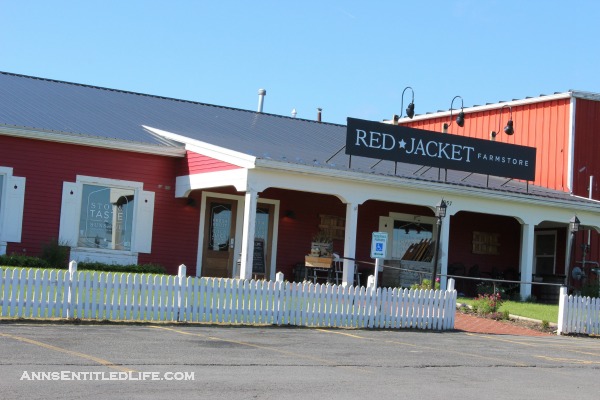 Red Jacket Orchards is a leading apple and fruit grower with more than 500 acres of orchards in Upstate New York. The company produces more than 20 different varieties of apples, including Empire, McIntosh, and Red Delicious. Red Jacket also grows apricots, raspberries, and strawberries, along with peaches and plums. The company also produces cider and fruit juices. Red Jacket sells its produce direct to consumers through farmers markets and its own orchard store, as well as through supermarkets and grocery retailers. The company's orchards were originally planted in 1917 and have been operated by the Nicholson family since 1958.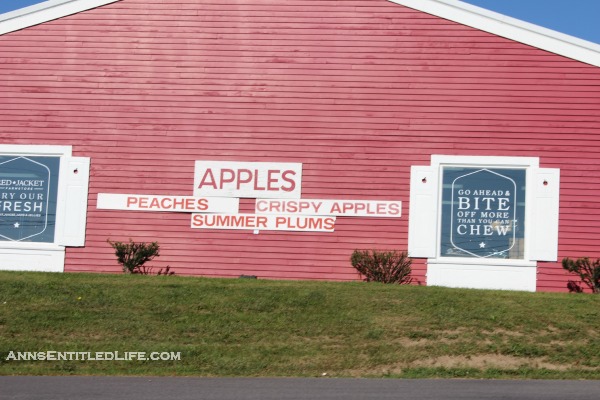 You might wonder why we wanted to go to a farm store based on a juice we buy in the grocery store. Well honestly? It is the best apple juice either one of us have ever had. I mean nothing comes close! We wanted to see what the store offered, and well, orchards.
Well, there are no orchards close to the store. They were sold to whomever developed the WalMart across the street. The store itself was remodeled in 2013, and is wide open, clean and bright.
The produce, IMO was overpriced. And I'm someone paying a premium for a CSA! Considering where the Red Jacket Orchards Farm Store is located (at the end of Geneva right on top of farm and wine country), I am surprised they can sell their fruits for the prices listed when we were there.
They sell local pottery and food stuffs too. They sell local maps, old fashioned candies and cookbooks. They have these caramels they were selling that Hubby and I couldn't find online to purchase for anywhere near the low price they were selling them in the farmstore (when we stopped back on the way out of town we loaded up, that was how much cheaper Red Jack Orchards Farm Stand was), but I wanted this I Love New York: Ingredients and Recipes
cookbook, and matter how much I like to support a local business, I wasn't spending $50 for it there when I could get it for $31.49 at Amazon.
So, you have to watch what you are buying. Not everything is cheap. And not everything is expensive. Take their juices for instance. We normally pay $4.99 for the small bottle (32oz), but the 64oz was selling there for 2/$7. WIN! Hubby said we didn't need more than two bottles, and I foolishly listened to him… one bottle didn't even make it home he drank it so fast. I think I got a small glass total, and both containers were gone in under 3 days. Shesh. We go back there and I am getting a case.
There are samples of the Red Jacket juices in the store, and when we were there they were already offering hot cider too.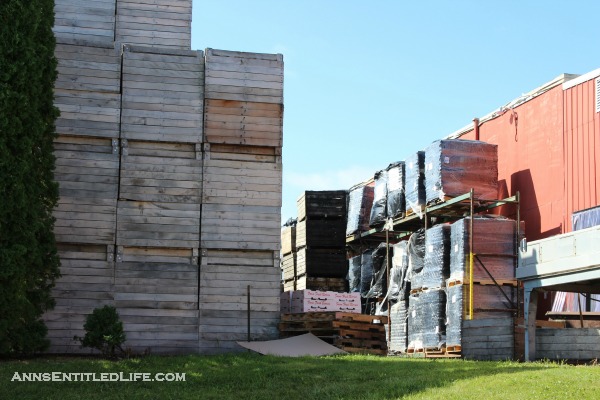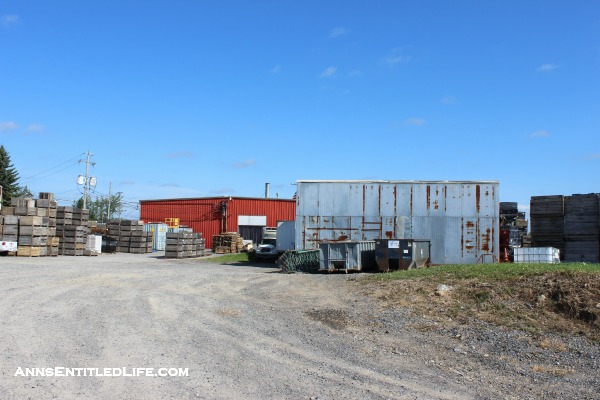 Here's a link to watch the Red Jacket Cold Press Process. And this is an excellent article explaining the Red Jacket Orchard philosophy of growing.

Hubby took a picture with his phone of a Red Jacket Orchards truck leaving the plant behind the farmstore, and that truck was filled with apples!
Would I go back? Absolutely! The price on that apple juice is so good at the store that if I were anywhere close, I would frequent the Red Jacket Orchards Farm Store daily! Well, at least weekly. If you are in the Geneva, NY area, it is a nice little stop for a bit of New York State juice and produce.
---
For more New York State posts on Ann's Entitled Life, click here.
Disclosure: the links in this post may be affiliate links.
---