I love sweet potatoes. I picked out 20 special and delicious sweet potato recipes that pair well with meats, are a great vegan dish, fabulous for dessert, and even a quick breakfast offering! Enjoy the fabulous taste of sweet potatoes and try one of these recipes tonight!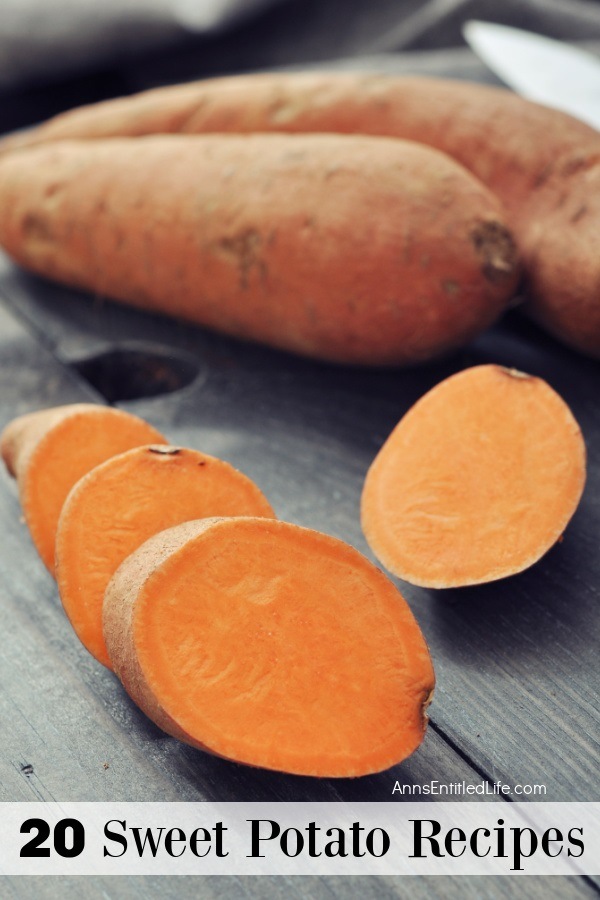 Fries, pies, soups and more: 20 ways to enjoy the delicious, Vitamin A-rich sweet potato. You and your children will love these 20 Sweet Potato Recipes!
20 Sweet Potato Recipes
Sweet potatoes are native to North America. They have become synonymous with Thanksgiving dinner, but sweet potatoes are great any time of year! They have become much more mainstream… I bet your favorite restaurant offers sweet potato fries (with cinnamon and/or honey) these days, whereas 20 years ago, that was unheard of. Our favorite BBQ place serves the best sweet potato and cinnamon fries… Mmmmm.
According to wiki: Freezing a sweet potato until solid, baking at a low temperature, then baking at a high temperature, brings out the sweetness, with gradual heating, increasing the time spent at the temperature for enzymatic activity, and then high temperature caramelizes converted sugars.
● Cheesy Twice Baked Sweet Potatoes with Bacon Recipe | Frugal Living Mom
Cheesy Twice Baked Sweet Potatoes with Baco
● Crockpot Sweet Potato Casserole Recipe | Stockpiling Moms
Crockpot Sweet Potato Casserole is perfect for making for holidays, parties, or Sunday dinners! In our family, we love to have sweet potato casserole at every holiday.
● Maple Sweet Potato Home Fries Recipe | Just 2 Sisters
We made home fries as part of breakfast for dinner. I could eat sweet potatoes all day long. The maple syrup gives them just the right amount of sweetness.
● Rosemary Mashed Sweet Potatoes Recipe | See Mom Click
These Rosemary Mashed Sweet Potatoes are easy to make and so flavorful. They're a perfect side dish and would be great at Thanksgiving dinner!
● Stuffed Sweet Potatoes Recipe | Heavenly Savings and Homemaking
Sweet Potatoes are not just for Thanksgiving…..they are for any time of year! Plus, who does not like stuffed baked potatoes? This is a recipe that is bursting with flavor! Yum!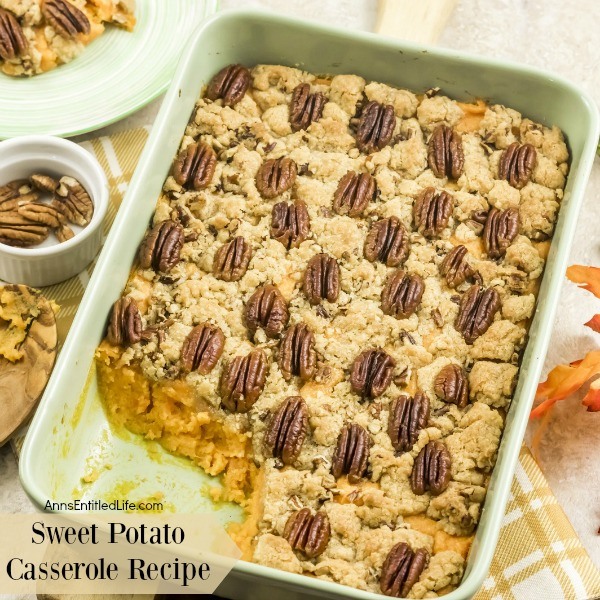 ● Sweet Potato Casserole Recipe A delicious, easy to prepare sweet potato casserole recipe you entire family will enjoy. This classic sweet potato recipe is a wonderful side dish that pairs well with turkey, chicken or pork.
● Sweet Potato Biscuits Recipe | Frugal Living NW
Sweet Potato Biscuits are light and flaky, and buttery. They're everything a biscuit should be, with just a touch of sweetness. Even if you have never made biscuits from scratch before, this recipe is totally doable for a beginning baker.
● Sweet Potato and Leek Soup Recipe – A Mother World
Nothing says comfort like warm soup on a cool day. I love potato and leek soup, but sweet potatoes have much more nutrition. So here's a twist on a traditional potato and leek soup using sweet potatoes instead!
● Sweet Potato Bars Recipe with Cream Cheese Frosting | Sweet Pea's Kitchen
These Sweet Potato Bars with Cream Cheese Frosting are incredibly moist, thick, and delicious!
● Sweet Potato Pancakes with Cinnamon Honey Butter Recipe | Turning Back The Clock
They make a delicious and healthy breakfast recipe, but we also do breakfast for dinner quite often as well. Serve with real maple syrup and some cinnamon honey butter, and you will have a happy and well-fed family.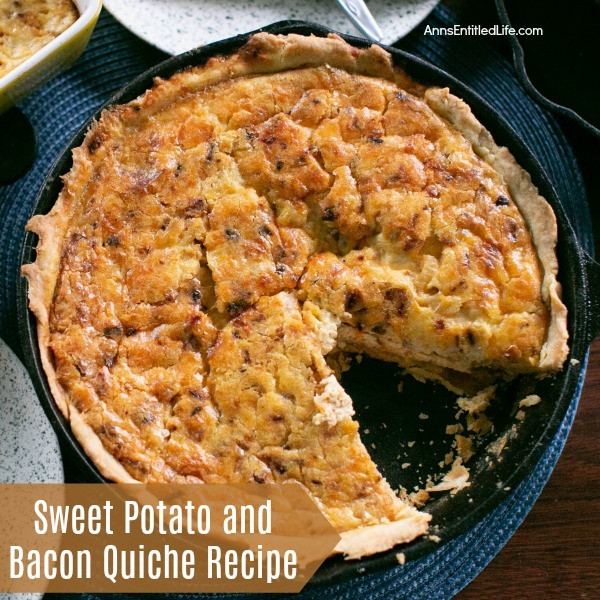 ● Sweet Potato and Bacon Quiche Recipe – This easy-to-make quiche recipe is loaded with bacon-y goodness, delicious sweet potatoes, and farm fresh eggs. A perfect breakfast, lunch, or dinner recipe, this sweet potato and bacon quiche is a fantastic family meal.
● Sweet Potato Pie Recipe | Brown Eyed Baker
This Sweet Potato Pie recipe is made with fresh sweet potatoes, subtly spiced has a layer of brown sugar baked onto the crust, and gets a little kick from bourbon. All you need is a dollop of whipped cream!
● Sweet Potato Pie Smoothie Recipe | Peanut Butter and Peppers
This smoothie is sweet, has the most wonderful cinnamon flavor, and tastes just like pie. You can't get any better than that! Oh, drinking pie, baby, now that's what I'm talking about.
● Vegan Stuffed Sweet Potatoes with Black Bean Taco "Meat" |Sunglow Kitchen
Looking for a new healthy dinner idea? Look no further than this Taco Stuffed Sweet Potato! It's filled up with a smoky black bean "meat" for a delicious plant-based meal.
● Wavy Roasted Sweet Potatoes Recipe – Mama Likes To Cook
Wavy, roasted sweet potatoes are an easy-to-make side dish that goes well with any meat or poultry.
● Candied Roasted Sweet Potatoes | Grits and Gouda
Candied Roasted Sweet Potatoes are a buttery glazed alternative to a Southern sweet potato casserole. Roasting them first caramelizes them like a steakhouse roasted sweet potato.
● Sweet Potato Pie with Condensed Milk | Vintage Kitchen Notes
This gorgeous pie is a fall favorite around here. The easiest gingersnap crust is paired with a sweet potato filling that bakes to a golden brown and includes condensed milk and pecans. It can be made in advance and comes together quickly if you have the puree ready.
● Candied Sweet Potatoes | Cheerful Cook
These melt-in-your-mouth Candied Sweet Potatoes are a delicious side dish. Made with brown sugar, butter, and balsamic vinegar, it's a very easy dish to make right alongside your main meal.
● Cinnamon Honey Glazed Sweet Potatoes | Dancing Through the Rain
These Cinnamon Honey Glazed Sweet Potatoes are a delicious side dish that is perfect for Thanksgiving or any time of year! A family favorite!
● Twice Baked Stuffed Sweet Potatoes | Slow the Cook Down
The flavors in these twice-baked stuffed sweet potatoes are to die for! It really doesn't get much better than goat's cheese, honey, thyme, and bacon! Easy enough to make for a tasty weeknight meal and can even be made ahead of time! They take10 minutes to prep with just five ingredients.
---
● For more Recipes on Ann's Entitled Life, click here.
● If you enjoyed this post, be sure to sign up for the Ann's Entitled Life weekly newsletter, and never miss another article!
---