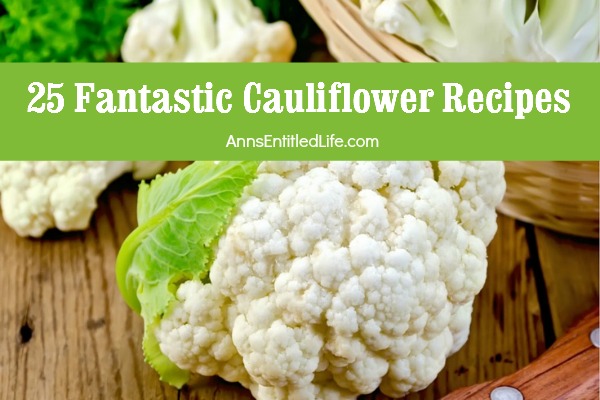 25 Fantastic Cauliflower Recipes
Perk up plain cauliflower with one of these 25 fantastic cauliflower recipes. From soups to casseroles, biscuits to fritters, there is a cauliflower recipe on this list sure to please even the most finicky eater!
Cauliflower is a vegetables that produces annually, by seed. The oldest record of Cauliflower dates back to the 6th Century BC! Cauliflower comes in white, orange, green and purple varieties. Cauliflower is low in fat, low in carbohydrates and high in dietary fiber and vitamin C.
● 3 Cheese Fast-baked Cauliflower | Farm Fresh Feasts
● Amish Broccoli Cauliflower Salad | My World Simplified
● Cauliflower, Zucchini and Chickpea Pot | Vegetarian Gourmet
● Cauliflower & Chocolate Cake Recipe | Survival Guide by The Working Mom
● Cauliflower-Apple Fritters | Floating Kitchen
● Cauliflower Bites | Simply Stacie
● Cauliflower Nuggets | Healthier Steps
● Cauliflower Pizza Crust | Grocery Shop For Free
● Cauliflower Potato Blue Cheese Tots | Food Done Light
● Cauliflower Rice Enchilada Bowl | Simply Stacie
● Cauliflower Tots Recipe | Cleverly Simple
● Easy Vegetarian Cauliflower Soup | Mama Likes to Cook
● Fruity Cauliflower Rice | Strength & Sunshine
● Gluten Free Cheesy Bacon & Herb Cauliflower Biscuits | Kicking it with Kelly
● Grilled Cauliflower Steaks | Mashup Mom
● Homemade Cauliflower Chowder Recipe | Simplistically Living
● Lemon-Truffle Roasted Cauliflower | Mom Foodie
● Loaded Cauliflower Casserole | A Few Short Cuts
● Loaded Mashed Cauliflower | Housewives of Fredrick County
● Mashed Cauliflower Recipe | Grocery Shop For Free
● Oven Baked Buffalo Cauliflower | Spend With Pennies
● Oven Roasted Cauliflower | Lavende & Lemonade
● Roasted Cauliflower & Rutabega Soup | Chicago Jogger
● Spicy Turmeric Roasted Cauliflower | An Oregon Cottage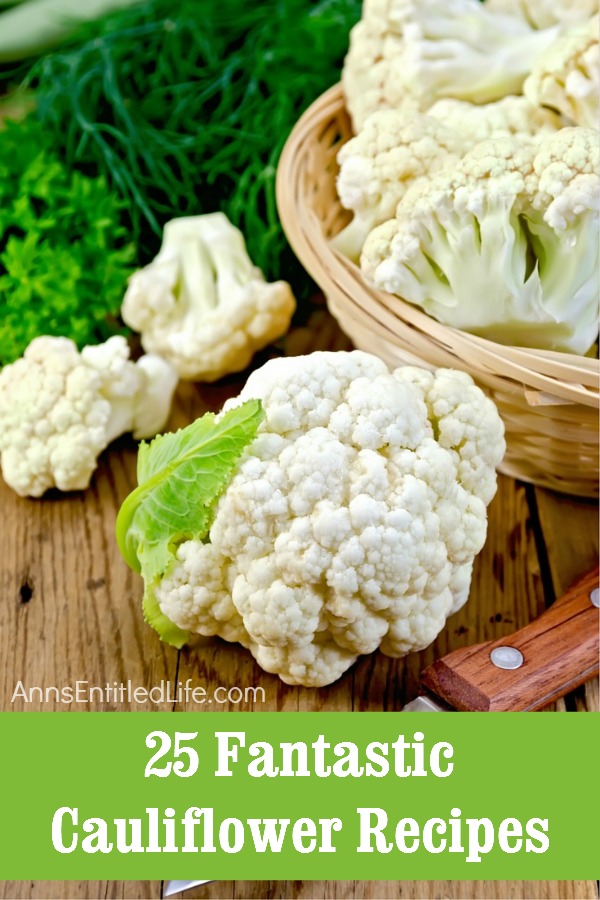 ---
● If you enjoyed this post, be sure to sign up for the Ann's Entitled Life weekly newsletter, and never miss another article!
● For more Recipes on Ann's Entitled Life, click here.
---