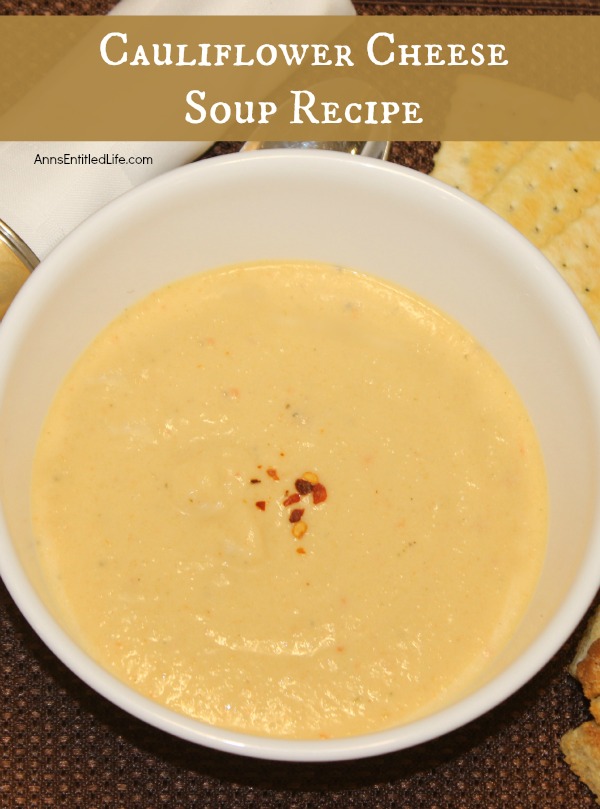 Cauliflower Cheese Soup Recipe
By Ann
Few things go together better than cauliflower and cheese, and this delicious, rich, easy to make Cauliflower Cheese Soup takes that wonderful pairing to new heights. Lunch, dinner or as a starter, this soup is a crowd pleasing winner!
Prep Time: 30 minutes
Cook time: 45 minutes
Ingredients:
● 2 TBSP Butter
● 2 cups Leeks, diced
● 1 cup Red Bell Pepper, diced
● 1/4 cup Flour
● 1/2 tsp Salt
● 2 cups Milk
● 2 cups Chicken Broth
● 1 head Cauliflower, cut into 1″ chunks
● 1 tsp Dijon mustard
● 8 oz Velveeta, cubed
● 1/2 tsp Garlic Powder
● 1/2 tsp Red Pepper Flakes
● 1/2 tsp White Pepper
● 1 1/2 cups Vegetable Broth
● Note: if this is too spicy for you, add 2 oz dark beer
Directions:

In a large saucepan, melt butter over medium heat
● Add onion and cook until golden, stirring occasionally
● Stir in flour, salt, garlic, red pepper flakes and white pepper, cook 2 minutes while stirring
● Stir in milk, chicken broth, red pepper and 1 1/2 cups vegetable broth
● Add cauliflower and heat until boiling over a high heat
● Reduce heat to low, cover and simmer until cauliflower is tender, about 10 minutes
● In a blender or with an immersion blender, blend cauliflower mixture at low speed until smooth
● If you used a blender, return cauliflower mixture to the saucepan
● Remove saucepan from heat stir in mustard and cheese
● Stir until smooth
Makes 12 servings Cauliflower Cheese Soup
● To print the Cauliflower Cheese Soup Recipe, click here.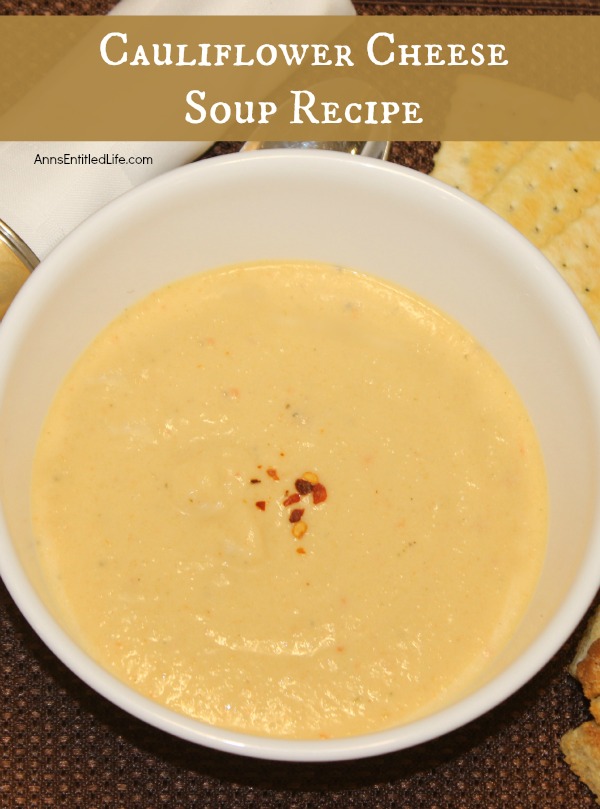 ---
● For more Recipes on Ann's Entitled Life, click here.
● If you enjoyed this post, be sure to sign up for the Ann's Entitled Life weekly newsletter, and never miss another article!
---