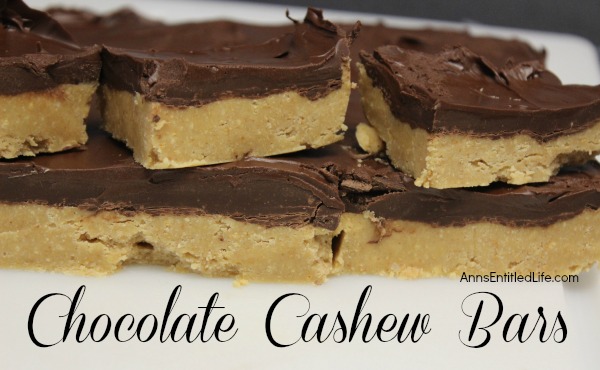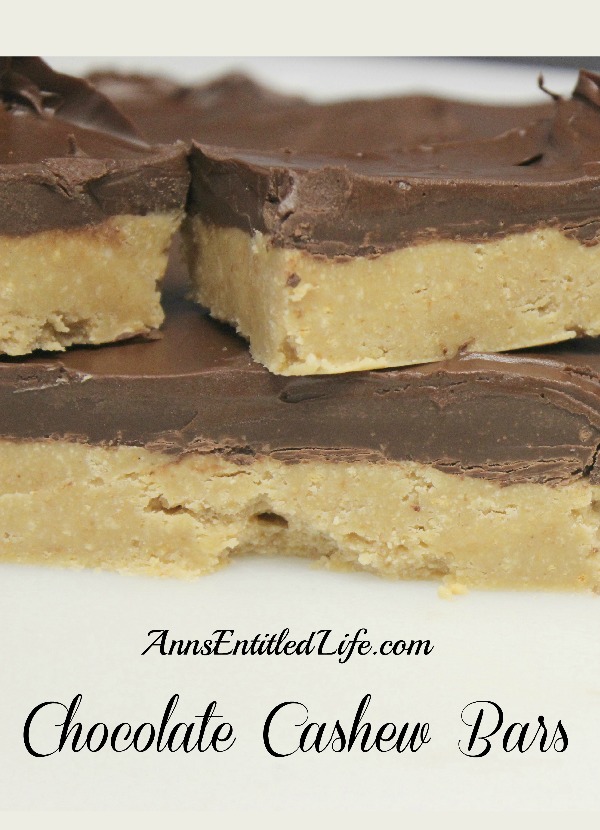 Chocolate Cashew Bars
By Ann
A delicious, satisfying, chocolate cashew bar that holds up for days after you make them! Cut them thick or thin, they are a great lunch-box, or anytime, snack.
Prep Time:15 minutes
Cook time:10 minutes, plus 3 hours refrigeration
Ingredients:
• 1 cup Butter, softened
• 1 1/2 cups Graham Cracker Crumbs
• 2 cups Confectioner's Sugar
• 1 tsp Vanilla
• 1 cup Cashew Butter
• 1 1/2 cups Semisweet Chocolate Chips
• 1 jar Hershey Chocolate Spread, divided
Directions:

• Beat together the butter, graham cracker crumbs, confectioner's sugar, vanilla and cashew butter until blended and smooth.
• Pour the mixture into a 9″by9″ square pan lined with parchment paper.
• Refrigerate for 1 hour, or until firm.
• In a double boiler (or metal bowl over simmering water if you don't have a double boiler), melt the chocolate chips and 1/4 cup of Hershey's chocolate spread, stirring until smooth.
• Spread over the cashew butter mixture in the pan, and refrigerate for another hour, or until firm.
• Spread the remaining Hershey's chocolate spread over the chocolate layer, and refrigerate again for another hour (note: I heat up the chocolate spread in that double boiler and it flows smoothly).
• Note: It is easier to cut these when they are not straight from the refrigerator. Let them warm on the counter for a few minutes, however, store the remains in the fridge where they will keep well for up to a week.

Makes 24 Chocolate Cashew Bars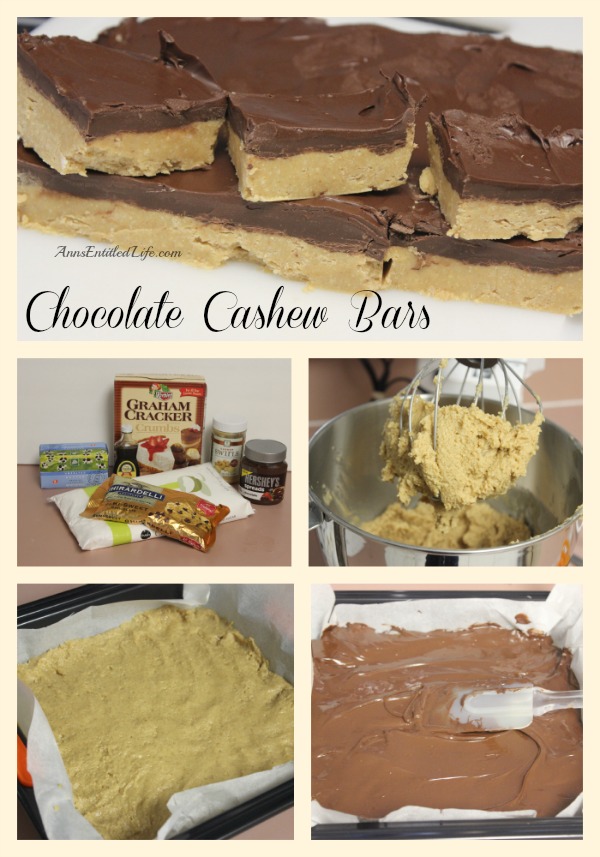 These bars came about because I was looking for a recipe to use the new Hershey spread, and couldn't find anything that looked interesting. So, I tweaked a Nutella recipe quite a bit (hey, it still has graham crackers and vanilla!), and came up with this. Note that you could substitute Nutella for the Hershey spread and get a nuttier tasting bar as opposed to chocolate-y bars.
---
• Disclosure the links in this post may be affiliate links.
• For more Recipes on Ann's Entitled Life, click here.
• If you enjoyed this post, be sure to sign up for the Ann's Entitled Life weekly newsletter, and never miss another article!
---
---
FOLLOW US ON: