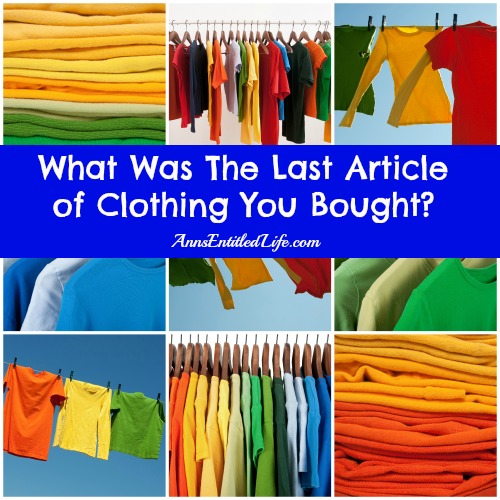 Hubby asked me the other day what was the last article of clothing I bought? I looked at him with a vacant stare because I honestly can't recall. If footwear counts, I am pretty sure I bought some sneakers in late November, early December.
I go on spurts. Sometimes I will buy, buy, buy to replenish my wardrobe – either dumping stuff that shrunk (hey! that's my story and I am sticking to it! Clothing shrinks!) is totally out of style, is ripped or stained, for a function or for season. And sometimes I go 6-8 months without even buying a sock, never mind anything else.
I'm not really a shopping fan. I tend to purchase items that will last f-o-r-e-v-e-r because I abhor shopping. I do a lot of clothes shopping on the internet. This is not without peril since women's fashions have no stable sizing – you know how it is: a size 10 in one brand, a 16 in the next, and then the brand you "love" because everything you wear is a size 8 from them. 😉 Still, I latched on to a few styles and brands, and I guess that means I probably need a spark in my wardrobe soon, and to find something new. Or not. Sometimes being old has its perks! No one cares if the old lady is stylish or not – and believe me, I wouldn't be caught dead in a pair of NON-mom-jeans! You have to be a size 2 or less (which I am definitely not) to even think about wearing a pair. I don't find muffin tops and love handles of hip hugging jeans flattering to anyone, let alone someone like me.
I did bring a lot of my summer clothing down to Florida intending on wearing them (ha! this winter!?!?) and replacing most of it with new when I go home. Assuming the cold spell that has settled over the United States the last two months ever ends, and we do get a nice summer, that is! Looks like at some point in the next few months I'll be able to answer Hubby when he asks what article of clothing I bought last… unless I purchase so much I forget what was last, and what was first.
What Was The Last Article of Clothing You Bought? Was there a reason for the purchase, or did you just like it and had to have it?
---