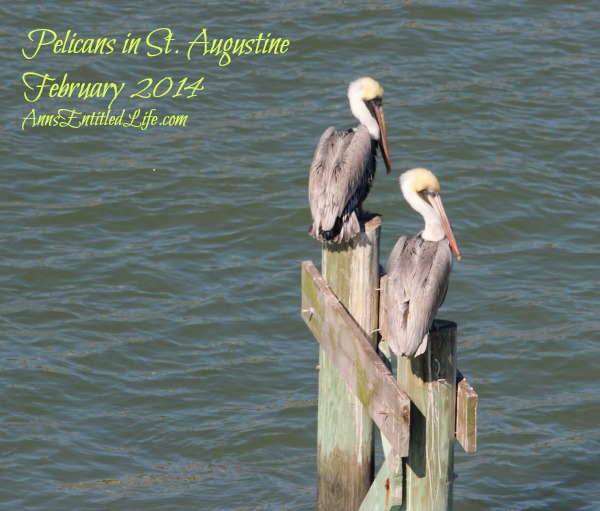 Pelicans in St. Augustine
When my brother came down to visit last month, we took a walk over the "Vilano Beach Bridge" (real name Francis and Mary Usina Bridge). Our walk over the bridge began with an excellent view of some swamps, and all the bird-life it attracted. As we proceeded higher up the bridge, we were rewarded with an excellent view of the Tolomato River. The Atlantic Intracoastal Waterway eventually joins the river, and everyone around here just refers to this as the intracoastal. There is a lot of boating activity, wildlife, and fishing – with more than an occasional shark being caught in the Tolomato River.
Apparently, like the Hudson River, the Tolomato River is an estuary – a partially enclosed body of water along the coast where freshwater from rivers and streams meets and mixes with salt water from the ocean. This gives it a unique wildlife mix. A bit up the river is the Guana Tolomato Matanzas National Estuarine Research Reserve which has at least 44 mammal, 358 bird, 41 reptile, 21 amphibian, 303 fish and 580 plant species. And while it sounds great, I gotta tell you it looks creepy as all get out driving by! Last year we stayed down here in a house that was located across from the reserve, and we never knew what would crawl out of those swamps. I think the reserve is meant for young people – who can run fast – to explore.
Eventually I will put together a post of the wildlife photographs I have taken down in Florida, but for right now I would like to share the pelicans photos I took that day in February: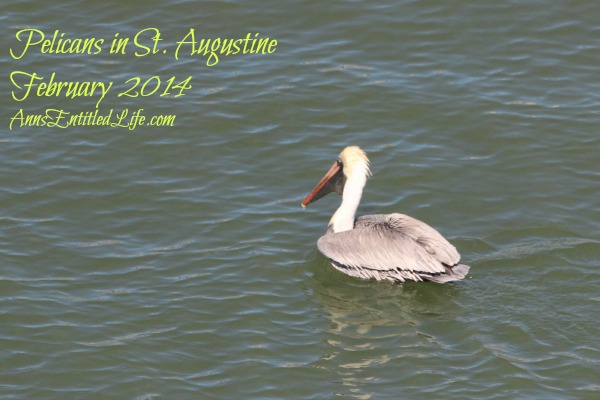 These were Brown Pelicans. The brown pelican is about four feet in length, has a very long gray bill with a large pouch of skin that can hold close to three gallons of fish and water – two or three times more than its stomach can hold.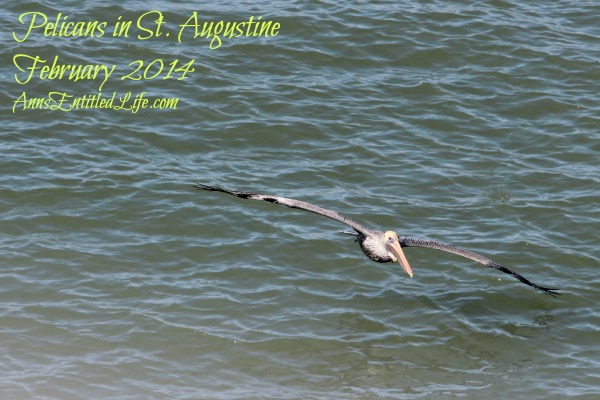 The brown pelican is a plunge diver. It drops from the air with its wings partly folded and dives into the water to catch its prey. It is the only species of pelican that does this! The brown pelican eats menhaden, herring, mullet, sheepshead, silversides and crustaceans.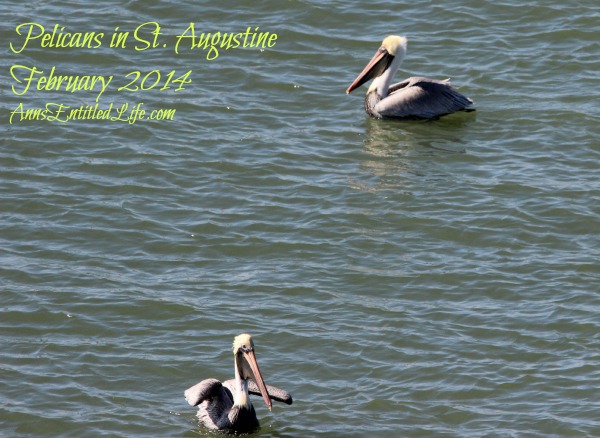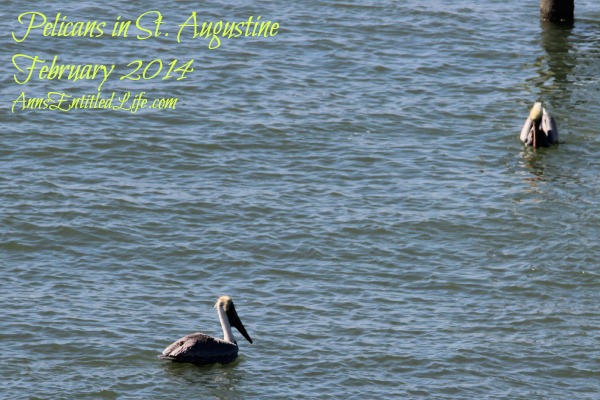 This guy took some time to stick his nose in the water looking for a fish.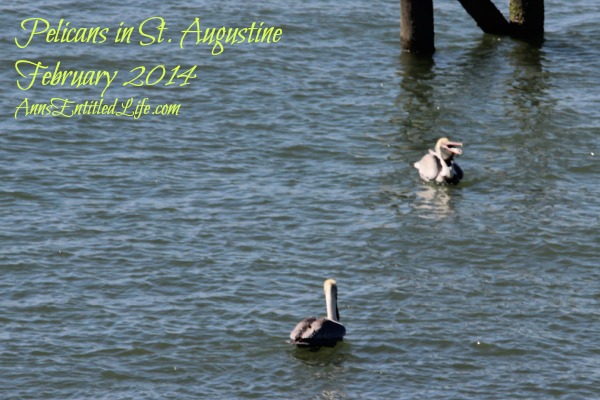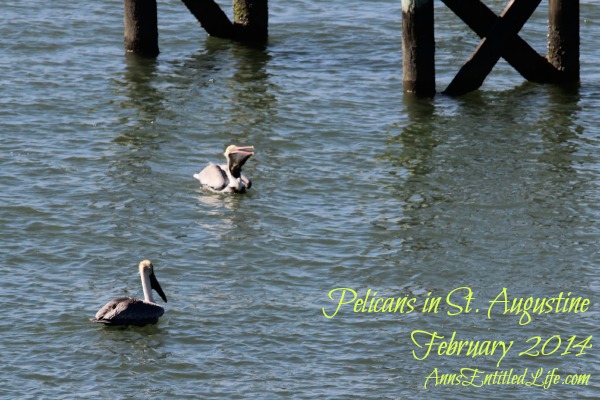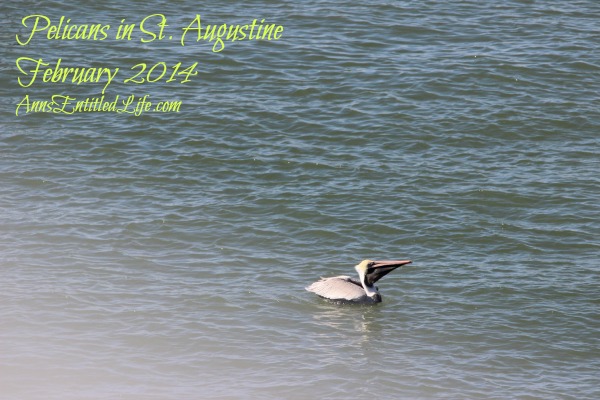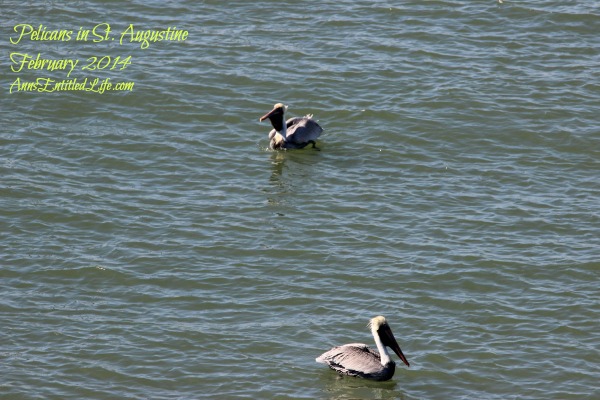 And he caught one! Dinner time.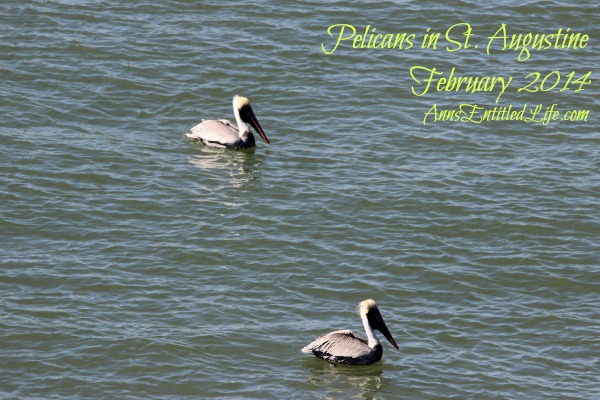 For the most part, they were just swimming around waiting for their next meal. They'd swoop in, land on the pylon, look around, and either head to the water, or take flight again.
---
Sources:
● Florida Department of State
● nhptv.org
● St John's River Water Management District
● US Fish & Wildlife Service
● If you are interested in more Florida picture from Ann's Entitled Life, click here.
● For more travel articles from Ann's Entitled Life, click here.
---