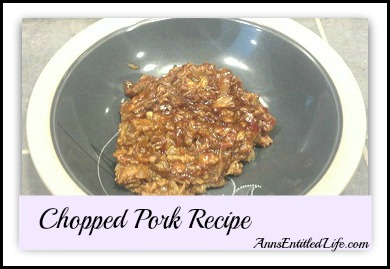 This is Hubby's chopped pork recipe. It is pretty easy to do… much easier than shredding pork!
Chopped Pork Recipe
3-4# shoulder or butt pork roast
2 large sliced onions
1 can Pepsi or Coke
(2) 18oz bottles BBQ sauce
Directions
● Slice onion, place in crockpot
● Place pork roast in crockpot, cover with second sliced onion.
● Pour cola over the roast.
● Cover crockpot and cook on low for 12 hours.
● Remove meat, strain and save onions while discarding the liquid.
● Chop pork on a cutting board, discard fat, skin and bones.
● Return chopped pork to the crockpot, add onions and BBQ sauce.
● Cover crockpot and cook on low for 6 hours
● For a list of all recipes available on Ann's Entitled Life, click here.
This recipe originally appeared on Coupons, Deals and More. I have recovered a great many of the best loved recipes, and will be posting them on Ann's Entitled Life twice a week until the are all up! If you had a favorite recipe you would like to see posted sooner rather than later, please email me your request, and if I have it, I will post it!
And as always, your recipe help is appreciated. If you have a great, easy recipe made with many ingredients commonly found in the pantry, please email me the recipe and a photo via this email address. Thank you!