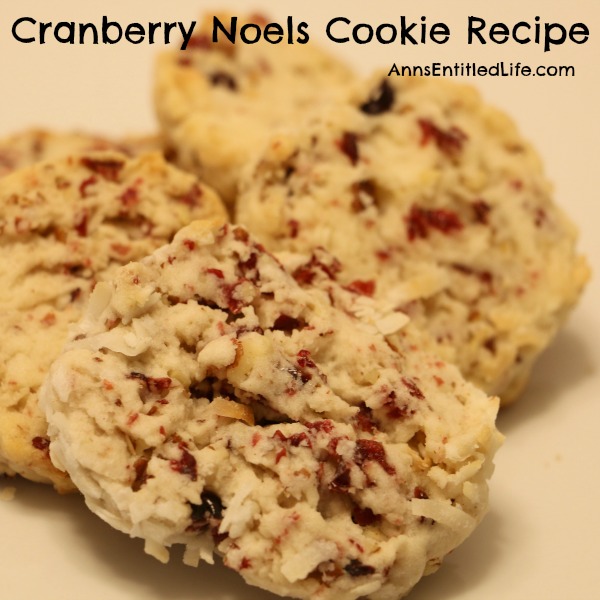 Cranberry Noels Cookie Recipe

By Ann
Slightly chewy, slightly crunchy and totally delicious, these Cranberry Noels Cookies are a wonderful holiday cookie, perfect for a snack, after dinner dessert or as a welcome addition to a holiday cookie tray.
Prep Time:15 minutes, plus 2 hour chill time
Cook Time:12 minutes
Ingredients:
• 1 cup Butter
• ½ cup Sugar
• 2 TBSP Whole Milk
• 1 tsp Rum Flavoring
• ½ tsp Salt
• 2½ cups Flour, sifted
• ½ cup Pecans, finely chopped
• ¾ cup Dried Cranberries
• ½ cup Unsweetened, Shredded Coconut
Directions:

• Cream together butter and sugar for 3 minutes.
• Add milk, rum flavoring and salt; beat to combine.
• Gradually add sifted flour; combine.
• Add cranberries and pecans, beat just enough to combine.
• Form two logs of dough, 8″ long and 2″ in diameter, and roll in coconut.
• Wrap each log with plastic wrap, and chill 2 hours.
• After 2 hours, preheat oven to 350°.
• Remove dough from the refrigerator, unwrap and slice cookies 1/4″ thick.
• Bake for 12 minutes until edges are brown.
Makes 36 Cranberry Noels Cookies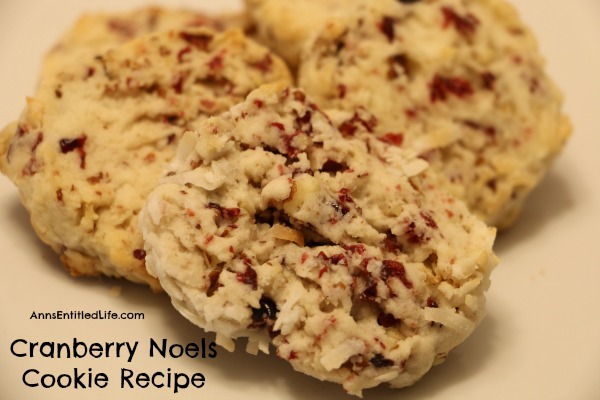 To print the Cranberry Noels Cookie Recipe , click here.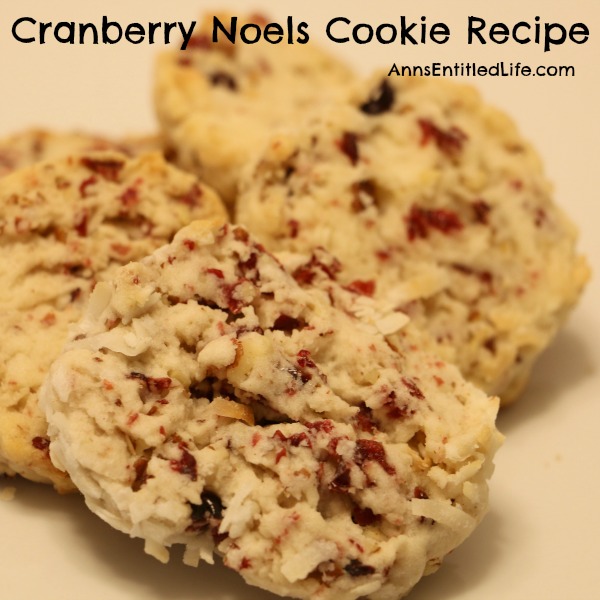 Today is day 10 of 15 Days of Holiday Sweets! This Cranberry Noels Cookie Recipe is courtesy of my brother… well, actually his girlfriend. My brother, his kids, and his girlfriend got together and made six different kinds of cookies for the holidays. This was one of the recipes I asked for to share with all of you.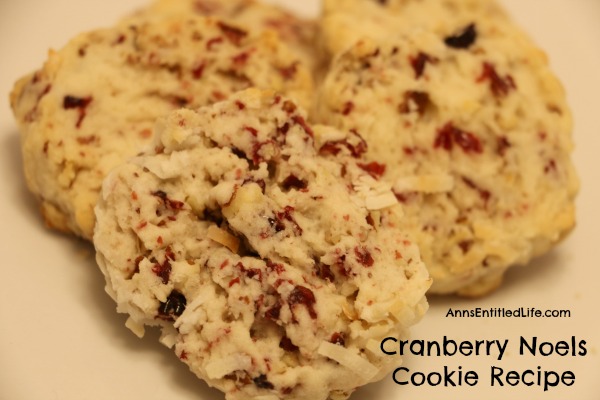 I have to confess: Hubby and I do not like cranberry cookies as a rule. These are excellent! We both liked them very much. The cranberry isn't overwhelming, it just adds a touch of sweetness.
---
• Disclosure the links in this post may be affiliate links.
• For more Recipes on Ann's Entitled Life, click here.
• If you enjoyed this post, be sure to sign up for the Ann's Entitled Life weekly newsletter, and never miss another article!
---
---
FOLLOW US ON: