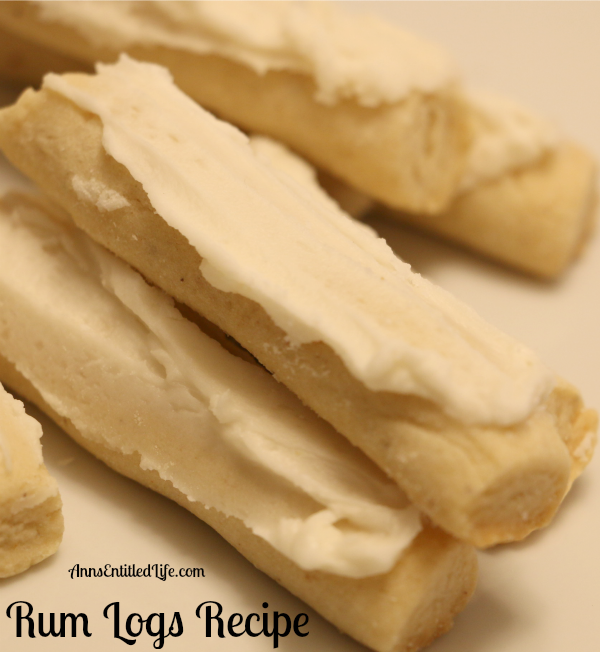 Rum Logs Recipe
By Ann
Delicious, light and a touch sweet, these Rum Logs are a festive, melt in your mouth holiday cookie your entire family will enjoy.
Prep Time: 30 minutes
Cook Time: 12 minutes
Ingredients:
• 1 cup Butter
• ¾ cup Sugar
• 1 Egg
• 2 tsp Vanilla Extract
• 2 tsp Rum Flavoring
• 3 cups Flour
• 1 tsp Nutmeg
Rum Frosting Ingredients:
• 3 TBSP Butter
• ½ tsp Vanilla Extract
• 1 tsp Rum Flavoring
• 2½ cups Confectioners Sugar, sifted
• 2-3 TBSP Milk
Directions:

• To make the cookie dough:
• Sift together flour and nutmeg, set aside.
• Cream butter, gradually add the sugar.
• Blend in egg, vanilla extract and rum flavoring.
• Add the sifted flour and nutmeg mixture slowly, until combined.
• On a lightly floured board, shape pieces of dough into long logs ½" in diameter. Cut into 3″ lengths, and place on ungreased cookie sheet.
• Bake at 350° for 12-15 minutes, or until lightly browned.
• Cool on a wire rack.
• While the cookies are cooling, prepare the rum frosting:
• Cream together 3 tablespoons of butter and ½ teaspoon of vanilla extract, 1 teaspoon of rum flavoring and 2 ½ cups sifted confectioners sugar.
• Add 2 to 3 tablespoons of milk to the sugar mixture, blend until smooth.
• Frost cookie logs when cool. Place on racks and allow frosting to dry.
Makes 48 Rum Log Cookies
• To print the Rum Logs Recipe , click here.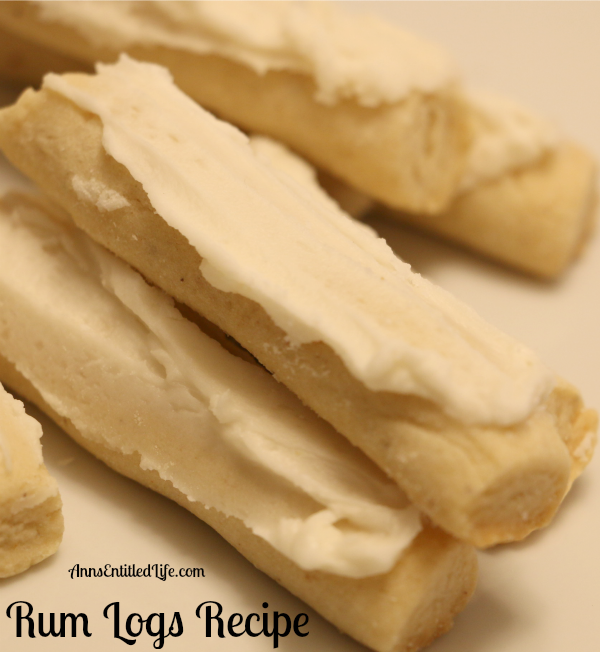 Today is day 12 of 15 Days of Holiday Sweets! This Rum Logs Recipe is courtesy of my brother… well, actually his girlfriend. My brother, his kids, and his girlfriend got together and made six different kinds of cookies for the holidays. This was one of the recipes I asked for to share with all of you.
These Rum Logs are actually quite light, and they do not taste all that rum-y. I was surprised at how well balanced these Rum Logs were – slightly sweet, slightly vanilla, and melt in your mouth delicious! They can make these for me anytime!
---
• For more Recipes on Ann's Entitled Life, click here.
• If you enjoyed this post, be sure to sign up for the Ann's Entitled Life weekly newsletter, and never miss another article!
---