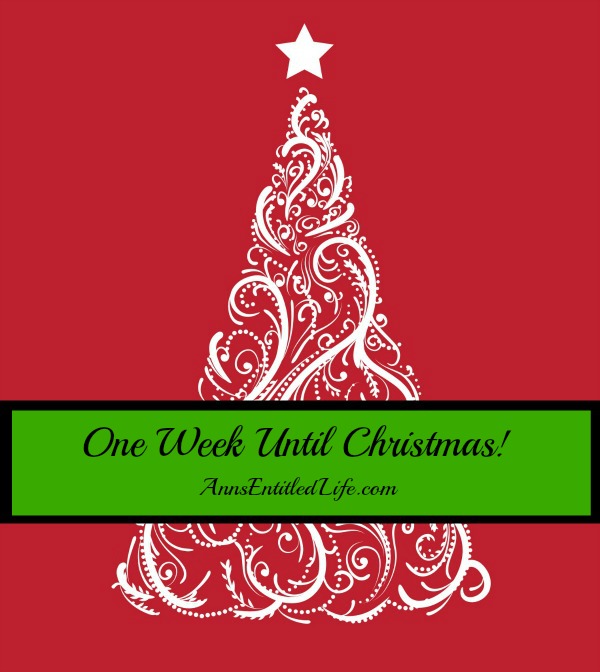 Holey-moley, how did that happen? I am telling you, time has slowed down for getting stuff done, and sped up for the approach of the holidays. Pretty amazing how that works.
When I left you all last week I was pretty far behind. I made a lot of progress over the last seven days, including getting the tree up, and boy that was a saga! At one point we ownded three artificial trees, but we had to throw out two after the basement was cleaned out earlier this year due to a freak episode of water damage. The tree that survived the water damage was put up on Saturday, but apparently when I put the trees away last year, I didn't put the pieces of the same tree away all together in each tree bag! There were parts of two trees in the same tree container. Shesh. Mix and match in Christmas trees really doesn't work, so off we went to Home Depot to purchase another tree. Now we have one, pre-lit 9′ tree and that is it. And hopefully this one will last a good, long time.
I went Christmas shopping with Sonny-boy this past weekend and am pretty much finished with that task. I purchased gifts for those people I needed presents for and shopped at the ATM for the rest of the gifts we are giving out, and believe me, the green ones are the gifts the nieces will enjoy most!
Hubby and I have yet to sit down with the menu, but the pierogi are finished and frozen, so that is a biggie! Hunting season ends tomorrow, so I will need to grab him Wednesday so we can map out what we need to buy at the store to complete Christmas Eve dinner. Then it looks like a round of grocery shopping later this week.
I've come a long way toward finishing my Christmas preparations in just seven days. Last week I was wondering how everything I needed to accomplish by the 24th would get done, and now I am no longer (that) concerned. Things are pretty close to where they should be right about now. I am crossing my fingers that nothing changes drastically between now and Christmas Eve.
So, how are your holiday preparations going!?
---