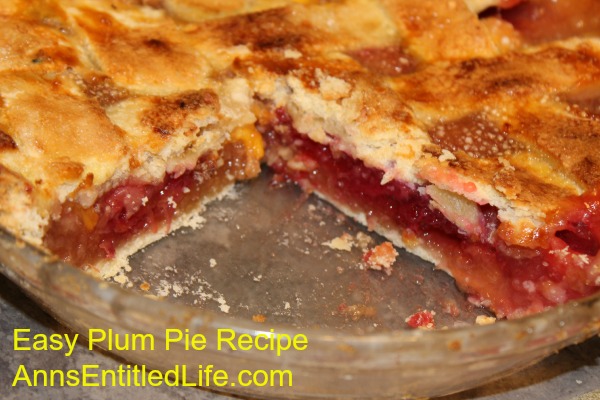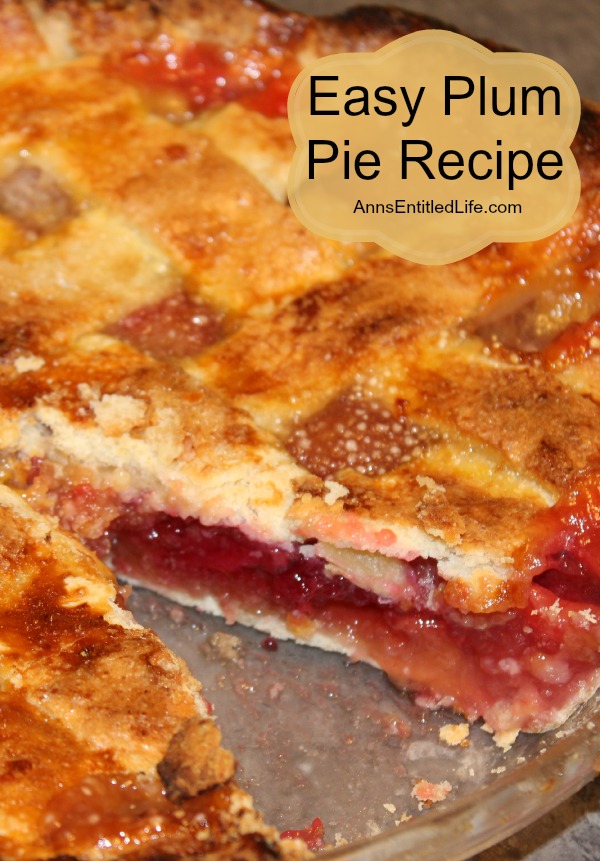 Easy Plum Pie Recipe
By Ann
Now is the time to make this easy plum pie recipe when plums are in season! Sweet and delicious, this lovely plum pie is a wonderful dessert that everyone will enjoy.
Prep Time: 20 minutes
Cook time: 40-45 minutes
Ingredients:
● Prepared pie crust (top and bottom)
● 4 cups Plum meat (plum peeled, pitted, diced)
● 6 TBSP Tapioca
● 1 cup Brown Sugar
● 1 cup White Sugar
● 1 Egg, beaten
● 1 TBSP Decorator Sugar
Directions:

Preheat oven to 375°
● Place bottom pie crust in deep dish baking dish
● Wash, peel, pit and dice 4 cups of plums. Use a variety of plums for color.
● Combine plums, tapioca, white sugar and brown sugar in a large bowl. Allow to sit for 15 minutes.
● Pour plum mixture into pie crust.
● Top with second pie crust, cut 6 slats for venting. Or, form a lattice crust with strips.
● Beat your egg, and brush over the top of the pie crust.
● Sprinkle 1 tablespoon of decorator sugar (you can use raw sugar if you don't have decorator sugar) over the wet egg.
● Cover the edges of the crust to prevent burning.
● Bake for 40-45 minutes, or until pie is golden brown on the crust and the filling is bubbly. At the 30 minute mark, remove the crust edge covering to allow the edges to brown lightly.
● Allow to cool completely before serving.
● Refrigerate leftovers.
Makes 8 servings of Easy Plum Pie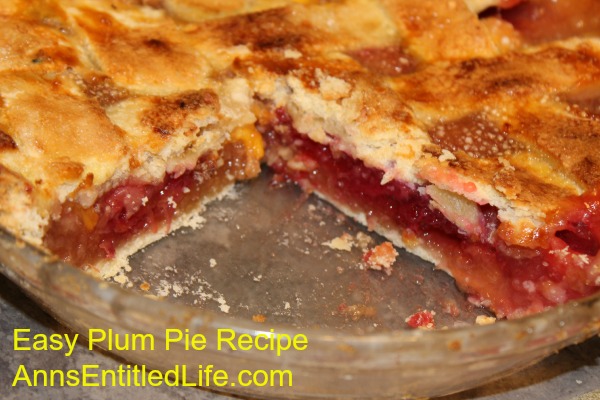 Originally, I had no intention of sharing this recipe. I had tried several times to make a plum pie, and they always tasted tart, didn't set properly, burned, or something went wrong. Plums aren't always that easy to bake with. I had no confidence in this recipe after my prior failures, so when Hubby asked if I wanted photos before he cut into the pie, I declined.
Hubby went away with his pie chewing like he hadn't eaten in a week. He finished his slice in record time, so I decided to try a piece myself.
Hubby laughed at me when he heard me snapping pictures. When I told him I changed my mind, he laughed harder. He then complimented the pie. Hubby can be a tad critical of my (ok anyone's) baking, so a compliment from him really is worth quite a bit.
Hubby liked this pie, and so did I! I hope you will enjoy this easy plum pie recipe too.
Note: for the crust, I used my Easy Pie Crust Dough Recipe because it is, well, easy!
---
● For a list of all Recipes available on Ann's Entitled Life, click here.
---