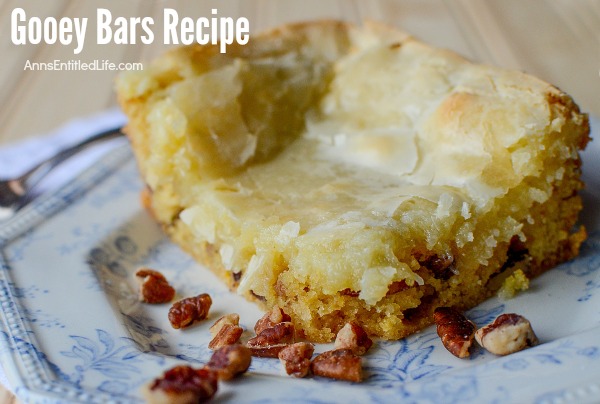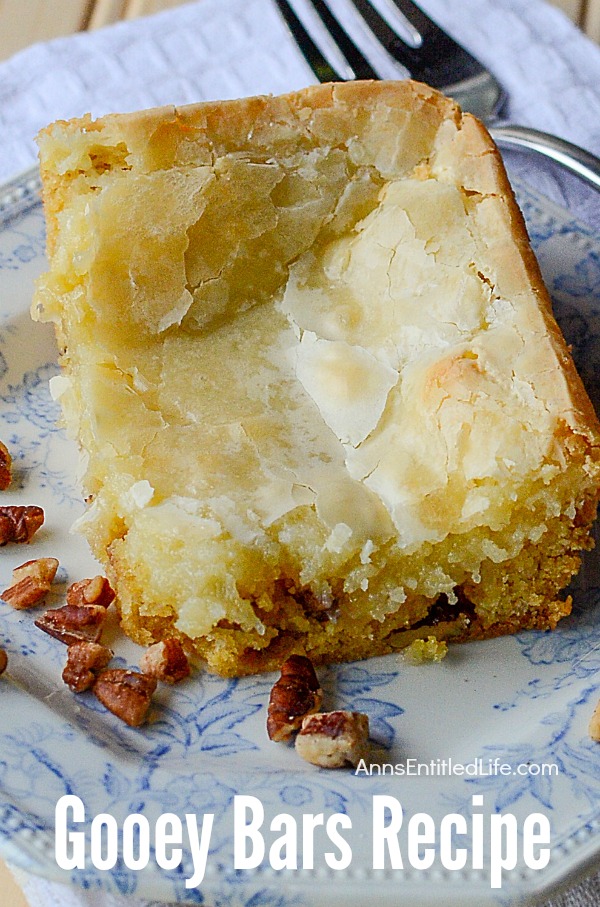 Gooey Bars Recipe
By Ann
Ooey Gooey delicious goodness! Try these fabulous Gooey Bars for dessert. Your entire family will love them!
Prep Time: 20 Minutes
Cook time: 45 Minutes
Ingredients Crust:
● 1 box Yellow Cake Mix
● 8 TBSP Butter, melted
● 1 large Egg
● 1 cup Chopped Pecans
● 1 cup Shredded Coconut
Ingredients Filling:
● 8 oz Cream Cheese, room temperature
● 2 large Eggs
● 1 tsp Vanilla Extract
● 8 TBSP Butter, melted
● 3¾ cups Confectioners Sugar, sifted
Directions:

● Preheat oven to 350º
● In a large mixing bowl combine all crust ingredients: cake mix, melted butter, egg, pecans and coconut.
● Blend with an electric mixer on low speed for 2 minutes. Batter should ball up.
● Take batter ball and fingertip-pat evenly into an ungreased 13″×9″ pan.
● To make the filling, place the cream cheese in the same mixing bowl that was used to make the crust, and with the same beaters blend with an electric mixer on low speed until fluffy.
● Add eggs, vanilla and melted butter and beat on medium speed for 1 minute.
● Add confectioners sugar. Beat on medium speed until the sugar is thoroughly mixed in.
● Pour filling onto the crust and spread with the rubber spatula covering entire crust surface.
● Place on middle rack in oven, bake for 45-50 minutes at 350º.
● Bars are done when toothpick comes out clean.
● Cool bars in pan on wire rack, cut into squares, serve while warm.
● Makes 20 servings Gooey Bars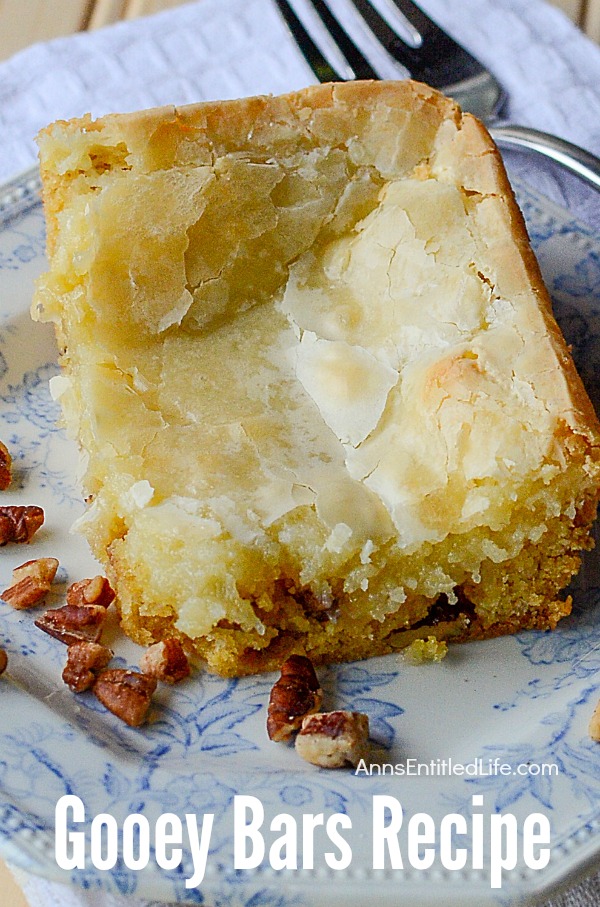 Gooey Bars Recipe Mise en Place:
● Stand Mixer
and Bowl
● 13×9 Baking Pan

● Spatula

● Measuring Cup

● Measuring Spoons

● Toothpick or Baking Pick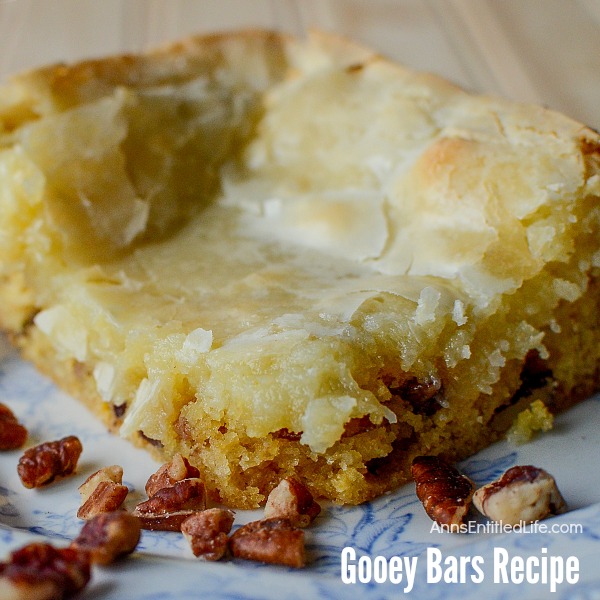 Hubby was in Joliet Illinois last year (this was originally written on my old blog in 2011) and went to the Paula Dean restaurant there (it has since closed). He was so thrilled with the gooey cake served at the restaurant, he decided to find a recipe online and replicate it. This is what he ended up with.
A few things – hubby is a great cook, but he isn't a baker – and yet these turned out very well. He baked this long enough that these thickened to bars which was great for ease of eating.
● To print the Gooey Bars recipe click here.
---
● Disclosure: the links in this post may be affiliate links.
● For more Recipes on Ann's Entitled Life, click here.
● If you enjoyed this post, be sure to sign up for the Ann's Entitled Life weekly newsletter, and never miss another article!
---