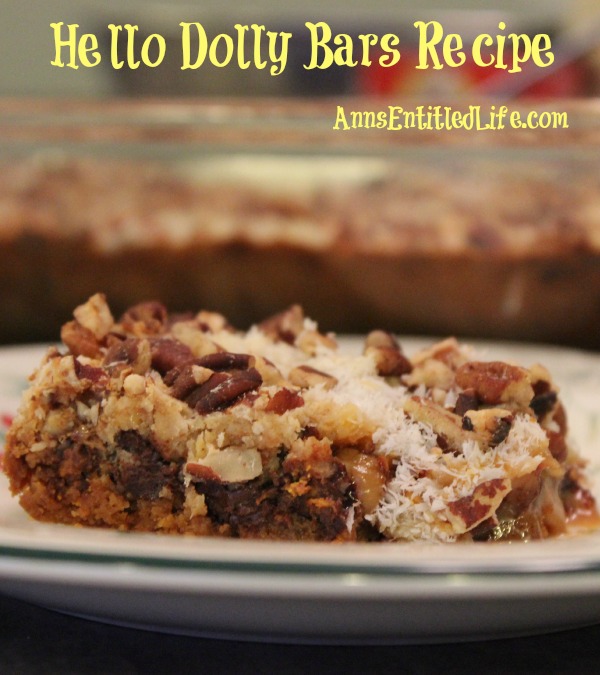 Hello Dolly Bars
By Ann
My Grandmother made these Hello Dolly Bars for many years around the holidays! These are a quick, easy and very sweet recipe that brings back holiday memories of yesteryear for me.
Prep Time:10 minutes
Cook time: 30 minutes
Ingredients:
• 1 1/2 cups Graham Cracker Crumbs
• 1 stick Butter, melted
• 1 (14oz) can Sweetened Condensed Milk
• 1 1/2 Semi-Sweet Chocolate Chips
• 1 cup Baking Chips (butterscotch, white, caramel, etc – just not semi-sweet)
• 1 1/3 cups Flaked Coconut
• 1 cup chopped Pecans
Directions:

• Preheat Oven to 325°.
• Spray the bottom of a glass 13″x9″ pan with non-stick spray.
• In a bowl, mix together Graham crumbs and melted butter
• Press Graham cracker mixture into bottom of the 13″x9″ pan.
• Pour sweetened condensed milk evenly over Graham cracker crust.
• Spread all baking chips (semi-sweet and your second flavor) over the sweetened condensed milk.
• Spread coconut evenly over chips.
• Top with chopped pecans.
• Press down firmly with a fork to compress layers.
• Bake for 30 minutes at 325° or until lightly browned.
• Cool completely before cutting into bars.
• Store at room temperature.

Makes 20 Hello Dolly Bars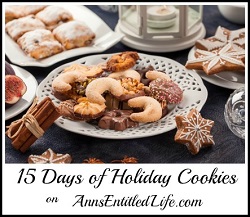 Day 10 of 15 Days of Holiday Cookies on Ann's Entitled Life brings the delightfully sweet Hello Dolly Bars recipe!
• To print the Hello Dolly Bars recipe, click here.
---
• Disclosure the links in this post may be affiliate links.
• For more Recipes on Ann's Entitled Life, click here.
• If you enjoyed this post, be sure to sign up for the Ann's Entitled Life weekly newsletter, and never miss another article!
---
---
FOLLOW US ON: