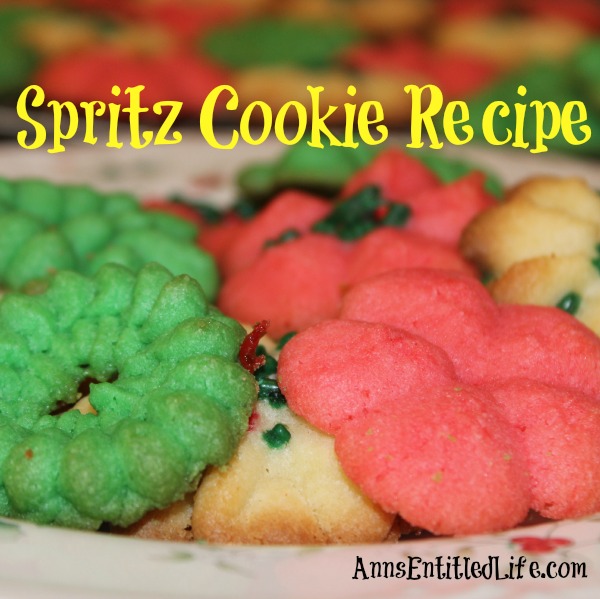 Spritz Cookie Recipe
By Ann
This spritz cookie recipe yields wonderful, buttery cookies! They freeze VERY well, and are holiday favorites.
Prep Time:135 minutes, 15 minute dough prep, 2 hours refrigeration
Cook time:7 minutes
Ingredients:
• 2 1/4 cups Flour
• 3/4 cup Sugar
• 1 cup salted Butter (if using unsalted butter, add 1/2 tsp salt)
• 2 Egg Yolks
• 1 tsp Vanilla
• Colored Food Dye (if desired)
• Sprinkles if desired (if desired)
Directions:

• Sift together flour & salt (if you used unsalted butter)
• Cream together sugar & butter.
• Add egg yolks & vanilla.
• Stir in the sifted flour.
• Beat well.
• Add food coloring if desired. If you want more than one color, divide the dough, add 6-8 drops of food coloring, mix very well.
• Chill dough for 1-2 hours.
• Preheat oven to 400°.
• Load dough into your cookie gun (assembled according to the directions of your cookie dough gun manufacturer).
• Decorate if wanted – sprinkles are best as they melt and don't make a mess.
• Bake 7-8 minutes, until bottoms are lightly brown.
• When you pull the sheets out of the oven, allow to cookies rest on cookie sheet 1-2 minutes, then transfer to a wire rack to cool completely.
• These Spritz Cookies freeze extremely well.
Makes 4 dozen Spritz Cookies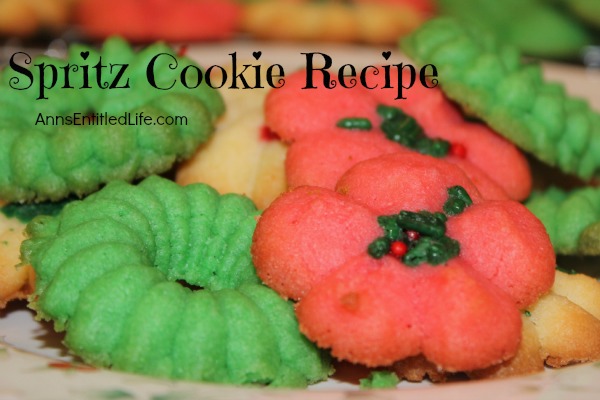 • To print this Spritz Cookies Recipe, click here.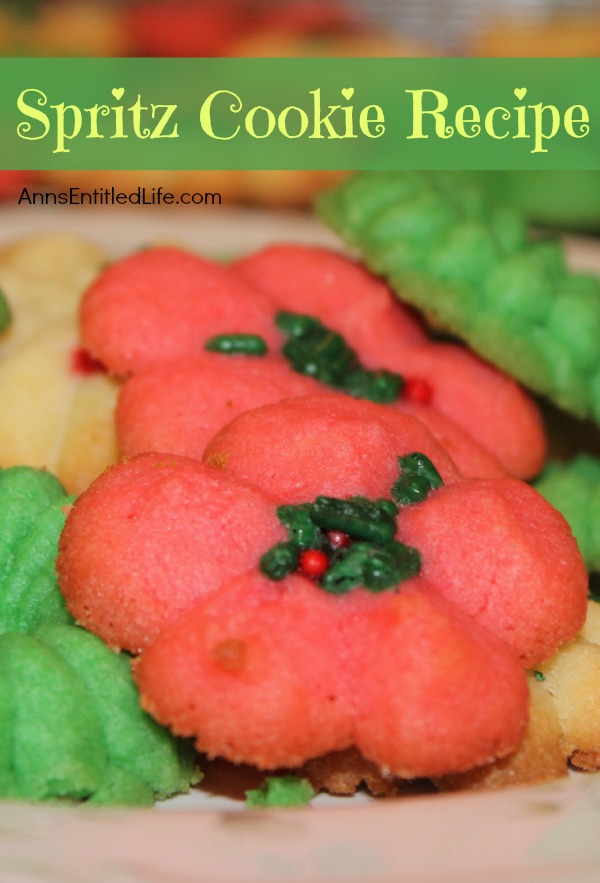 • This is the Cookie Gun I use: Harold Import 8307 Deluxe Biscuit Maker – Stainless Steel
Day 11 of 15 Days of Holiday Cookies on Ann's Entitled Life the brings us a buttery Spritz Cookies Recipe!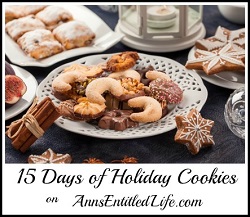 ---
• Disclosure: The links in this post may be affiliate links.
• For a list of all recipes available on Ann's Entitled Life, click here.
• If you enjoyed this post, be sure to sign up for the Ann's Entitled Life weekly newsletter, and never miss another article!
---
---
FOLLOW US ON: