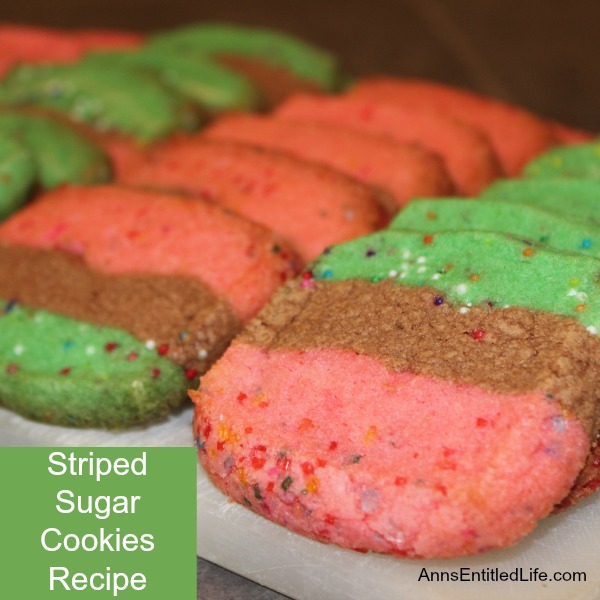 Striped Sugar Cookies Recipe
By Ann
Red, green and chocolate striped sugar cookies are perfect for the holidays! You can change the colors to adapt to different times of the year. These delicious striped sugar cookies (sometimes called zebra cookies), are a wonderful holiday treat.
Prep Time:20 minutes, plus at least 2 hours chill time
Cook time:10 minutes
Ingredients:
• 1 cup Unsalted Butter, softened
• 1 1/2 cups Sugar
• 1 large Egg
• 2 1/2 cups Flour
• 1 1/2 tsp Baking Powder
• 1/4 tsp Salt
• 2 tsp Peppermint Candies (finely crushed) or Gourmet Sugar
• 10-12 drops Red Food Coloring
• 1 oz Semi-Sweet Chocolate, melted
• 2 TBSP Nonpareils
• 10-12 drops Green Food Coloring
Directions:

• Line a 9x5x3-inch loaf pan with wax paper or parchment paper and set aside.
• Cream together butter and sugar in a large mixing bowl
• Add egg and beat until smooth.
• In a separate bowl sift together flour, baking powder, and salt.
• Gradually added sifted flour mixture to the batter mixture.
• Combine until blended.
• Divide the dough into thirds, placing each third in its own bowl.
• To the first third, add red food coloring. Mix well.
• Add crushed peppermint candy (or gourmet sugar) to red dough, mix well by hand.
• To the second third, add melted chocolate. Mix well.
• To the final third, add green food coloring. Mix well.
• Add nonpareils to green dough, mix well by hand.
• Spread the red dough on bottom of the lined loaf pan.
• Spread the chocolate dough on top of the red dough.
• Top the chocolate dough with the green dough.
• Cover with plastic wrap and chill for at least 2 hours.
• When chilled and firm, remove dough from pan.
• Preheat oven to 375°F.
• Place the loaf of cold, firm dough flat on a cutting board.
• Using a large knife, cut dough down the middle lengthwise.
• Then, cut each strip into 1/4″ – 1/2″ slices across – make sure you see the stripes!
• Place slices 1″ apart on lightly greased baking sheets.
• Bake at 375°F for 10-12 minutes or until edges just begin to brown.
Makes 36 Striped Sugar Cookies
To print the Striped Sugar Cookies Recipe, click here.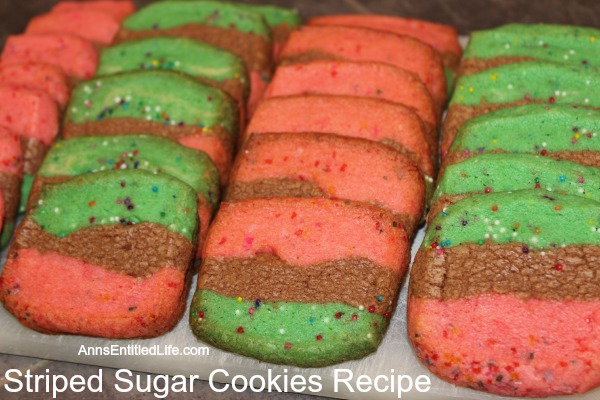 Today is Day 2 of 15 Days of Holiday Sweets!
These are a lot easier to make than the results would have you think. They are a basic sugar cookie jazzed up, and layered. You can change the food colors to anything you like (or leave the dough uncolored), and have these any time of year!
---
• If you enjoyed this post, be sure to sign up for the Ann's Entitled Life weekly newsletter, and never miss another article! On confirmation, you will receive a link to the free eBook: A Baker's Dozen of Holiday Sweets! Offer available through New Year's Day 2015 (1/1/15).
• For more Recipes on Ann's Entitled Life, click here.
---
---
FOLLOW US ON: