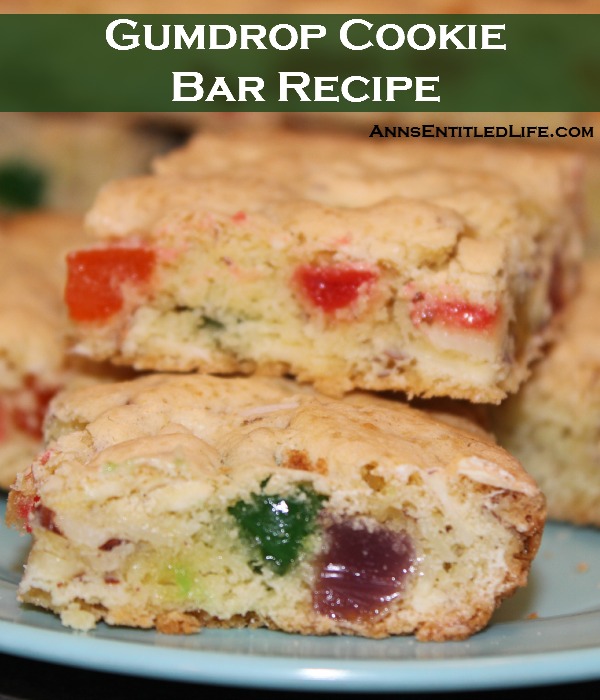 Gumdrop Cookie Bar Recipe
By Ann
These fun holiday cookies are full of chewy gumdrops. Easy to make, these Gumdrop Cookie Bars are great for children and adults alike.
Prep Time:15 minutes
Cook time:30 minutes
Ingredients:
• 2 Eggs
• 1 cup Sugar
• 1 ½ tsp Vanilla Extract
• 1 cup Flour
• ¼ tsp Salt
• ½ cup Gumdrops, chopped (avoid the black ones)
• ½ cup Almonds, chopped
Directions:

• Grease a 9″x9″x2″ baking pan.
• Preheat oven to 325°.
• Sift together flour and salt.
• Fold the chopped gumdrops and chopped almonds into the flour mixture, set aside.
• In a mixing bowl, beat eggs until foamy.
• Beat in sugar and vanilla.
• Remove bowl from mixer, and add the flour mixture to egg mixture, blending together by hand.
• Spoon batter into your greased baking pan, spreading evenly.
• Bake in a preheated 325°oven for 30 to 35 minutes.
• Note: you will see a slight cracking at the top, but the inside will still be moist when baked.
• Remove from oven and allow cookie bars to cool for 10-15 minutes in the pan, on a wire rack.
• Cut the gumdrop cookies into squares inside your pan while still warm.
• Allow gumdrop cookies to cool completely in the pan before removing.
Makes 16 Gumdrop Cookie Bars
To print the Gumdrop Cookie Bar Recipe, click here.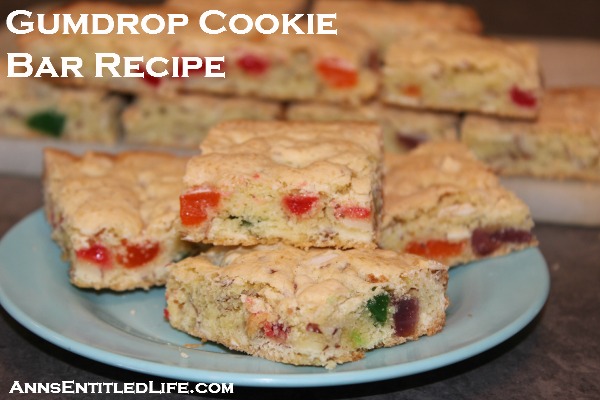 Today is Day 1 of 15 Days of Holiday Sweets! I thought I would begin with a super simple cookie bar. I made these last year, last minute, to fill out my cookie tray. They were a big hit with the kids! Actually, Hubby liked them too. Go figure.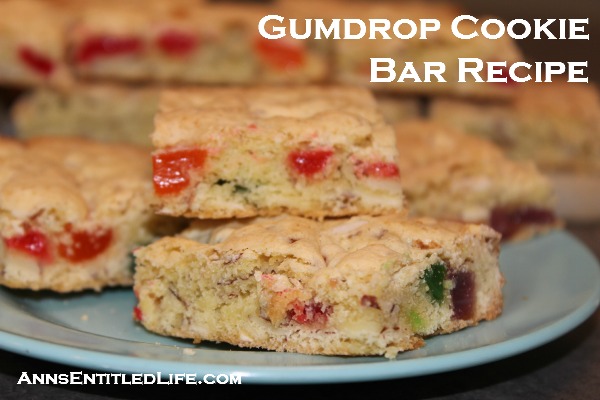 If you are looking for a simple cookie bar that is festive and unusual, these Gumdrop Cookie Bars should fit the bill!
---
• If you enjoyed this post, be sure to sign up for the Ann's Entitled Life weekly newsletter, and never miss another article! On confirmation, you will receive a link to the free eBook: A Baker's Dozen of Holiday Sweets! Offer available through New Year's Day 2015 (1/1/15).
• For more Recipes on Ann's Entitled Life, click here.
---
---
FOLLOW US ON: