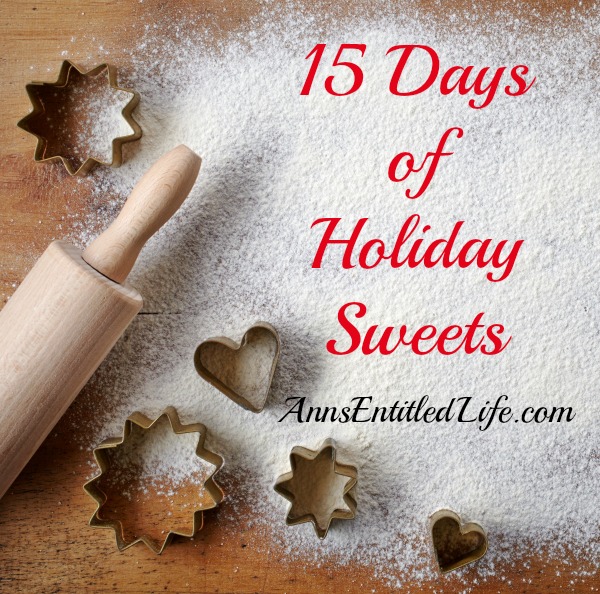 Today begins 15 Days of Holiday Sweets on Ann's Entitled Life! These are desserts, cookies, candies and all things sweet for the Christmas and New Year's Holidays! Last year I did 15 Days of Holiday Cookies, but I decided to expand my horizons this year.
In addition to my own recipes, I also have some fabulous guest bloggers who are sharing their holiday sweets:
● Jen from The Halfway Homemaker (defunct) Jen is a Work-from-home mom with a husband, two kids, two dogs and her own consulting business. Join her on her journey through the work-life-balance with laughter, sarcasm, and a little bit of humility knowing that she is definitely not Martha Stewart.
● Katie from The Green Homemaker (url is now a cleaning service) Katie is a teacher turned homemaker who blogs about green and frugal living on her blog, When she is not blogging she enjoys spending time outdoors with her boys.
● Shaunta from Going Reno. (defunct) Shaunta Grimes writes young adult novels and blogs about being right brained. She lives in Reno with her fabulous family and a pretty yellow rescue dog named Maybelline Scout.
● Kelli from Freebie Finding Mom. Kelli Bhattacharjee, the proprietor of freebiefindingmom.com, is a former investment professional with nearly ten years of experience. She has a passion for empowering Family CFOs to make smart money decisions. She also contributes to Parade.com.
● Didi from Dishin with Didi. (defunct) Didi Dalaba makes her home in New York, Toronto and Greece. Getting dinner on the table for her family without breaking the budget is very important to Didi. You will find her creating delicious, economical meals at
I look forward to the holiday season all year long, and the sweets are a big part of what I enjoy. If you enjoy desserts and candies too, you will definitely want to try these upcoming recipes.
These were last year's 15 Days of Holiday Cookies:
● Cherry Meringue Cookie Recipe
● Chrusciki Recipe: Baked, Not Fried
● Coconut Macaroons Recipe
● Candy Cane Cookies Recipe
● Easy Chocolate Peanut Butter Ball Recipe
● Hello Dolly Bars
● Holiday Butter Cookie Recipe
● Jam Filled Cream Cheese Cutout Cookie Recipe
● Kris Kringle Cookie and Frosting Recipe
● Lemon Snowball Cookie Recipe
● No Bake Marshmallow Christmas Squares Recipe
● Rum Balls Recipe
● Shortbread Recipe
● Spritz Cookie Recipe
● White Chocolate Cherry Almond Biscotti Recipe
---
● For more Recipes on Ann's Entitled Life, click here.
---