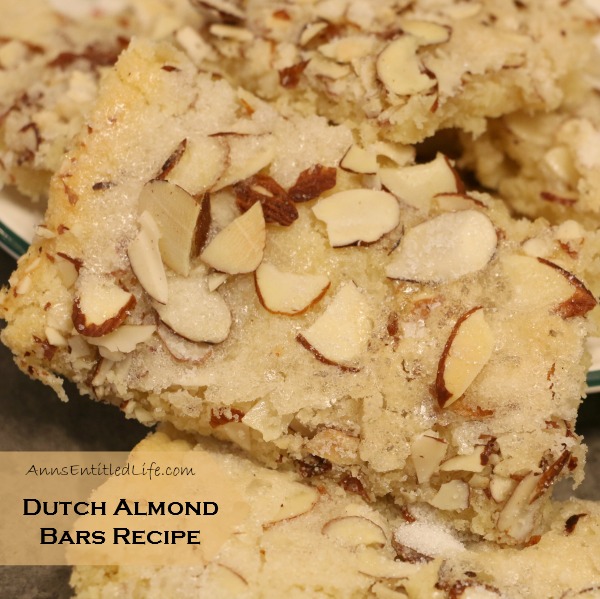 Dutch Almond Bars Recipe
By Ann
Sweet and creamy butter, plus tasty almond goodness make for a rich and delicious Dutch Almond Bars Recipe.
Prep Time: 15 minutes
Cook time: 20 minutes
Ingredients:
● 1 cup Sugar, divided
● 1 cup Butter, softened
● ½ tsp Almond Extract
● 1 Egg, separated
● 2 cups Flour
● ½ tsp Cinnamon
● 1 TBSP Water
● 1 cup Sliced Almonds
Directions:

● Preheat oven to 350°
● Spray a 15"x10"x1" baking pan with non-stick spray (or lightly grease).
● In a large mixing bowl, combine ½ cup sugar, butter, almond extract and egg yolk; beat until well combined.
● Add the flour and cinnamon; mix well.
● Press the crust mixture into the bottom of your greased pan, making sure the entire bottom is fully covered. Tip: dust your hand lightly with flour to prevent stinking to the dough. Start pressing lightly with your finger-tips, then uses the meaty-part of your palm to distribute the dough evenly.
● In a small bowl, combine the water and the egg white; beat until frothy.
● Brush the egg white mixture over the dough in the pan.
● Sprinkle the sliced almonds evenly over the egg white covered dough, top with remaining ½ cup of sugar.
● Bake at 350° for 20-23 minutes, or until lightly golden brown.
● Immediately cut the Dutch Almond Bars into 3"x2" bars, do not remove them from the pan.
● Allow the cut bars to cool in the pan for 1 hour, or until completely cool.

Makes 50 Dutch Almond Bars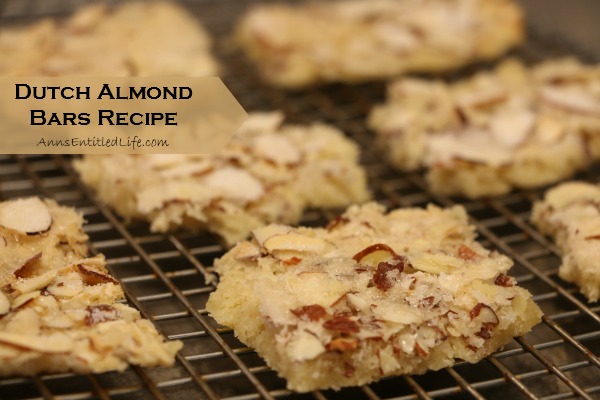 Sweet and creamy butter, plus tasty almond goodness make for a rich and delicious cookie bar recipe. These slightly crunchy bars keep for days!
Dutch Almond Bars Recipe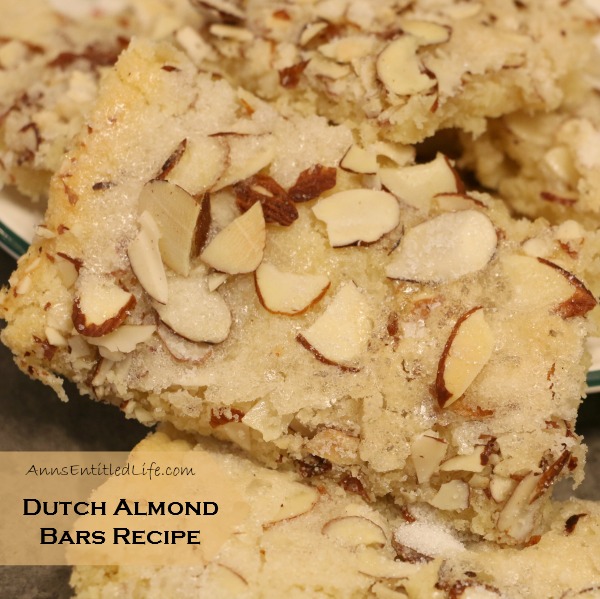 Hubby was bugging me for a sweet treat, so I whipped these up. They are simple to make. They are also delicate, but will keep for days. By that I mean that they break into pieces easily (these are quite rich), but they don't go funky quickly.
I think they are totally delicious!
● To print the Dutch Almond Bars Recipe, click here.
---
● For more Recipes on Ann's Entitled Life, click here.
● If you enjoyed this post, be sure to sign up for the Ann's Entitled Life weekly newsletter, and never miss another article!
---