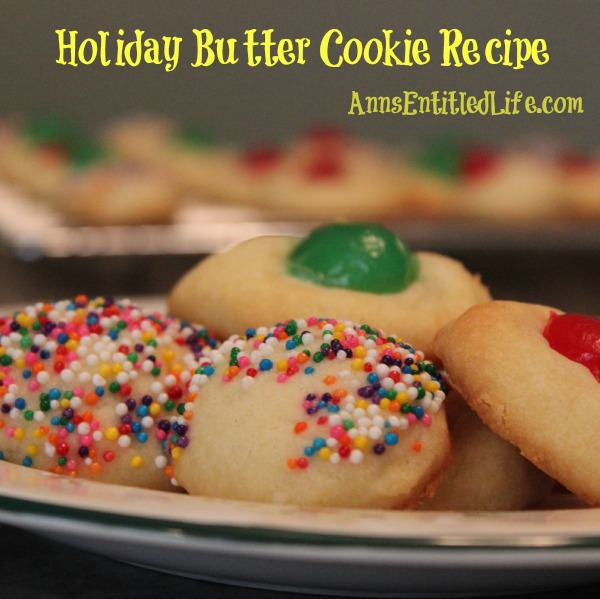 Holiday Butter Cookie Recipe
By Ann
These simple, four ingredient Holiday Butter Cookies are absolutely delicious! They can be decorated with nuts, sprinkles, cherries and more. You are only limited by your imagination.
Prep Time: 45 minutes
Cook time: 13 minutes
Ingredients:
● 2 sticks Butter, softened
● 1 1/2 cups Flour
● 1/2 cup Confectionery Sugar
● 1 tsp Almond extract
● Decorating garnish: maraschino cherries, nuts, holiday sprinkles or colored sugar
Directions:

● Preheat oven to 350°.
● In a mixing bowl combine butter, flour, confectionery sugar and almond extract; beat with an electric mixer until smooth
● Refrigerate dough for 30 minutes.
● Line cookie sheets with parchment paper.
● Remove dough from refrigerator. You need to work quickly because as the dough warms at room temperature, it becomes much softer. Scoop a teaspoon of batter into your hand and shape as a ball or oblong, flattening slightly.
● Space dough balls 2″ apart on cookie sheet.
● Add chosen decorating garnish to top of cookie.
● Bake in preheated 350° for 13 minutes or until bottom of cookies are lightly browned (DO NOT OVER BAKE!)
● Remove from oven and let cool on cookie sheet for 5 minutes.
● Transfer onto wire racks to finish cooling.
● Store in a container with a lid and separate each layer with wax paper.
Makes 3 dozen Holiday Butter Cookies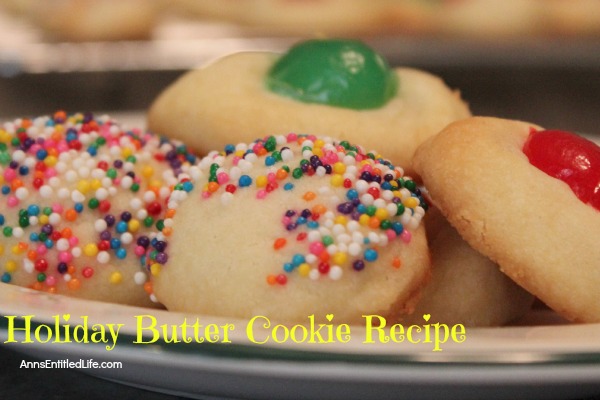 ● To print the Holiday Butter Cookie Recipe, click here.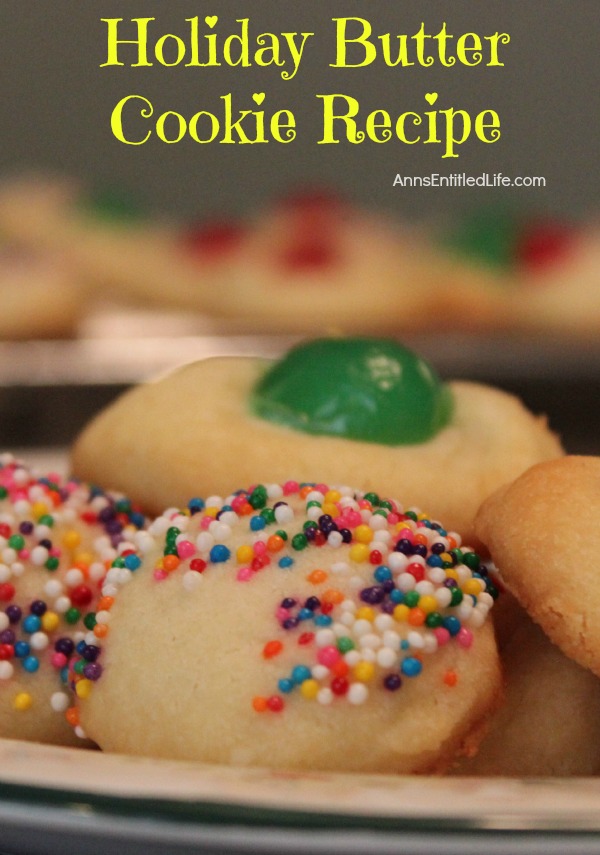 Day 5 of 15 Days of Holiday Cookies on Ann's Entitled Life are these easy, delicious, Holiday Butter Cookies your entire family is sure to enjoy!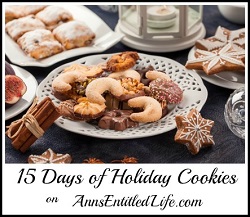 ---
● Disclosure the links in this post may be affiliate links.
● For more Recipes on Ann's Entitled Life, click here.
● If you enjoyed this post, be sure to sign up for the Ann's Entitled Life weekly newsletter, and never miss another article!
---