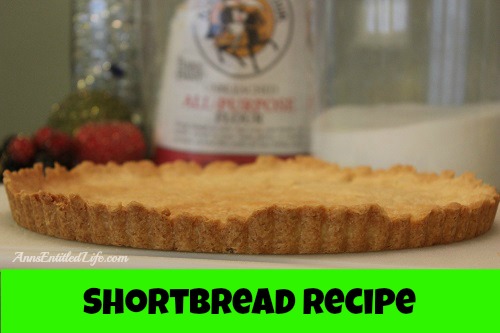 Shortbread Recipe
By Ann
This rich Shortbread recipe can be used to make a large Shortbread, or cut before baking to make Shortbread Cookies. Incredibly delicious, this Shortbread melts in your mouth.
Prep Time:15 minutes plus 12 hour refrigeration
Cook time:30 minutes
Ingredients:
• 2 sticks unsalted Butter, softened
• 1/4 cup Confectionery Sugar
• 2 cups Flour
• dash of Salt
Directions:

• In a mixing bowl, using the paddle mixer attachment, cream together butter and sugar.
• Combine flour and salt in a separate bowl.
• Gradually add flour mixture into butter mixture on low speed. It will eventually come together.
• Turn out onto counter make a ball.
• Cover the entire ball of dough with plastic wrap and refrigerate chill overnight.
Remove from refrigerator and allow to sit on counter for at least 15 minutes before rolling and cutting.
• Preheat oven to 350°.
• Roll out dough to 3/8″ thick and cut into shapes, bars or wedges or pat in a spring-form or tart pan at 1/2-3/4″ thick.
• Bake for 15 minutes at 350°
• Reduce heat to 300° and bake for another 15-20 minutes or until light golden brown around the edges.
• Cool on a wire rack.
• Store in an air tight container.
Makes 16- 24 Shortbread Cookies or one large Shortbread
Day 8 of 15 Days of Holiday Cookies on Ann's Entitled Life brings the best Shortbread Recipe you will ever make!
• To print this Shortbread Recipe, click here.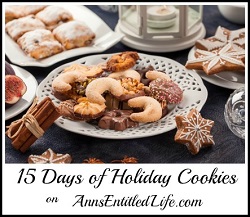 ---
• Disclosure the links in this post may be affiliate links.
• For more Recipes on Ann's Entitled Life, click here.
• If you enjoyed this post, be sure to sign up for the Ann's Entitled Life weekly newsletter, and never miss another article!
---
---
FOLLOW US ON: