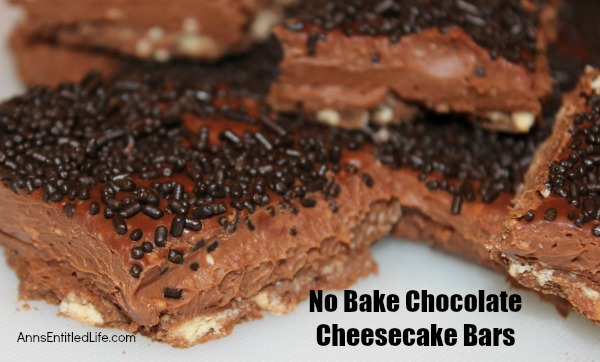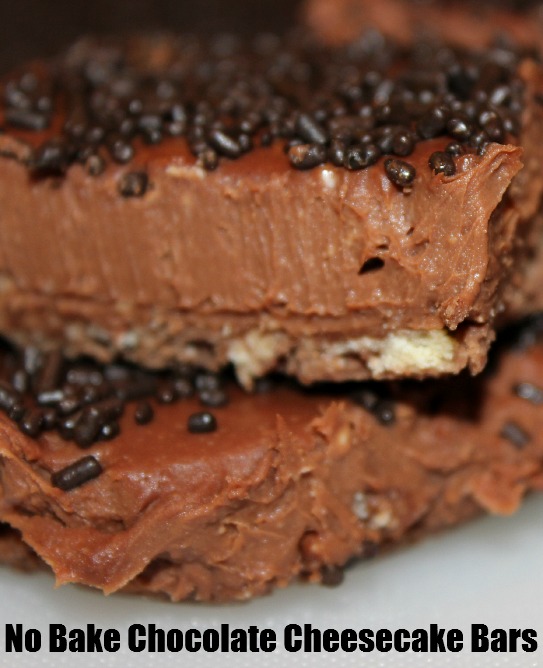 No Bake Chocolate Cheesecake Bars
By Ann
Serve up a batch of No Bake Chocolate Cheesecake Bars the next time you desire a sweet on a hot summer day! Easy to make, these rich, creamy and delicious No Bake Chocolate Cheesecake Bars are sure to satisfy your craving.
Prep Time: 20 minutes, plus 12-24 hours refrigeration
Ingredients:
● 2 – 2 1/4 cups Sandwich Cookies with filling (16-24 cookies depending on the type you choose, Oreo, EL Fudge, Hydrox etc)
● 1/4 cup No Salt Butter
● 9 oz Semi Sweet Chocolate Chips, divided
● 3/4 cup Heavy Whipping Cream
● 8 oz Cream Cheese
● 1 TBSP Chocolate Liqueur
● 3 TBSP Chocolate Jimmies
Directions:

● Line a 9″ x 9″ x 2″ pan with aluminum foil (NOT parchment paper).
● Crush the sandwich cookies in a plastic bag, then transfer the crushed cookies to a large bowl.
● Melt the butter on the stove, then add 1oz semi sweet chocolate (weigh it) and allow that to melt into the butter, stir to prevent scorching.
● Pour the butter mixture on top of the crushed cookies in the bowl; mix well.
● Press the cookie mixture onto the bottom of the foil lined pan. Use a fork to press – this will allow you to crush the cookies further, and move the cookie mixture around to completely cover the bottom of the pan.
● Refrigerate cookie crust while making the cream cheese mixture.
● Microwave the 8oz of semi-sweet chocolate and heavy whipping cream for 1-2 minutes until soft/melted. Stir at the 1 minute mark, set aside.
● In a medium bowl, on medium speed with an electric mixer, beat the cream cheese until fluffy.
● Add chocolate liqueur, beat well.
● Gradually add the melted chocolate mixture to the cream cheese; beat until smooth.
● Remove the cookie crust from the fridge, and spread chocolate mixture evenly over the cookie crust.
● Sprinkle the top of the cookie bars with chocolate jimmies.
● Refrigerate 12-24 hours.
● Cut into bars to serve.
● Refrigerate any leftovers.
Makes 16 No Bake Chocolate Cheesecake Bars
---
● Disclosure the links in this post may be affiliate links.
● For more Recipes on Ann's Entitled Life, click here.
● If you enjoyed this post, be sure to sign up for the Ann's Entitled Life weekly newsletter, and never miss another article!
---