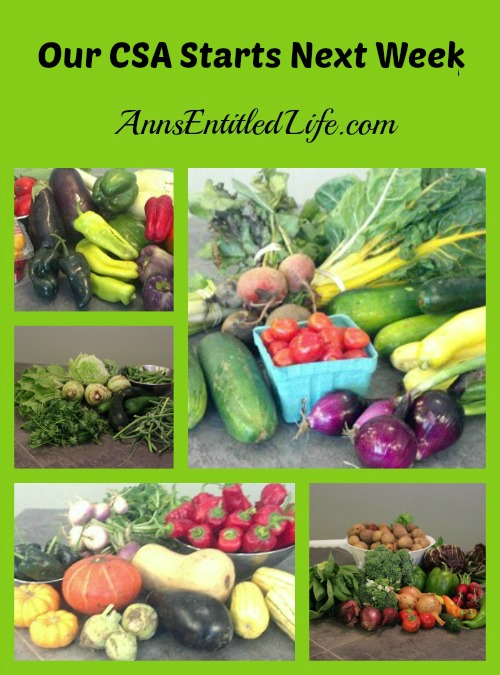 This is the diary of our CSA share this year. The cost of our full share is $545 for 22 weeks (this CSA offers a winter share) which will bring us to the last week in October, and works out to $24.75 per week. Western New York weather is such that June is the lightest CSA month. September and October will be more than abundant! Usually, I feel I don't get my money's worth the first few weeks (which will be predominantly lettuces), but the fall bags more than makeup for that.
We also purchased a Fruit Share this year for $180, lasting 18 weeks which works out to $10 per week. The local fruit included in the fruit share starts with cherries, apricots, plums, peaches, nectarines, blueberries, and moves into pears, raspberries, and of course apples! This portion of the share begins in July.
---
I was surprised when we got the email reminder that the first week of CSA was already upon us! April's weather was above average in temperature, so that probably helped, although May has been up and down in temperatures, above average, below average, above… it has been a roller coaster. But, it is nevertheless June next week, and so the CSA begins!
Hubby and I have belonged to a CSA for many years now, and I have been chronicling the pick-ups for years, first on Coupons, Deals and More, then after that blog blew up, on Ann's Entitled Life. I love to compare week to week, as well as year to year, CSA produce production. All my photographs serve as a reminder of what we received each week, and help us determine the worth of our share, and if it is better to continue with the current farm, or move on.
Our old CSA, Porter Farms,is probably the best organic produce deal in the United States. I encourage anyone living in the Buffalo/Batavia/Rochester area to look into Porter Farms if you are new to a CSA. You will be well pleased with the value.
Saying that, we went back to Root Down Farm CSA for our 2014 share. The pick-up date has a lot to do with it. Hubby cooks on the weekend, and a Thursday pick-up is ideal for us to menu plan for the weekend, and therefore use up our produce. While Root Down Farm CSA is in no way the value that Porter Farms is, nor is it certified organic (they grow all natural, but didn't spend for organic certification), for us the pick-up date and the fact that hey are just a few minutes down the road from our house, meant a lot. Last year we also had a horrible rainy year, and that didn't help plant production either. Maybe this year will pick-up a bit?
And, Root Down Farm CSA offered a fruit share this year. It is an additional $180, or $10 per week. Heck Hubby and I have easily spent that on gas in the past driving for produce on a weekend. If this cuts our drives down to once per month (raspberries, pears, and apples would be our main targets), it will be a great value. However the fruit share is something new, and we don't know how it will go, or if it will be worth the money.
I also look forward to purchasing my eggs at Root Down Farm CSA. They offered organic fed, free range brown eggs for $5 per dozen last year, and they were amazing! I'll get there first thing on Thursday to see if I can purchase two dozen (hopefully they are still selling them).
I just love belonging to a CSA! Nothing beats local for freshness and flavor, and helping a local farmer is just an added bonus!
Do you belong to a CSA? If so, what type? How much? Do you find it as worthwhile as I do?
---
● For more CSA posts on Ann's Entitled Life, click here.
● Find a CSA
● NYS Fruit and Vegetable Harvest Calendar
● US Agricultural Data
---