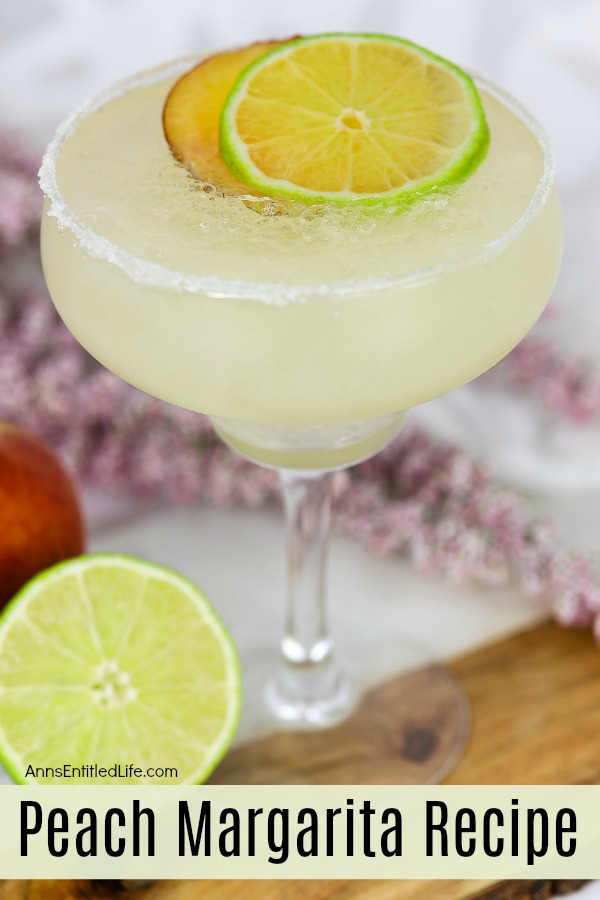 Peach Margarita Recipe
By Ann
Warm summer evenings are perfectly suited to a delicious, cool libation. This Peach Margarita is just the drink for the occasion. On the rocks, this Peach Margarita Recipe is exquisitely sweet, refreshing and potent!
Prep Time: 5 minutes
Ingredients:
● 2oz Simple Syrup
● 4oz Lime Juice
● 2oz Cointreau
● 3oz Tequila
● Ice
● Sliced Peaches or Limes
● Coarse Salt or Sugar
Directions:

● Rim a Margarita glass with sugar or salt. (For this drink, I prefer sugar.)
● Fill your rimmed Margarita glass 1/2-2/3 full with ice cubes.
● In a cocktail shaker, combine simple syrup, lime juice, Cointreau and Tequila; shake well.
● Pour mixture in a glass.
● Serve with sliced peaches if you rimmed with sugar, serve with sliced limes if you rimmed with salt.
Makes 3 Peach Margaritas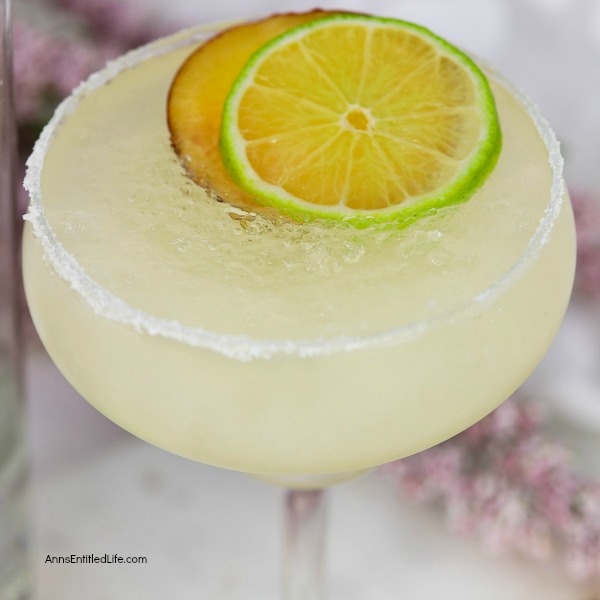 This is truly a lovely drink, and I am serious about it making three, not two. Even divided three ways it is potent, so be aware of that!
Even though this is a Margarita, it is sweet. That is why I suggest rimming the glass with coarse, decorator sugar instead of the traditional coarse salt. You can choose salt if you prefer, but sugar seems to be a better pairing with this sweet and delicious peach margarita! Yum!
This goes down very, very smooth …
Here are a few more margarita cocktail recipes you may enjoy:
● Margarita Jello Shots Recipe
● Sunburned Strawberry Margarita Recipe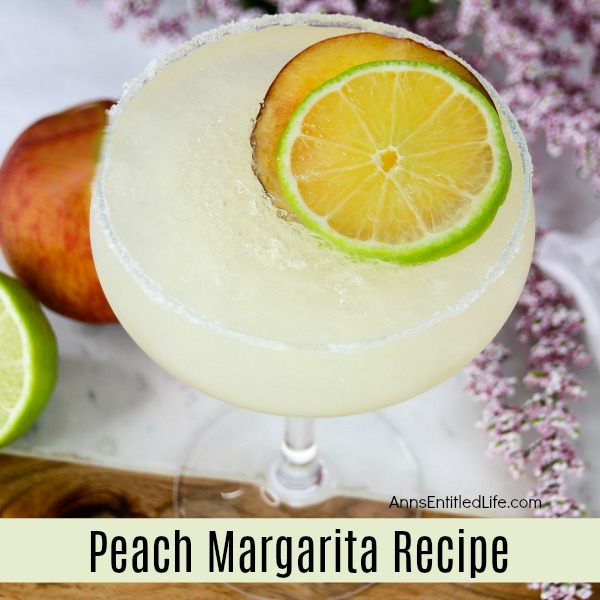 I have another version of Peach Margarita that is much, much sweeter, although nowhere near as potent. I'll be sharing that before the end of the summer.
---
● Disclosure the links in this post may be affiliate links.
● For more Cocktails on Ann's Entitled Life, click here.
● If you enjoyed this post, be sure to sign up for the Ann's Entitled Life weekly newsletter, and never miss another article!
● Ultimate Guide to Non-Alcoholic Bar Basics
---