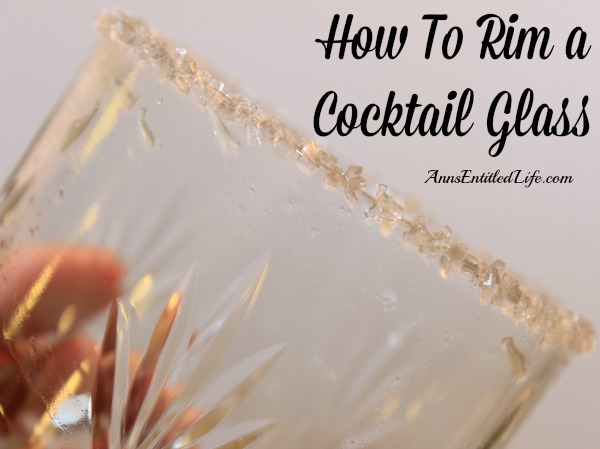 How To Rim a Cocktail Glass
Rimming a cocktail glass can add a touch of whimsy to a drink. It can also enhance, and detract, from the drink itself, so experiment at home – where liquor is less expensive and you have control over the process – instead of at your local tavern. Drinks shaken in a cocktail shaker and then strained into the glass are more traditionally rimmed than those made in the glass directly, but there are not hard and fast rules, and sometimes I like to rim the glass of a poured drink.
Clean glasses can be rimmed in a number of different ways, but generally one of these methods are used: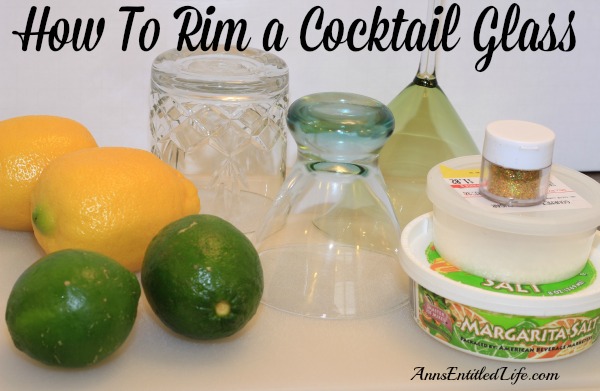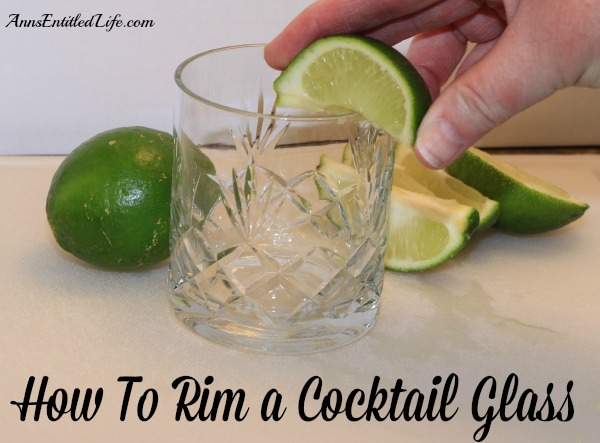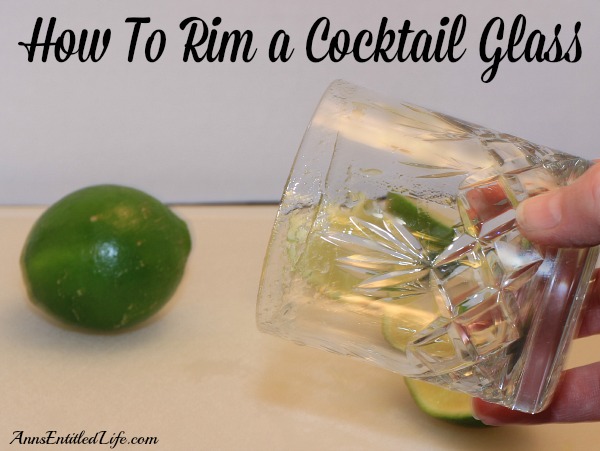 ● Wet the edge of your glass approximately 1/8″ – 1/4″ down (see liquid rimming ideas below). If using a citrus fruit, there is no need for a plate or bowl, just run the citrus wedge along the glass rim. Wipe off any excess fruit that may have come off with the liquid before pouring your libation into the glass.
● If using a (true) liquid, pour a bit of the liquid about the edge of a small plate, and invert the glass onto the liquid. You can also use a brush or clean (read new) sponge dipped into the rimming liquid, and rub it along the edge of the glass.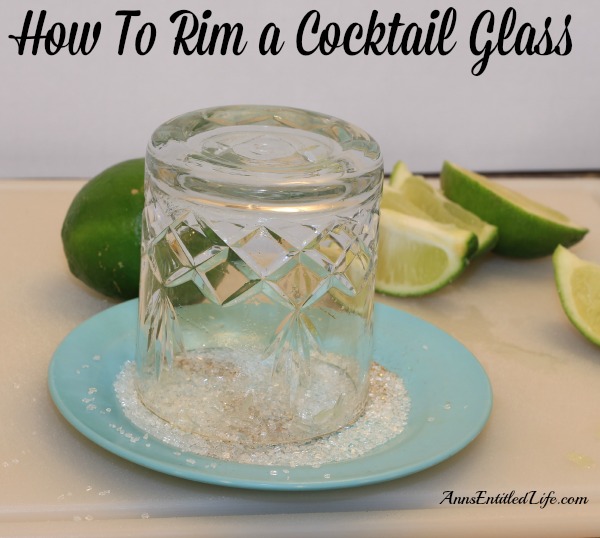 ● In a separate dish, pour your dry rimming ingredients (see dry rimming ingredient ideas below) to the edge where your glass rim will touch. Invert the wet-edged-glass into the dry ingredients, and then pull straight up. Some people like to give a slight twist to the glass when dry-rimming.
● Some people prefer the 45° method where only the exterior of the glass is made wet, and then dipped into the dry rimming ingredients. You tip your glass at a 45 angle to only wet the exterior, and then repeat the process on the dry, immediately wiping away any wet or dry rimming material that may have snuck inside your glass. This prevents the dry rimming ingredient from mixing with the cocktail ingredients inside the glass once you pour your drink into the rimmed glass.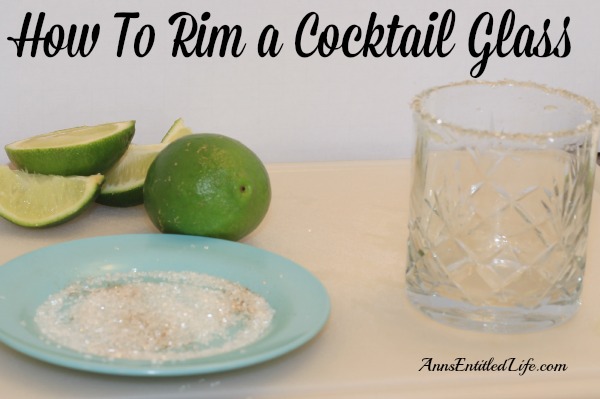 ● Some people prefer to rim the entire glass allowing the dry rimming ingredients and liquid cocktail to eventually mix.
● Another way to rim a glass is to only rim half way, especially when you have guests. This way your guest has a choice of a rimmed and clean drink glass edge.
● Tip: For a party or large gathering, rim your drinks ahead of time and place the rimmed glasses in the freezer.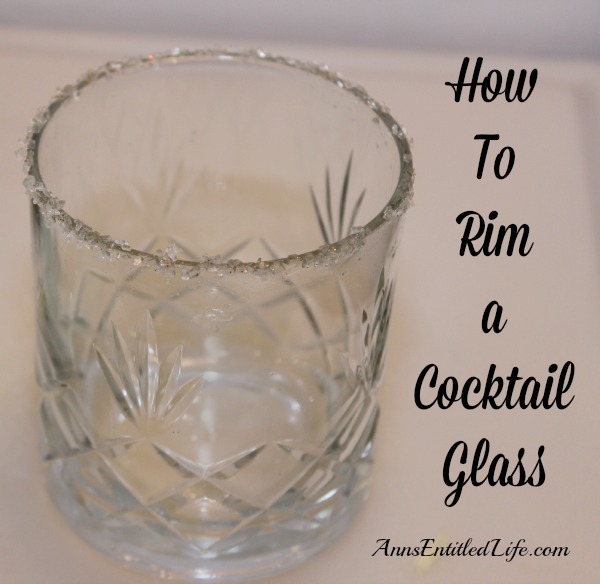 Liquid Rimming Ingredient Ideas:
You need a liquid on the edge of your glass so your dry ingredients can stick. Here are some liquid rimming ideas that actually work:
● Any liqueur already an ingredient in your cocktail
● Agave Syrup
● Caramel – heat together 3 tsp sugar and 3 tsp water in a microwaveable container for 25 seconds, or until the sugar is completely dissolved. Stir, return to the microwave and microwave for another 25 seconds. Stop when the mixture turns a light golden brown. DO NOT SCORCH! Using a wooden spoon, drizzle the caramel over your glass in a zigzag pattern, drizzling back and forth. Let stand to harden. This can be done at the rim, or inside the glass itself (swirling).
● Chocolate Syrup
● Corn Syrup
● Frosting
● Grenadine
● Honey
● Lemon – take a lemon wedge and run it along the edge of the glass to moisten
● Lime – take a lime wedge and run it along the edge of the glass to moisten
● Maple Syrup
● Orange – take an orange wedge and run it along the edge of the glass to moisten
● Organic Coconut Oil – use sparingly
● Simple Syrup – heat together two parts sugar, one part water in a saucepan on the stove. Bring to a low boil, stirring constantly until the sugar completely dissolves. Allow to cool before using. Works well to adhere fine powders – like powdered sugar or cocoa powder
● Triple Sec – Great for wetting the glass of a Sidecar or Margarita
● Water – clean sponge (read new) dipped in water will work in a pinch, but realize that the rimming material will eventually flake of when you use only water.
Dry Rimming Ingredient Ideas:
● Bacon Bits (Or Bacon Salt) – Bloody Mary, Bacon Old Fashioned, Bacon-Maple Manhattan
● Brown Sugar – Hot Buttered Rum, Pumpkin Beer or Sweet Cocktails
● Celery Salt – Bloody Mary, Michelada
● Chocolate Cookies – Chocolate Martini, Adult Hot Chocolate
● Cinnamon – Apple Drinks, Pumpkin Beer
● Cinnamon- Sugar – Mix together one part cinnamon, three parts sugar – Apple Martini, Kahlua, Bailey's, Orange or Chocolate Liqueur drinks
● Cocoa Powder – Chocolate Martinis, Baileys, Irish Coffee
● Coconut (shredded or flaked) – Piña Colada, Coconut Martini, Blue Hawaiian
● Colored or White Sugar – Blood Orange Drinks, Sidecar, Planter's Punch, Lemon Drop, Sugary Dog, Chocolate Cake, Mint Julep, Daiquiri, Ramos Fizz, Mai Tai, Piña Colada, Tropical Drinks
● Crushed Candy Canes – Adult Hot Cocoa
● Edible Glitter – any drink you want to add some dazzle and sparkle to!
● Fresh Herbs – Herb cocktails
● Graham Cracker Crumbs – Key Lime Pie, Pumpkin Pie Martini, Sidecar
● Jimmies (Sprinkles) – Chocolate Martinis, Baileys, Milkshakes
● Kool Aid – Fruity Drinks
● Lime or Lemon Zest – Gin Buck, Kamikaze, Lemon Drop, Tom Collins
● Nonpareils – Birthday Cake Drink
● Orange Peel – Manhattan, Vesper, Bond Martini
● Pop Rocks – Sex on the Beach, Island Cosmo, Blue Curacao Drinks
● Salt – Sea Salt, Coarse Salt, Kosher Salt – Margaritas, Unflavored Martinis, Bloody Mary, Mojito,
● Spicy Rim – Mix together one part coarse salt with one part chili, cayenne OR chipotle powder – Excellent for rimming a Michelada or a Bloody Mary
● Sugar Free Jello – Blue Cosmopolitan, Fruit Drinks
Rimming a glass is quite easy and can add pizazz and fun to any drink. As you rim more and more beverage glasses, you will learn what suits your taste, whether or not you want rimming liquid and/or dry rimming ingredients to interact with your cocktail beverage directly, and what flavors you do like to mix for enhanced flavors.
What dry and liquid ingredients do you use to rim a cocktail glass?
---
As always, drink responsibly and please don't drink and drive.
For more Liquor and Wine tips, cocktail recipes and reviews, click here.
---