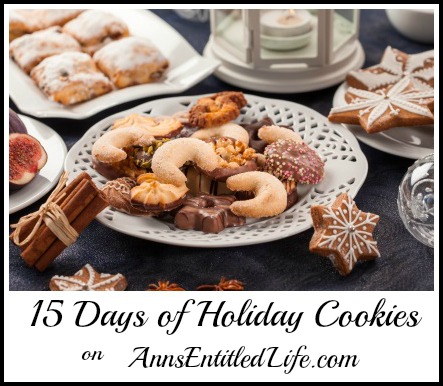 Last year, I ran a series in December called 15 Days of Holiday Cookies. I plan on running this series again this year (and have a second series that should be a lot of fun!), and have already begun baking.
I am still a few recipes short of what I need to fill in 15 days, so I was hoping you would share with me your favorite Christmas Cookie!
These are the Christmas Cookies I made last year, and so will not be repeating these recipes:
● Cherry Meringue Cookie Recipe
● Chrusciki Recipe: Baked, Not Fried
● Coconut Macaroons Recipe
● Candy Cane Cookies Recipe
● Easy Chocolate Peanut Butter Ball Recipe
● Hello Dolly Bars
● Holiday Butter Cookie Recipe
● Jam Filled Cream Cheese Cutout Cookie Recipe
● Kris Kringle Cookie and Frosting Recipe
● Lemon Snowball Cookie Recipe
● No Bake Marshmallow Christmas Squares Recipe
● Rum Balls Recipe
● Shortbread Recipe
● Spritz Cookie Recipe
● White Chocolate Cherry Almond Biscotti Recipe
I have three recipes baked so far, and seven more chosen. So, I need to find five more recipes people enjoy… won't you please tell me? What Are Your Favorite Christmas Cookies?
---
● For more recipes on Ann's Entitled Life, click here.
---