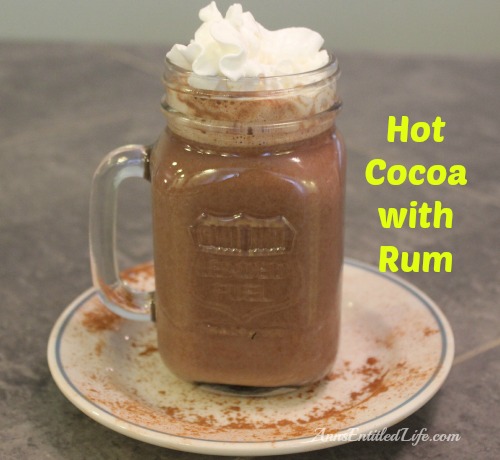 Hot Cocoa with Rum Recipe
By Ann
A delicious hot cocoa recipe by itself, this Hot Cocoa with Rum Recipe is especially good when you add your favorite rum. A wonderful drink to enjoy on a cold winter's night.
Prep Time: 5 minutes
Cook time: 10 minutes
Ingredients:
● 4 cups Milk
● 1 1/4 cups Chocolate Chips
● 1/4 tsp Ground Cinnamon
● 1/4 cup Honey
● 1/4 cup Brown Sugar
● 2 tsp Vanilla Extract
● 1/4 – 1/3 cup Rum
● Whipped Cream or Mini Marshmallows
Directions:

● Pour milk into a deep saucepan, bring to a simmer.
● Add chocolate chips, stir until melted.
● Add cinnamon, honey and sugar. Stir and bring to a simmer/low boil.
● Remove pot from stove.
● Add vanilla, stir.
● Add rum, stir.
● Pour into a mug.
● Top with whipped cream or mini marshmallows.
Makes 4 mugs of Hot Cocoa with Rum
---
As always, drink responsibly and please don't drink and drive.
● For more liquor and wine tips and reviews, click here.
● If you enjoyed this post, be sure to sign up for the Ann's Entitled Life weekly newsletter, and never miss another article!
---