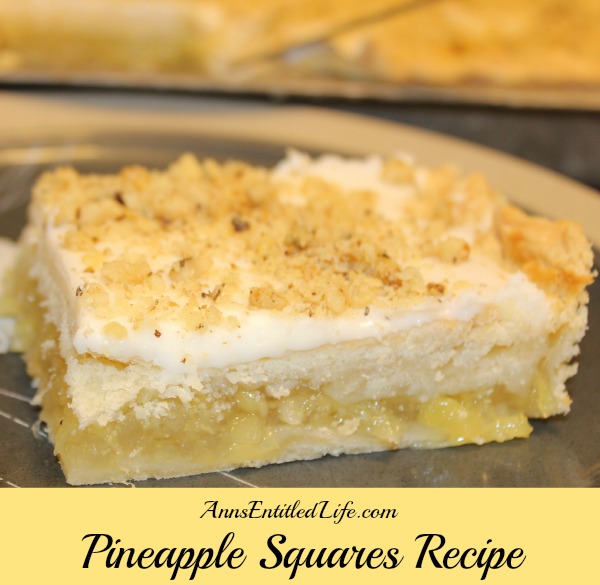 Pineapple Squares Recipe
By Ann
A delicious Pineapple dessert recipe from my grandmother, who made these Pineapple Squares for many, many years. Combine the fresh taste of crushed pineapple in a flaky, tender crust with a sweet, creamy frosting for a wonderful, unique, Pineapple Squares Recipe.
Prep Time: 30 minutes
Cook time: 45 minutes
Crust Ingredients:
• 4 1/2 cups Flour
• 1 1/4 tsp Salt
• 1 3/4 cups Shortening
• 1 cup Cold Milk
Filling Ingredients:
• 2 cans Crushed Pineapple (20oz)
• 7 TBSP Tapioca
• 1 cup Sugar
Frosting Ingredients:
• 8 oz Cream Cheese, at room temperature
• 4 TBSP Butter, softened
• 3 Cups Confectioner's Sugar (1 lb)
• 1 tsp Vanilla
• 1 TBSP Milk (enough milk to make for a desired consistency)
• Chopped walnuts or cut up maraschino cherries for garnish.
Directions:

• Preheat oven to 350°.
• Combine flour and salt, cut in shortening.
• Add cold milk to crust, combine to make a crust (as you would a pie crust).
• Divide crust dough into two balls.
• Roll one crust ball very thin so you have a large enough piece to fit into a 15″x 10″ jelly roll pan.
• Place that one crust into the jelly roll pan. Make sure it covers the whole pan and up the sides with enough leftover for later crimping. Set aside.
• Combine together 2 cans crushed pineapple, 7 tablespoons of tapioca and 1 cup of sugar to make the filling.
• Pour the pineapple mixture into the prepared crust in the jelly roll pan.
• Roll out the second ball of dough, cover the pineapple mixture in the pan, and crimp the edges.
• Bake in a preheated 350° oven for 45 minutes (to an hour). You want your crust LIGHTLY browned on the edges.
• Allow to cool completely before frosting.
• To make the frosting combine the room temperature cream cheese and butter in a mixing bowl. Beat on low until combined. Slowly add your confectioner's sugar, alternating with cold milk. I wrote down 1 TBSP of cold milk, but unless your cream cheese is very wet, you will probably need a tad more to get a smooth and creamy frosting. My Grandmother's directions are actually: "* enough milk for desired consistency".
• Frost pineapple squares when completely cool.
• Top frosting with chopped walnuts or maraschino cherry pieces.
• Note: this is FAR better when cold. I'd suggest chilling before serving. The leftovers are astonishingly good!
• Refrigerate leftovers.
Makes 24 Pineapple Squares
To print the Pineapple Squares Recipe, click here.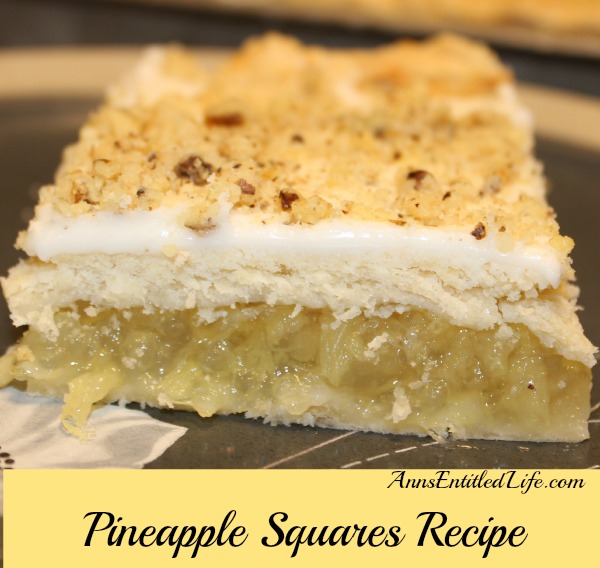 My grandmother made this recipe for so many functions when we were growing up! I have no idea where the recipe came from, but I can tell you I have never seen this particular recipe online. And I looked. I wanted to make it a few months ago, and swore I had it in my recipe file. When I couldn't find it, I went on an internet search that led no where fast. I finally called my niece who sent me pictures of her copy of the recipe.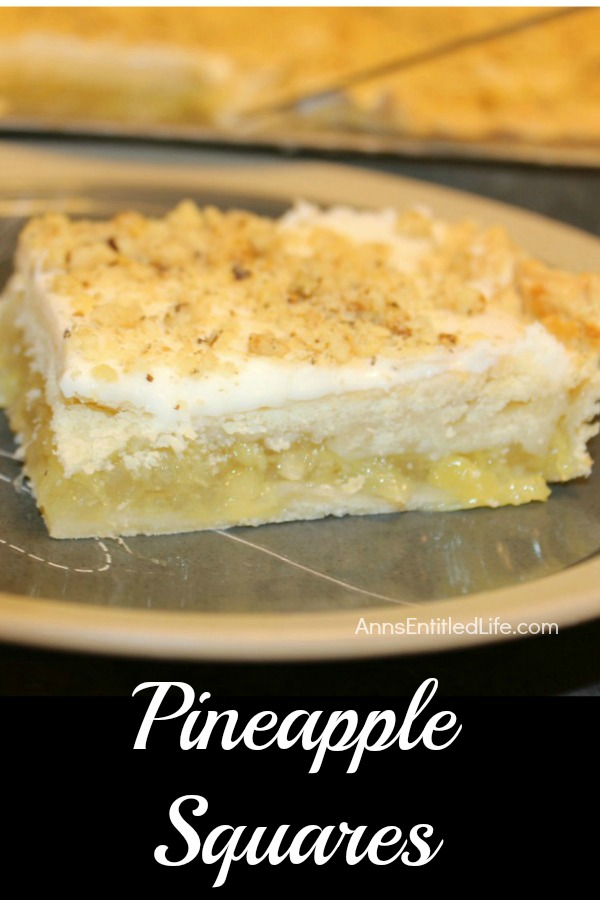 My grandmother was a hoot for directions. Ever speak to someone who was born 100 (or so) years ago about a recipe? It was always "little bit" of this. Or "that much" while they pointed to their palms. As you can see the "enough milk for consistency" is straight from that mold, and what are in my grandmother's directions.
I do have to say that this is fabulous when well chilled! It almost changes texture and taste making the leftovers better than the fresh Pineapple Squares. If you can, refrigerate the entire dessert before cutting. While not necessary for the finished product, it will taste even better cold!
---
• Disclosure the links in this post may be affiliate links.
• For more Recipes on Ann's Entitled Life, click here.
• If you enjoyed this post, be sure to sign up for the Ann's Entitled Life weekly newsletter, and never miss another article!
---