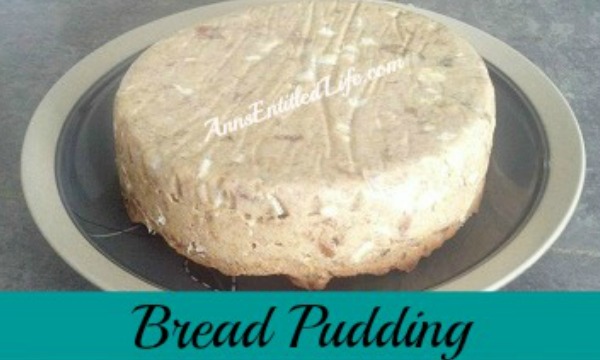 One day, after a bakery outlet shop, we discovered we had a lot of leftover breads and sweets, so Hubby decided to put them to good use in a Bread Pudding! My advice: don't use bagels or anything so soft it will turn mushy.
Bread Pudding Recipe
Ingredients
• 6 cups cubed sweet breads or rolls
• 1 cup half and half
• 3/4 cup sour cream
• 4 large egg yolks
• 1/4 cup milk
• 1 cup sugar
• 2 tsp vanilla extract
• 2 tsp grated orange zest
• 1 1/2 tsp ground cinnamon
Directions
• Cut pastry into cubes, set aside.
• Wisk together all ingredients except cut up pastry.
• Fold pastry into whisked ingredients.
• Cover the bowl and refrigerate overnight.
The next day:
• Preheat oven to 325º
• On the middle rack of the over, while preheating, place a roasting pan.
• Butter 9″ round pan, line the bottom with a disc of parchment paper.
• Fill the 9″ round with the pudding mixture.
• Place pudding-filled 9″ round into the roasting pan that is in the oven. Add enough warm water to the larger roasting pan so it comes up about an inch all around the 9″ round.
• Bake pudding until set, approximately 1 hour 15 minutes.
• Lift the pudding pan from the water and set on a rack to cool.
• Turn out onto plate after partially cooled, removing parchment paper.
• Sever in wedged topped with whipped topping.
• Refrigerate leftovers.
---
• Disclosure the links in this post may be affiliate links.
• For more Recipes on Ann's Entitled Life, click here.
• If you enjoyed this post, be sure to sign up for the Ann's Entitled Life weekly newsletter, and never miss another article!
---